Vietnam is a country bursting with flavours of more than one sort. Beautiful architecture meets crumbling ancient structures, picturesque rice terraces flow through the valley like rolling waves and the cities radiate a chaotic yet captivating atmosphere. Vietnam provides travellers with stunning countryside, unassuming beaches and a delightful assortment of food. So if you like your holiday packed with new adventures, plenty of history and enough variety to be wowed at every turn, then look no further than this southeast Asian gem. Here are our top recommendations for a trip to Vietnam.
Sail around Halong Bay
Halong Bay is one of the most popular UNESCO World Heritage Sites in Vietnam. Located on the northern coast, the area consists of soaring limestone islets sat upon calm water which is bursting with marine life. The unique formations of the rock, the lush green foliage that covers them and the stunning blue sea creates a paradisaical location which is perfect for switching off and immersing yourself in nature. The best way to experience Halong Bay is aboard a traditional junk boat that sails around the bay. You'll sleep in the heart of Halong and enjoy beautiful sunrises and sunsets, plenty of water-based activities and the chance to simply exist in such a peaceful corner of the world.
Visit the most important historical sites of Hanoi and Ho Chi Minh City
Hanoi and Ho Chi Minh City (formally known as Saigon) are the two largest cities in Vietnam. Both offer an abundance of historical and cultural sites which should not be missed on a holiday through Vietnam, especially if you wish to educate yourself on the long history of the country. In Ho Chi Minh City, visit the War Remnants Museum, the Notre Dame Cathedral and the South Vietnam Women's Museum, for an insight into the roles that women played during and after the war. In Hanoi, you can discover Ho Chi Minh's Mausoleum, the Presidential Palace, the Stilt House and the famous 1-Pillar Pagoda. Moreover, Hanoi has a charming Old Quarter which is best explored while getting lost down the many side streets. Be sure to stop off for a famous egg coffee – a speciality in Vietnam!
Take part in a local cooking class
Vietnam is known for its delicious and fresh local food. It doesn't matter which corner of the country you are exploring, you'll be faced with an abundance of fresh and colourful herbs and vegetables, exotic sauces and some truly tasty dishes. Some of the most popular are fresh spring rolls, a hot bowl of pho or seafood curries. Cooking classes are a fantastic way to learn the secrets behind the cuisine while experiencing the markets at the same time. Most local classes will take you on a tour of the chosen market where you will pick up the ingredients, before cooking up a storm. These classes are a fantastic way to learn more about the local way of life too. The Hoi An Eco Cooking Class, as an example, gives you the chance to ride a basket boat, visit a coconut tree forest and even do some fishing too!
Take in the vibrance of Hoi An
A visit to Vietnam isn't complete without setting your eyes on the colourful charm of Hoi An – a city famous for its multicoloured lanterns which are peppered throughout the streets. Hoi An originally served as a trading port due to its coastal location around the 15th century, while there is evidence it was also inhabited by the Cham people from around the 10th century. In fact, because of its well preserved examples of a southeast Asian trading port, the town was added to the UNESCO list in 1999. It offers some fantastic examples of architecture that hold both traditional and international influence – most notably the famous Japanese Bridge that dates back to the 16th century. Hoi An was largely spared during the Vietnam War and so many of the buildings are impeccably well preserved. Hoi An is also famously known for its tailor-shops and if you look in the right place, you can get some really great custom made pieces at affordable prices.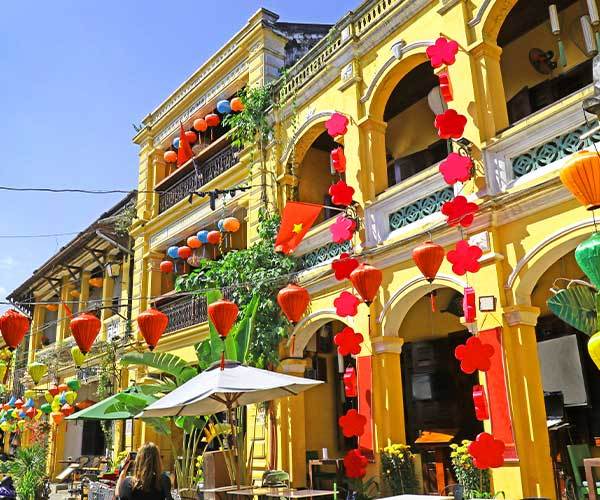 Cruise around the Mekong Delta on a long-tail boat
The Mekong River spans an impressive 4,350 kilometres, making it the seventh longest river in Asia. It runs from the Tibetan Plateau through China, Myanmar, Laos, Thailand, Cambodia, and Vietnam, and the Mekong Delta is the area in southern Vietnam where the river empties into the ocean. It has long been an important place for all aspects of life in the south. Many of the villages here are much easier to access by riverboat than by land! The Delta is a canvas of floating homes, vendors selling their produce on long-tail boats and picturesque rolling hills in the backdrop. There are various day or overnight trips to the Mekong Delta where you can experience the floating markets, taste some local fruit or even stay in a traditional home-stay.
Appreciate the history of Hue
Hue was the capital city of Vietnam between 1802 and 1945 and was also the location of the infamous Battle of Hue – the bloodiest conflict of the Vietnam War. Located on the central coast and sat on the Perfume River, Hue has an abundance of historic sites and unique garden houses which offer a glimpse into the past Mandarin lifestyle in Hue. The well preserved village of garden houses is the former residence of the high mandarins and members of the royal family, and oozes luxury with their exotic gardens and tall trees. The most popular attraction of Hue is the 19th century citadel, surrounded by a moat and lovely ponds sprinkled with water lilies. It houses palaces and temples as well as seven imperial tombs and the imperial city – once home to Vietnam's emperors.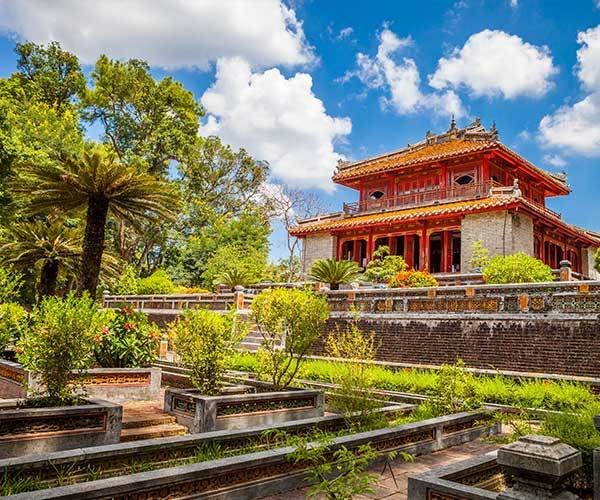 Go hiking in Sapa
Sapa is a gem of northern Vietnam, with its rolling rice fields, mountain ranges (including the highest mountain in Vietnam – Fansipan!) and fantastic views. It's most famous for its walking and hiking trails which give you fantastic insight into the Vietnamese countryside. Sapa town itself is small and unassuming, yet there are a few points of interest such as the cathedral, a museum and local markets. Hiking between the villages is very accessible and one of the most popular activities for travellers in the north. Temperatures are generally cooler too, making walking more enjoyable. You can expect to reach Sapa in around five hours by train from Hanoi, so while a day trip would be too rushed it's the perfect overnight experience to get away from the city.
Visit Phu Quoc Island
If getting off the beaten path and searching for some of the best beaches is your kind of thing, then look no further than Vietnam's Phu Quoc, an unassuming island off the coast of Cambodia. This pretty and lesser visited tropical paradise is full of lovely beaches, crystal blue water to swim and a huge national park for hiking and exploring. The district consists of 29 islands, and while most are inhabited it's possible to reach them by boat for a day trip, although most of them require a local tour and guide. Phu Quoc itself boasts 150 kilometres of stunning coast, a great selection of accommodation and restaurants and enough adventure activities to keep you occupied for as long as you need! On top of that, have you ever wanted to spend the night in a tropical over water bungalow? While they are normally associated with the likes of the Maldives (with a price tag to match!) Phu Quoc offers the same experience for a much more affordable stay.
Matt Gannan is the CEO and Owner of Tucan Travel. Tucan Travel operate cultural tours in Latin America, Africa and the Middle East, Asia and Europe, as well as tailor-made holidays in Latin America, Africa and Asia.
If you would like to be a guest blogger on A Luxury Travel Blog in order to raise your profile, please contact us.