Guatemala is probably not the first country you think of when it comes to beautiful travel experiences. We don't blame you. Nestled between the tropical beaches of Mexico and the relaxing Caribbean vibes of Belize, Guatemala's presence is often overshadowed by its neighboring countries. Once the heart of the mighty Mayan civilization, Guatemala is now one of the best hidden travel gems.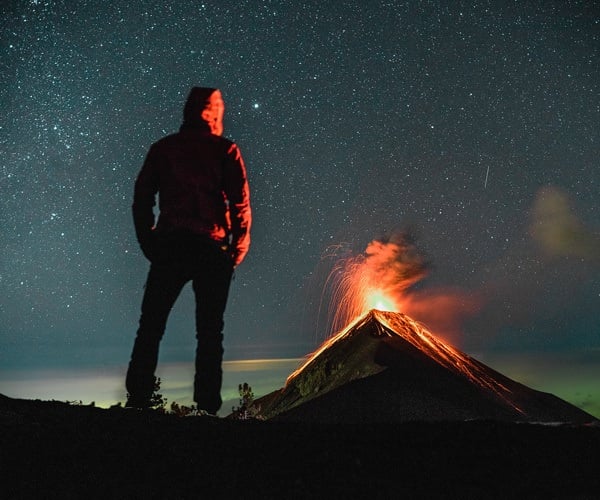 With the perfect amount of history and culture, visitors can find a well-rounded luxurious travel experience in Guatemala. The old capital city of Antigua (now a UNESCO Heritage Site) features many charming restored colonial buildings where guests can indulge in an extravagant vacation without spending a fortune. However, most travelers don't come to Guatemala for a luxurious getaway (though they can). They come here for something more incredible – Volcano Fuego (or Volcano of Fire in English).
Situated on the Ring of Fire (an area with frequent volcanic and seismic occurrences), Volcano Fuego is one of the most active volcanoes in the world. In fact, Fuego is so active that it erupts (minorly) roughly every 20 minutes throughout the day, spewing small amounts of lava and ash into the sky. Located about 16 kilometers (9.9 miles) from Antigua, visitors can faintly see Fuego on a cloudless day.
While most travelers consider Volcano Fuego as a tourist attraction, the Mayan-descended residents believe that mountains such as Volcano Fuego are sacred. It is not uncommon to see offerings at the top of mountains in Guatemala, as many families hike to the summit every weekend for ceremonial purposes. The offerings are meant to please the "mountain gods" and to avoid angering them. In 2018, Fuego's deadly eruption gave us a reminder that nature's power is not to be underestimated.
However, this doesn't stop Volcano Fuego from being one of the top attractions in Guatemala. Seismic trackers have been placed inside the Volcano Fuego to track its seismic activity more closely and to help prevent another catastrophe.
If you wish to see Fuego's eruption safely, the proper way to do it is through the Volcano Acatenango hike. At nearly 4000 meters above-sea-level, Volcano Acatenango is an active volcano in Guatemala that has not erupted since 1972. Near the top of Volcano Acatenango, visitors can have an unobstructed view of Volcano Fuego, which will only be located a few kilometers away.
However, hiking Volcano Acatenango is no easy task and requires 2 days and 1 night. Hikers will have to camp through the night at basecamp at 3,800 meters above-sea-level. At such high altitude, proper precautions should be taken against altitude sickness. As hikers approach basecamp they will be rewarded with surreal eruptions of Volcano Fuego. You might not see eruptions at first, as your eyes need to be focused on the difficult trail, but you will certainly hear it. A thunderous roar will resonate in the sky and might momentarily strike fear into your heart.
Is it thunder? Is the rain coming along? Fortunately, your mandatory tour guide will tell you that it was only Fuego's eruption. The loud rumble is mother nature's applause, motivating you to reach the basecamp. Once you arrive at the basecamp, everything will be worth it. Here you will see Volcano Fuego and all its eruptions unobstructedly, ideally with a coffee in your hand and a bonfire next to you.
Volcano Fuego erupts frequently and each time it's no less surreal than before. If you thought seeing it in the day time was incredible, the visuals at night will amaze you. At night, Volcano Fuego itself becomes too dark to see, but the lava illuminates the surrounding area as it trickles down the side of the volcano. Combined with a dark sky and bright stars, it is one of the most incredible photos a traveller can hope to capture.
If you wish to photograph this phenomenon, it is necessary that you bring a tripod and have a camera that is capable of taking a long exposure. If you do not have a camera that is capable of long exposure, it is best to capture the moment in the daytime. Once the sun sets, it will become too dark.
After you have spent the night at basecamp, you will summit Acatenango at around 4 AM the following day. At around 1.5 hours, the hike up is considerably shorter than the one on the previous day. Once you have reached the top, the sunrise, Fuego's eruption, and a panoramic view of Guatemala will form an everlasting image in your mind. After you have finished your hike, don't forget to enjoy a nice spa at one of Antigua's best hotels!
Selecting the proper tour for the Volcano Acatenango hike is important to ensure you have the utmost comfort. We recommended that you find a private tour operator who will just take you and your party up. Make sure to pick the types of meals you would like, include a porter, and additional clothing. There are more economical tour operators, but those sacrifice comfort by having dozens of participants.
Thank you to Sean Lau from LivingOutLau for permission to share the photograph.
If you have a really special photograph you would like to share with A Luxury Travel Blog's readers, please contact us.