Silhouettes of sloping branches decorate the shore as the night sky transforms into a beautiful palette of pinks, blues, and oranges. Overhead, birds dance around each other in unison with the lull of crashing waves, floating effortlessly against the salty breeze… it's morning on Driftwood Beach on Jekyll lsland.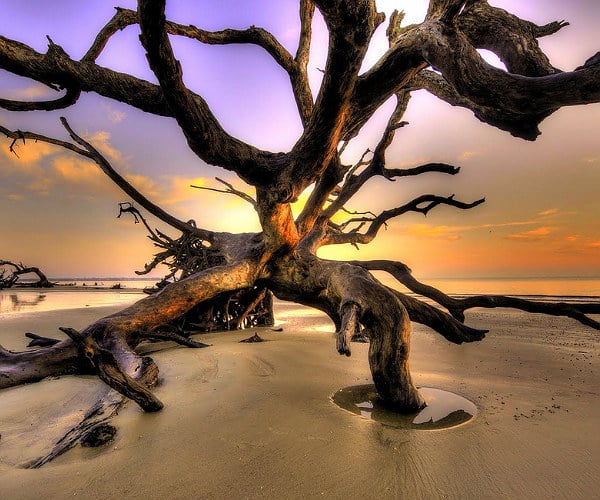 The beach is named after the ancient driftwood trees that line its shores, whose curling branches mimic the rolling waves that kiss their strong frames each morning. Years and years in the making, the driftwoods are the product of centuries' worth of erosion, making them forever frozen in a time when the world moved slow. With rich bark contrasting beautifully against the serene seascape of the Atlantic, a visit to Driftwood Beach is truly a whimsical one, and beachgoers can't help but fall victim to its one of a kind charm every day.
Driftwood Beach is just one of many enchanting experiences that Jekyll Island makes possible. The Island not only has gorgeous beaches, but gorgeous wildlife entirely of its own. The state of Georgia purchased the island in the early 1900s with the goal of transforming it into a tranquil state park, and has since committed fully to the wellbeing of its diverse wildlife. The Island stays dedicated to conservation and sustainability efforts, only building upon already developed land. Jekyll is thus able to preserve its untouched outdoors and protect the precious animals that live there, and keeping its natural wonders intact works to magnify its majesty, allowing for a truly unplugged experience in which relaxation is uniquely possible. From the moment you see turtle crossing signs, you'll know you've arrived somewhere special.
From sprawling beaches to historic ruins, Jekyll Island is a beautiful blend of serenity and discovery. For those interested in fully embracing Jekyll's outdoor treasures, the campground offers back-in and pull-through RV sites as well as tent pitching areas. With free Wi-Fi, electricity, on-site laundry and bathhouses complete with hot water, this campsite has everything you need for a home away from home. Pro tip: check out the campground's bird sanctuary for some authentic nature views.
Also there are many unique things that are impressive to its cultural history. Having been a go-to destination for a relaxing getaway for many of America's most iconic figures for decades (J.P. Morgan, William Rockefeller, Joseph Pulitzer, and William K. Vanderbilt, just to name a few), Jekyll's timeless appeal has transcended several historical eras, and today, travelers are able to revisit and live out this legendary legacy through a National Historic Landmark District, Wanderer Memory Trail, and even a Bridge Builder's Cottage Tour. For those traveling with children, the Mosaic Gallery museum is also a fun blast through the Jekyll past.
Ranging from iconic low-country dishes with waterfront views to stellar brunch that's as delicious as it is elegant, there is also a dining experience for everyone on Jekyll – and they're all guaranteed to be tasty. Enjoy a nice bite to eat after laying out in the sun all day, restaurants like The Wharf offers fresh-caught oysters, shrimp, and fish with live music and a picturesque view. As a true southern gem, it's only right that the Island also offer unmatched, old-fashioned southern hospitality. To dine on Jekyll, then, means to not only devour some delicious eats, but also to receive even better service.
For the shopaholic, check out The Beach Village in the evening for can't-miss, one-of-a-kind gifts and eats. Pop into Caroline's Gifts and Flowers for unique trinkets made by hand and a gorgeous, fresh bouquet to match. Missing your Farmers Market at home? No problem. Jekyll Market is sure have whatever you're craving and then some, offering fresh cut meats, produce, and pssst… even homemade ice cream! Find unique pieces from artists all over the world, or even enjoy free art exhibits or classes at places like the Goodyear Cottage Gallery & Shop. Looking for something more eclectic? The Island House is sure to have you covered, and bonus points if you can spot a local inside!
Jekyll Island is also monitoring the COVID-19 situation closely and remains committed to the health and safety of its residents and visitors. The Island has banned gatherings of more than 10 people and is enforcing social distancing guidelines of 6 feet or more between individuals. Additionally, staff are required to wear facemasks and facilities are sanitized regularly. Safety is not a concern while vacationing at this southern gem.
Between storybook beaches, thriving wildlife, incredible history, and delectable dishes, Jekyll Island truly has it all. Few places on earth are more inviting.
Thank you to Alexa Orndoff from Jekyll Island Authority for permission to share the photograph.
If you have a really special photograph you would like to share with A Luxury Travel Blog's readers, please contact us.