Photograph of the week: Canyonlands, Mesa Arch, Utah, USA
They say that Moab, Utah is the adventure capital of the American Southwest. It is easy to understand why. The never-ending opportunities of outdoor activities; mountain biking, hiking, mountaineering, rafting, kayaking, and sky-diving, are the tip of the proverbial iceberg as far as activities go. The scenery is magical, and not one, but two breathtaking, national parks are within an easy driving distance.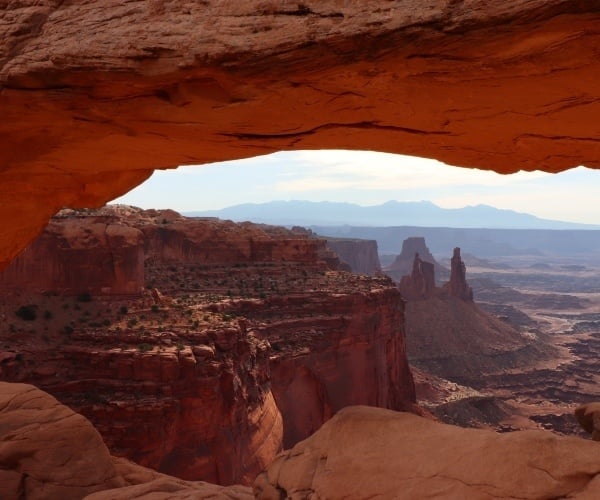 Early summer presented a unique opportunity to see some of the country's most beautiful national parks, practically empty. Those who were able to capitalize on the virtually crowd-less parks were rewarded with a chance to photograph the most popular and photogenic landmarks, without tourists wandering into their frames. A photographic luxury, indeed. Canyonlands and Arches are each renowned for their spectacular landscapes and vistas. Enormous rock formations, arches, canyons, and million years old mesas rich in red desert hues are just the beginning of what there is to be seen. Even while driving to the parks, rocks towered high above, with a smoky blue varnish appearing to be painted on their rock faces. It is actually called a patina, created, in part, by wind borne microorganisms, that attacked them eons ago. It is all too easy to lose yourself in the beauty of the scenery well before entering the parks themselves. Canyonlands National Park, where two rivers join to create waves of deep, vivid canyons, offers a chance to view soaring pinnacles, jagged cliffs, and the spires, for which it is so well known. One natural point to begin your hike is the Island in the Sky Visitor Center, one of four distinct districts throughout the park. It is also the one nearest to the town of Moab. The Visitor Center is currently closed, but the trails, campgrounds, and roads all remain open.  Being so empty in early June, there was no concern about finding a parking space, overcrowded trails, or being slowed down behind a snail-paced tour bus. COVID turned out to be a great window in time to visit, a silver lining, indeed. Social distancing was hardly an issue. It is written that Canyonlands, in San Juan County, Utah, has been visited for over 10,000 years, as is evident from the ancient rock paintings and markings that have been discovered there. Canyonlands is certainly a national treasure for historians, archaeologists, and tourists, alike. Some of the abstract illustrations and markings found on the rock face take human or animal forms, while others are geometric, like spirals. There is a colorful, rich history at Canyonlands, a part of the
USA
that has seen cowboys and Native Americans traverse its canyons floors. While at first glance, Canyonlands looks as if there is no wildlife to speak of, it is a world filled with creatures and critters. Desert rodents, lizards, and birds, are some of the many species that roam the park. Many animals tend to be more active at sunrise and sunset, and are called "crepuscular". Those times of day are cooler in the desert, and still have visibility for animals to hunt and seek prey. These animals include coyotes, porcupines, mule deer, and jackrabbits, for example. It is easy to overlook the creatures, as there is so much to see in the way of stunning panoramic scenery. Mesa Arch may be the most famous and photographed spot in Canyonlands National Park, and it was easy to see why. Also known as 'Rotary Arch' or 'Trail Arch', it is considered a pothole arch, and lies on the eastern edge of the Island in the Sky Mesa. It is a natural rock formation that developed an arch with a long, wide, opening underneath, perfect for framing the cliffs and landscape beyond. Easily accessed by a short walk from the parking area, it is rarely visited without a line of photographers trying to capture its beauty. Peering through the open frame of Mesa Arch, without fear of tourists creeping into the camera's frame, was a true luxury. One might say that the scene was reminiscent of Tatooine, from Star Wars. The La Sal mountains hovered in the distance, red, orange, yellow, and every color variation in between, appeared painted, and distinctively otherworldly. Elsewhere in the park, the 300 million year old rocks, with patterns of swirling jetties seemingly caught frozen in time, were mesmerizing, humbling, and annoyingly hard to capture. The sheer size and magnitude of the canyons, even with a wide angle lens was a challenge. Maybe some things are better left etched in our memories. Some Canyonlands highlights to tick off of your list should include: Grand View Point Overlook, where you can tower mightily above Monument Basin. Or,  White Rim and Green River Overlooks, where the curves of the Green and Colorado rivers cut decisively into the canyons.There is a distinct contrast between the two national parks, Canyonlands and Arches. Arches' beauty is in the form of all things open, balanced, and above ground, while much of Canyonlands' magic was carved deep into the earth's surface. Both, however, are equally stunning and unmissable. A day in each park is hardly enough, and left much to be discovered for another time. The current climate has certainly made for a chance to visit national parks when they are not very crowded, although that is sure to change over the next few months. Road trips have gained in popularity, and this part of Utah is calling. Regardless of when you plan your visit, Canyonlands is a spectacular, awesome, and inspiring place, crowds or not. Start your engines.
Thank you to Jamie Edwards from I am Lost and Found for permission to share the photograph.
If you have a really special photograph you would like to share with A Luxury Travel Blog's readers, please contact us.
Did you enjoy this article?
Receive similar content direct to your inbox.