Suite name: Rooster's Comb Suite
Location: Sheldon Chalet, Denali National Park, Alaska, USA
Size of accommodation: 16.8 sq m
Cost per night: $3,150 per person
What makes it special: The Rooster's Comb Suite sits perfectly situated with a direct view of the summit of Denali at an elevation of 6,000 ft. and offers extraordinary views of the Northern Lights from September to April from the comfort of your own bed.
Sitting atop a rocky outcrop known as a nunatak in Denali National Park, the Rooster's Comb suite is the perfect place to lay in bed and stargaze or watch the aurora from your panoramic windows. The Rooster's Comb suite at Sheldon Chalet has direct views of the summit of Denali just ten miles away. From your suite you will enjoy the snow-capped wilderness, the sound of silence and the breathtaking avalanches falling in the distance. As remote is the new luxury, the vision of Alaskan pioneers, Don and Roberta Sheldon, Sheldon Chalet is a platform for the adventure of a lifetime on the flanks of North America's highest mountain. After a day of Alaskan glacier adventures including crevasse exploration, backcountry skiing or sledding guests can return to Sheldon Chalet for a sauna, gourmet seafood dinner and wine pairing, the spectacular glow of the northern lights, sparkling night starscapes and a luxurious night's sleep.
This exclusive buyout experience starts at $35,000 per couple for a 3-night minimum. Guests can relax, socially distance and experience Denali grandeur at this eco-conscious chalet in a way that's never been seen before. This ultimate experience includes gear, two adventure guides, a concierge, a chef preparing gourmet meals with premium wine pairings, guided glacier adventures and the helicopter transport to and from the Chalet. The family of the late Don Sheldon, the legendary glacier pilot, has called this piece of privately-owned land inside Denali park home since the 1950s. The children, Robert Sheldon, with his wife Marne, and his sister Kate had hoped for decades to fulfill their parents' wish of creating a place where they could connect guests from all over the globe with the indescribable grandeur of the Ruth Glacier and the gorge. In 2018 their dreams became a reality and Sheldon Chalet was born. Less than 500 people have ever had the opportunity to stay here.
In the 1960s, the famous Sheldon Mountain House welcomed local Alaskans to ski under the summit of Denali. This ski season will look a lot like those simpler times. No lift lines, no crowds and endless opportunities to carve turns, make the return of skiing in Denali at Sheldon Chalet the perfect base for the ultimate backcountry skiing experience. The remote offering provided by the Sheldon Chalet includes your private gear fitting, custom backcountry skis with skins that make it easy to ascend, guides to take you out and explore the open terrain and an epic private mountain experience available from March to June. Imagine a 35 square mile amphitheatre with untouched pristine powder all around and skiable lines as far as the eye can see, you've never experienced a ski vacation like this before.After an avalanche and glacier preparation training course, set out with expert guides to create fresh tracks among the powder coating the glacier surrounded by Alaska's rugged wilderness. Skiing in Denali National Park is a Backcountry alpine touring and skiing experience. You will depart Sheldon Chalet and ski-tour your way to the slopes. Once there you'll trek or "skin" up the slope in a zig-zag pattern until you reach the designated stopping point selected by your guides. Once there, you'll take off the "skins" that assisted with the trek across the glacier and up the slope, lock your binding in place and then carve epic turns.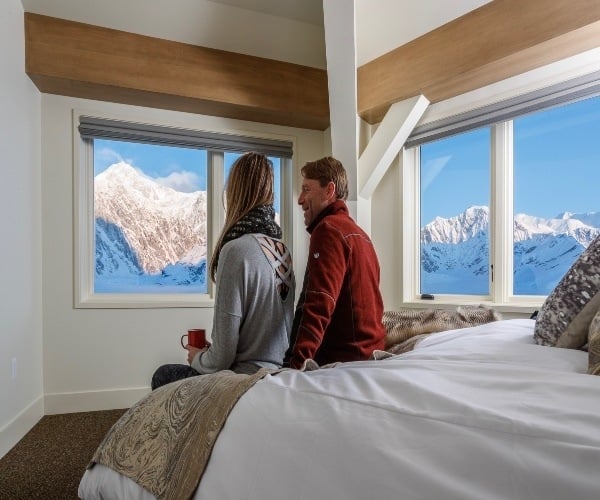 This engineering marvel is a remote, yet luxurious experience where guests will find themselves without internet access, allowing them to truly get off the grid. From mid-September to mid-April, under clear weather conditions, the vivid and awe-inspiring blue, green, and purple colors of the Aurora Borealis reflect off the snowy peaks and glaciers and are visible from the chalet with a clarity rarely experienced elsewhere. In the upcoming fall and winter season Denali offers prime aurora borealis and meteorological viewing, full moon glacier treks and golden sunrises. Sheldon Chalet provides the best way to explore Denali in true comfort and luxury. At 63 degrees latitude and an elevation of 6000 ft, Sheldon Chalet's troposphere is some of the thinnest on the planet, allowing guests to see shooting stars more often and brighter than anywhere else. With little to no light pollution and stunning landscapes that frame the sky, evenings sparkle brilliantly with heavenly displays of the aurora and stars and winter's snowfall begins to blanket the massive Don Sheldon Amphitheater, which averages over 100 feet of new snow per year. Guests' proximity to the stars and the sparse topography of Denali National Park offers a surreal and uninterrupted stargazing experience overlooking the glacier and mountains.
Expert guides are on hand to educate guests about the aurora and offer insight into the night sky constellations. World-class stargazing is enhanced by the cozy fire and satisfying beverages custom crafted by your private chef. For the 2020/2021 season, Sheldon Chalet's curated activities for guests include: Aurora, lighted crystal and blizzard gazing, snow cavern spelunking. rock climbing, rappelling, shooting star and meteor shower gazing, epic sledding run, gourmet glacier picnics, glacier trekking via snowshoes or skis, snow cave or igloo construction, crevasse exploration and heli or fixed wing geography touring.
If you would like to be featured as 'Suite of the week' on A Luxury Travel Blog, please contact us.