By
Michael Edwards
on Nov 01, 2020 in
Accommodation
,
Europe
,
Featured
,
Food and Drink
,
Going Out
,
Hotels
,
Leisure Travel
,
Regions
,
Restaurants
,
Spas & Pampering
,
Speciality Travel
,
Travel Miscellany
,
United Kingdom
,
Western Europe
Carved kingfishers and waders, an oil painting of deer flitting through the forest, a Norfolk estuary at sunset. Congham Hall Hotel and Spa, where you hear the birdsong, is a haven, a rural celebration of one of Britain's most restful counties.
Congham Hall Hotel, built in the 1780s, is a whitewashed Georgian mansion complete with portico. Lovingly curated by Ruth and Nicholas Dickinson, once of Chewton Glen and Le Manoir aux Quat' Saisons, the Hall mains the balance, elegance and symmetry of its Georgian origins but with contemporary comfort and style.
The welcome
With just 26 rooms, the friendly and experienced local staff, have the time to welcome guests and take them to their room.
Safety dominates. Registration form and plastic wrapped key are already in the form.
The room
Looking out over a walled formal garden, Anise, with a huge size-bed and sofa, is classed as one of the "Best House Rooms".
Thoughtfully designed, there are pegs for coats waiting just inside the door. The bespoke television stand is also a tea-tray that rolls out to give easy access to a Krups coffee-maker and kettle. Below is a mini-fridge for fresh milk and a cubby-hole for the cookie-jar: irresistible white chocolate and raspberry cookies.
More design genius is exhibited by two mini-walk-in wardrobes – to the left and right – behind the wall hosting the huge bed and its headboard.
With springy grey carpet, silky curtains, fashionable taupe paintwork and garden scene watercolours from a local artist, Anise – and many of the garden-themed rooms – had clearly been recently refurbished.
The bathroom
There's a deep free-standing roll-top bath to wallow in and a separate large rainfall shower too.
Elemental Herbology provide creative toiletries. Geranium and mandarin body hydration, hair soufflé conditioner, shampoo for Shiny Locks plus a reinvigorating Grapefruit and Mandarin body wash.
Facilities
In these disrupted times, the AA two rosette restaurant, with views out across the croquet lawn and to the woodland beyond, is still offering an impressively extensive menu.
Gamey choices – guinea-fowl, pigeon and venison – tell of a menu originating from the surrounding countryside. As the leaves turn, blackcurrant and pumpkin accompany the venison. Most ingredients have travelled less than 20 miles.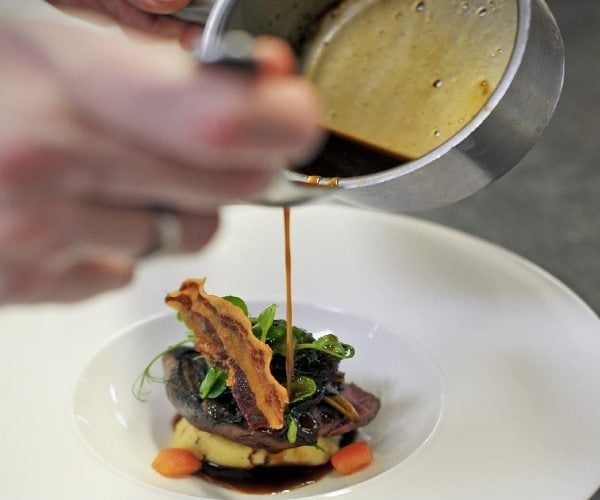 Three rock oysters, with lemon and tabasco, as a starter are a reminder of Congham Hall Hotels' proximity to the coast. As well as grilled fillet of plaice and roast cod fillet, there is also a special of light firm grilled fillets of pollock.
Three gardeners tend the gardens and orchard so increasingly items on the menu are homegrown.
Location
Although it takes less than two hours by train from London to nearby Kings Lynn, Congham Hall Hotel puts reassuring distance between guests and urban hustle. After all, this is a land where the villages of Little Snoring and Great Snoring slumber.
For part of the year, the Queen is a nearby neighbour on the Sandringham Estate. Also, it's just a short drive to the quiet beaches of the North Norfolk Coast.
Further south down the coast, Blakeney Point is home to Britain's largest grey seal colony, with 3,000 pups born every year. This is a beautiful coast for long walks including The Peddars Way, following an ancient Roman road.
Other nice touches
Walk round the 30 acres of grounds to watch gardeners working on the herb gardens. In summer, guests can buy small pots of herbs to take home.
Ask Nicholas Dickinson for wise wine advice. There are some gems on the wine list. A Lebanon rosé, an Oumsiyat, is a delicately refined wine. Similarly, the recommendation of a superb value Romanian Pinot Noir is another success: light juicy and velvety.
The cost
From 2nd November to 17th December 2020, a Winter Warmer package is available directly from the hotel. If includes two nights accommodation, a full English breakfast, a 3 course evening meal from the usual menu and a treat of either a 45 minute spa treatment, afternoon tea for two or a bottle of champagne. Packages range from £480 through to £700 for Best House rooms.
The best bit
Congham Hall's star facility is The Secret Garden Spa. Rarely in Norfolk do you smell eucalyptus and peppermint as lighting flashes and warm tropical rain cascades. The Experience Showers offer Caribbean storms and refreshing tropical rain.
Within the 12 metre pool there are hydrotherapy showers, alongside a sauna, steam room and foot spa. Then on the external decking there is a steaming hot tub.
Taking inspiration from the herb garden, the spa incorporates seasonal herbs and fresh blossoming flowers in to the treatments. An Elemental Herbal Facial is designed to help the skin find its equilibrium. Whilst the rosemary muscle melt massage, combining stimulating holeaf, lemongrass, nutmeg and rosemary with deep tissue massage therapy relieves stress and tension.
For total indulgent relaxation select the two hour Secret Garden Experience which works on all aspects of stress within the body and mind.
The final verdict
Congham Hall Hotel and Spa is a relaxed country retreat for seeing the best of North Norfolk. As experienced hosts and frequent recipients of hospitality industry awards, Nicholas and Ruth Dickinson run a supremely welcoming hotel.
Take a look at the testimonies in the guest book. For many guests it is their second home. One couple have already visited three times this year.
Disclosure: Our visit was sponsored by Congham Hall Hotel.