Suite name: Barn One-Bedroom Suite
Location: Farmhouse Inn, Forestville, Sonoma County, California, USA
Size of accommodation: 850 square feet
Cost per night: $1,675
What makes it special: The Barn One Bedroom Suite is set apart by touches unique to this Farmhouse Inn suite, including the double-sided fireplace to enjoy from the indoor comforts of the suite or on the private patio, and a jetted tub with large windows for views overlooking the forest.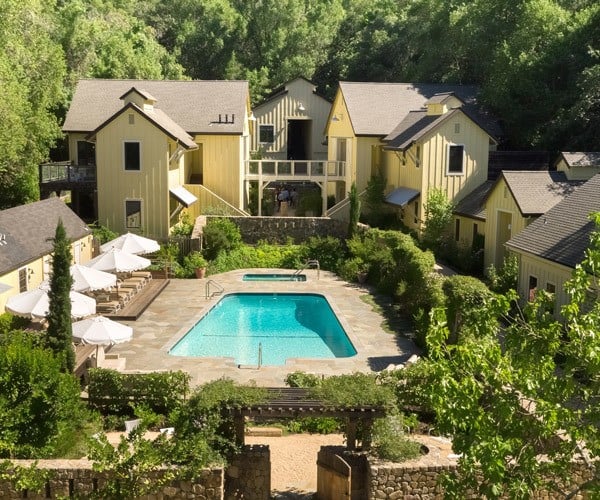 The Barn One Bedroom Suite at the Farmhouse Inn's refreshing, sophisticated, and relaxed version of first-class luxury is one of the top hotel suites in California, and all of North America. Tucked away in the woods of Forestville and surrounded by the sweeping vineyards of the Russian River Valley in Sonoma County, the Farmhouse Inn has earned numerous accolades year after year, like the 2020 Travel + Leisure readers' choice top resort hotels in California and 2020 Gold List #5 Best Hotel in North America, as voted by Condé Nast Traveler. For the ultimate luxury wine country experience, guests are welcomed with a chilled glass of wine upon arrival and invited to enjoy the Michelin-star restaurant on the property surrounded by heavenly landscaped gardens and woods.
The 850-square foot Barn One Bedroom Suite is characterized by one-of-a-kind features unique to the Farmhouse Inn, such as the cozy double-sided fireplace that guests enjoy both from the privacy of their room or from their private deck/patio. With plenty of natural sunlight spilling into the room, the walls are paneled with elegant white, and the oversized entrance into the bathroom is met with a dramatic set of white barn doors.
The private bathroom is modern and rustic all at the same time. Lined with heated marble floors, it features a luxuriously-appointed bath featuring an all marble steam shower and a marble double vanity. The cast iron pedestal tub is a whimsical reminder that the Farmhouse Inn is a historic building. It's a jetted tub surrounded by oversized windows that that afford a rejuvenating woodland view, a mere short distance from redwood groves that are so iconic to Northern California.
The King-sized four-poster bed is lined with beautiful European linens and heaven-sent down comforters that welcome a good night's sleep before venturing out for a day in the vineyards. The elegant neutral modern palette offers a few pops of color in the room, with linen drapes, white slipcovered sitting chairs, and woolen through blankets made from the sheep down the road. There are wall outlets with USB ports that are conveniently placed throughout the room, coat hooks placed at the front door, and a flat-screened television that is strategically placed so that it doesn't take away from the room.
Complementing these unique elements of the Barn One Bedroom Suite are local handcrafted amenities, unparalleled attention to detail, and stylish comfort that's found in every suite at the Farmhouse Inn. Among those local touches: Sonoma County-made, organic bath and beauty products, and fresh seasonal flowers. It's an ode to its Sonoma County roots, where owners, siblings Joe and Catherine Bartolomei, are fifth-generation Sonoma County locals with a longstanding connection to the local wine and farm community that have inspired the Farmhouse Inn experience. The lavish features continue with the luxurious comfort a curated wine refrigerator, and a nightly turndown service that is unlike your everyday turndown service, featuring Farmhouse Inn's famous homemade cookies served with milk.
The Farmhouse Inn hosts a daily wine tasting of their winery partners, allowing guests to sample some of the best of wine country just behind the pool and shaded under a flower-draped pergola. The oversized firepits surrounded by comfortable furniture on The Grange invites guests to enjoy s'mores and cozy up as the stars litter the skies at nighttime.
The Concierge team at the Farmhouse Inn really pushes the envelope, providing warm and enthusiastic service and a very Sonoma Wine Country welcome 24 hours a day. With 5 concierges serving 25 rooms, every guest will be rewarded with a hyper-local and personally tailored itinerary of experiences that will provide lasting memories. The concierge team is dialed in to the best experiences all over the county. Whether it's for an exclusive tasting appointment, a hard-to-get restaurant reservation, a personal sommelier, a wine tour, bubbles and truffles in your room, or a candle light tub turndown, anything is possible to enhance your stay.
It all pairs with the Farmhouse Inn's on-site Michelin-starred restaurant. The cornerstone of the Farmhouse Inn, its restaurant is driven by ingredients straight from Joe and Catherine's ranch, and curated by the chef from local farms and farmers markets. What results is a uniquely Sonoma County, and Farmhouse Inn, multi-course dinner. That farm- and chef-driven approach extends to breakfast, with Farmhouse's 2-course signature breakfast that's crafted with ingredients straight from Joe's ranch. Guests of the Barn One Bedroom Suite can enjoy it directly on their private patio, next to the double-sided fireplace to keep them warm on those crisp fall Sonoma County mornings.
If you would like to be featured as 'Suite of the week' on A Luxury Travel Blog, please contact us.