9 ways to find unpretentious luxury in Brooklyn, New York
For fellow world explorers, travel bans and restrictions haven't killed the travel bug — in fact, it's probably "bugging" you more than ever before! But even though all the corners of the world may not be at your fingertips
just yet
, there's still plenty of exploring to do. I asked my colleague, Esther Klijn, a Travel Agent Central 30Under30 honoree and intrepid world traveler, about her favorite place worth visiting that's closer to home than international destinations. Her answer? Cultured, artsy, tasty Brooklyn, New York.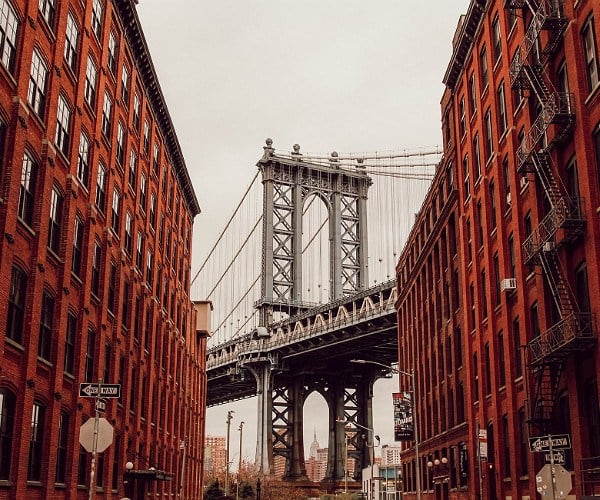 Before I go any further, I'd like to clarify: Brooklyn is
not
just for hipsters. Esther, who's fluent in three languages, has a degree in wine and viticulture, and is a resident Brooklyn-ite herself, says there's plenty of sophisticated things to see, do, and taste. However, she admits, "I do believe part of the charm of Brooklyn is that it's not so chichi!" Ahead, see some of her top Brooklyn experiences, hand-picked with luxury-loving travelers in mind.
Eat
Dine at Café Mogador
Brunch aficionado? Café Mogador's award-winning brunch in Brooklyn is a must-try. And make a stop for dinner, too, to savor some of the restaurant's authentic Moroccan food. Currently, there's outdoor dining available as well as delivery and pick-up options. Café Mogador in Brooklyn is the restaurant's second location, following its initial success in Manhattan. In addition to noshing, says Esther, the spot offers "some top-notch people-watching." "To this day, the same family runs and owns both locations," she adds.
Indulge at
Steve's Authentic Key Lime Pie
Key lime pie from a 23-year pie-making genius? Yes, please! Owner Steve hails from South Florida, where they make this tangy dessert best. Along with authenticity, he crafts his pies with only the finest ingredients, including fresh-squeezed lime juice. Shares Esther, "The single servings half-dipped in chocolate are my personal favorite."
Drink
Imbibe at
Brooklyn Social
Once the site of an exclusive club, the bar was reopened in 2004, proclaiming that all "non-members" are welcome. But while the patron policy has changed, the decor hasn't; and inside, its tin ceiling, deco bar, and antique wall hangings have been preserved, including vintage photos of former members circa the 1920s. Above all else, "the bar has retained its friendly and cozy character," Esther says. There's limited indoor seating but Brooklyn Social's patio is still open, providing a dreamy backdrop for their legendary craft cocktails and hot pressed sandwiches. Ask about blankets if you're chilly!
Sip at
Red Hook Winery
Drinks and a view! This down-to-earth winery offers scrumptious sips, plus a picturesque view of the Statue of Liberty and Manhattan from its patio. Featuring vintages made from fruit in-state, there's a "grape to bottle" variety for any wine drinker. Says Esther, "The tasting room offers 150 labels of Red Hook Wine that embody the salt and sea of the North Fork of Long Island and stone shale terroir of the Finger Lakes in Upstate New York." What better way to explore the local landscape than to taste it?
Do
Stroll through Vinegar Hill 
Take the F train to meander through time in this historic neighborhood. Once inhabited by Dutch and Irish immigrants, you'll find, "19th century homes, timeworn storefronts, vintage cars, and sun-bathing cats in this 400-year-old cobblestone village perched by the old Navy Yard," explains Esther.
Play at
Royal Palms Shuffleboard Club
A taste of the tropics, right in Brooklyn! Filled with kitschy decor, along with games of shuffleboard (of course), you can sip fruity drinks and beer, listen to DJ spins, and sample the food trucks that frequent the place. Advises Esther, "Walk-ins are welcome but for groups of 10 or more, it's suggested to reserve one of the striped cabanas for $50/hour which includes beverage packages starting at $25/hour." And, an insider tip: "The key is to go on a Sunday when the $50 fee is waived all together."  (Royal Palms is currently closed but add it to your list for 2021.)
Spend the Day at
Domino Park
Ideal for socially-distanced outdoor fun, Domino Park is "great for a sunset stroll or morning run," says Esther. And as a matter of fact, it's a wonderful way to spend the entire day. This six-acre park, which features a quarter mile of waterfront views along the East River, was recently opened in June of 2018. It was built on the site of an old sugar refinery (you know, as in Domino Sugar), and now, there's plenty to do and see.
You can meander around large-scale artifacts salvaged from the former factory, recline in one of the riverside lounge chairs, puppy-watch at the dog run, or grab grub from the onsite Mexican joint,
Tacocina
. As an added bonus, the park has "real bathrooms with cleaning attendants!" says Esther.
Invigorate Your Senses at
Bellocq Tea Atelier
Travel the world through a teacup at this gourmet tea shop, stocked with enough brews to please even the most refined connoisseur. A memorable experience from start to finish, the enchantment begins right at the door. "Ring the bell to enter through an inconspicuous black door revealing exotic hanging plants, weathered walls lined with beautiful tea cases and antique measuring instruments," says Esther. Her recommendation? "Discover Marjorelle Mint and High Mountain Oolong tea alongside a curated collection of tea wares, incense, honeys, and candles," she says.
Sleep
Kick back at the
Williamsburg Hotel
Both posh and contemporary, the Williamsburg Hotel is conveniently located in North Brooklyn, home of some of the best eats in the borough and in close proximity to Manhattan. "You're walking distance from Bedford Avenue and all other happenings of Williamsburg," Esther points out. "In addition, guests have access to complimentary bikes to explore the 'hood"! If you'd rather relax, you can lounge by the rooftop pool (currently closed for the season), dine at the onsite Seven Seeds restaurant, which serves up Mediterranean food, or sip cocktails in your room while taking in the view.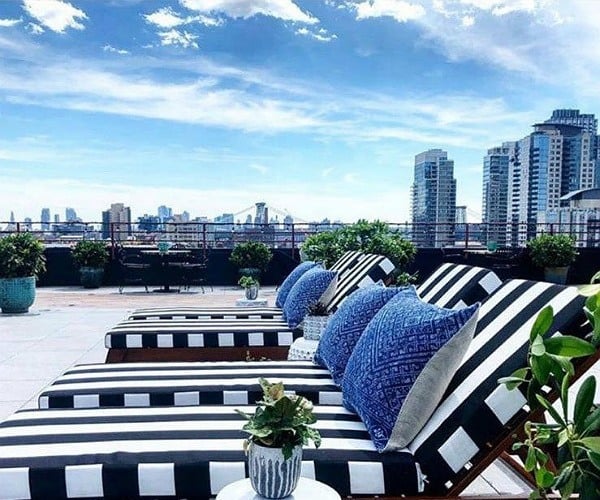 See, adventure isn't so far away! Get your fill of lavish livin' (minus the pretentiousness) by taking a trip to New York's trendiest borough. Author's note: Some stores, restaurants, and destinations highlighted in this article may have different hours and procedures due to COVID-19, or may be temporarily closed. Because of this, I highly suggest calling or checking the websites of individual locations before planning your trip.
Eric Hrubant is owner and president of CIRE Travel.  CIRE Travel is a concierge style travel agency specializing in luxury vacations and honeymoons, once-in-a-lifetime bucket list journeys as well as group and corporate travel.
If you would like to be a guest blogger on A Luxury Travel Blog in order to raise your profile, please contact us.
Did you enjoy this article?
Receive similar content direct to your inbox.