By
Jamie Edwards
on Dec 12, 2020 in
Accommodation
,
Africa
,
Caribbean
,
Europe
,
Guadeloupe
,
Italy
,
Mexico
,
Morocco
,
North America
,
Regions
,
Saint Lucia
,
Vacation Rentals
,
Western Europe
If there was ever a time to start planning a villa holiday, that time, undeniably, is now. Villas, as opposed to hotels, are a natural choice for social distancing, as they are inherently secluded, and allow guests to spread out. Villas erase the need for babysitters, or restaurants, since a personal chef is one typical perk of villa life.
Finding the right villa can be a labor of love. It needs an optimal balance of indoor and outdoor living, to be designed with views in mind, and have just the right collection of 'toys', whether for age 4, or 40.
Lavish amenities, like an infinity pool, a private beachfront location (or both), a built-in sound system, a fully-stocked wine cellar, and a yoga sanctuary—are all in the mix of what makes a villa good, versus absolutely mind-blowing. Perhaps, the biggest compliment for a villa, is that it is so tranquil, so thoughtfully laid-out, and so well-appointed, that no one wants to leave it, for any reason. Ever.
What follows are some of the world's most swoon-worthy villas. They take into account architectural, aesthetic, and ambient, criteria. They span continents, cultures, and climates. They provide outstanding services, and super-luxe amenities. Some are privately owned, and others are a part of world-class resorts. Most noteworthy though, is that they are all available for your next villa holiday. Ready to start planning?
Casa Majani, Punta Mita, Mexico
Punta Mita is an exclusive resort community in Nayarit, Mexico. It has long been associated with understated, beachfront beauty, and is also the home to both the St Regis and the Four Seasons resorts. Set upon 1500 flourishing acres, and surrounded by the Pacific Ocean on three sides, the lure of Punta Mita is palpable.
There is no shortage of heart-stopping villas to be found on this gently manicured private peninsula. However, the serene undercurrent of Villa Casa Majani mimics the peninsula itself, with water as its defining feature.
Casa Majani boasts six seductive, zen-like bedrooms, interconnected via garden-filled pathways,  Manzanillo trees, and meandering reflecting pools. Suite Keili, one of two master suites, is best described as a 'bedroom island.' The infinity pools that surround the suite look on towards the ocean, often mirroring the prismatic colors of the Mexican sky.
The architectural centerpiece of the villa, is the enormous thatched-roofed grand palapa loft, at the edge of the main pool. Infinitely breezy, it plays many roles—pre-dinner cocktail lounge, shady reading nook, or whale-watching perch. The natural hues and wooden accents are in line with a modern Mexican aesthetic, and touches of bright, traditional colors like persimmon, fuchsia, and lime green, accent the decor artfully.
It will take all of one morning for the seasoned staff to remember each guest's name, as well as their caffeinated vices. Mini-tacos with fresh guacamole will appear poolside before anyone's stomach has the chance to rumble. Hand-crafted cocktails will magically arrive at the first signs of dusk. A dedicated concierge helps to facilitate any needs, whether organizing an on-site masseuse, or a group tequila tasting.
The villa includes a 14-passenger van for guests to use, as well as a golf cart, bikes, paddle boards, and kayaks. There are multiple indoor and outdoor dining spaces throughout the property, so that one can vary the view during meals on a whim.
Casa Majani is undoubtedly a destination unto itself. However, should guests decide to venture off-property, access to the Four Seasons and St Regis resorts, including the Jack Nicklaus golf courses, beach club, tennis club, and fitness center, is included.
Given that Casa Majani has its own yoga studio, gym, private beach access, and a full staff, in one secluded location, it is hard to imagine anyone would leave the property for any reason other than to catch a flight home.
Viceroy Sugar Beach, Three-bedroom beach residence, St Lucia, Caribbean
The majestic, towering Pitons are a duo of volcanic spires, and the visual centerpiece of the island of St Lucia. They stand at 2,618ft and 2,438ft respectively. The Pitons are, without a doubt, the geological defining feature of this mountainous paradise in the Windward Islands.
Viceroy Sugar Beach, once a thriving 18th century sugar plantation, won the Caribbean lottery on location. It is one of only two resorts that rest between the Pitons, and the only one that is beachfront. They have been named a World Heritage Site by UNESCO, and at any given time of day, one piton is lit to perfection, while the other lies in dramatic shadow.
Both Pitons are magnificent around the clock. In fact, they are so highly regarded, that they are proudly displayed on the national flag, as well the name of the local beer. Two equally high honors.
The plantation-inspired, three-bedroom beach residence has uninterrupted 360 views of the sea, and sits steps from the beach. While standing on the expansive pool deck, both Gros and Petit Piton are within view, a remarkable backdrop to the crystal clear waters.
Beach villas come with a personal butler to attend to all needs that may arise, and guests are given a cell phone with his/her direct dial. From organizing excursions, massage appointments, and food and beverage stocking upon arrival. Or perhaps, the most intimate of dining experiences, on the veranda, overlooking the setting sun. An on-site chef and waiter will be happy to oblige, as well as help you to create a menu that suits your groups tastebuds.
Every room has large glass-paned windows that face the ocean. From the lantern-lit deck, chartered catamarans and sailboats slowly drift in and out of the harbor. An unvarnished portrait of the seascape is constantly being re-created.
Four poster beds have romantic, voile draping that evoke a dream-like sanctuary. White-on-white, silky Egyptian cotton linens, contrast with dark, wooden, colonial touches. Natural jute weaves, and a touch of rattan, add to the breezy vibe of the villa.
An infinity-edged pool parallels the sea, hovering just high enough above it so that it feels as if one could swim laps alongside the horizon. The connecting hot-tub makes for the most secluded sundowner spot on the island. While the rest of the guests at Sugar Beach are mingling, you can feel like you have the island to yourselves.
Villa Laura, Cortona, Italy
A sweeping property just outside of the walled Italian village of Cortona, is the famed setting of the film, Under the Tuscan Sun – Villa Laura. Guests of Villa Laura have an opportunity to create their own Tuscan memories in this restored 17th century villa, where the movie was filmed in 2003.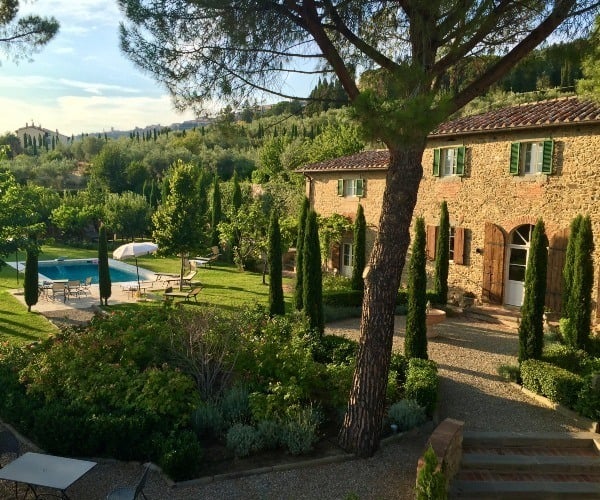 The book was based upon Frances Mayes' experience at Bramasole, which means 'to yearn for the sun'. It is likely something you may never do, as the property fully absorbs every ray of sunlight. Three unique buildings nestle within the property and manicured gardens: the Villa, the Farmhouse, and the Limonaia—ten ensuite guest rooms between them.
The buildings date back to 600AD, and part of the lure of Villa Laura is the history that is sensed as you spend time exploring the extensive grounds. The washed stucco villa, with sage green painted shutters, changes color from pale yellow to rich gold over the course of the day, as the light shifts and unfolds. The stone-walled farmhouse has an outdoor dining area that overlooks miles of verdant Italian countryside.
A hamper of local treats welcomes guests to the villa. There is an organic vegetable garden for guests to use, along with a hammock bending to the breeze beneath the fruit trees. A wine cellar is stocked with Italian wines and a jacuzzi nearby to toast Tuscan life. The nearby village of Cortona might be calling, but it will undoubtedly be difficult to answer.
The Mandarin Oriental Hotel Villas, Marrakech, Morocco
The Moroccon property of the Mandarin Oriental Hotel is a short drive from the famous Medina of Marrakech. Yet, it feels like another world, once cocooned within its 20 hectares of jasmine patches, olive trees, and 100,000 fragrant roses. The hotel's 54 private villas dot the property in a scenic serpentine route, alongside reflecting pools, and majestic, wavering palms.
The austere, one-bedroom pool villa has a rose-covered entry. An oversized, dark and  studded wooden door opens up to a courtyard that features a long, dramatic private pool. At its far end, the pool morphs into a sheltered hot tub, which nestles squarely against the sliding glass doors of the master suite.
Each room opens up to the central courtyard, reinforcing the blurry edges of indoor and outdoor living. Contemporary Moroccan decor is captured in subtle ways, soft Berber rugs, elaborate, stone artwork, even in the design details of lampshades. A hammam-inspired shower, an Arabic bathing ritual used for cleansing, is an added luxurious feature of the villa, and posed yet another distraction from exploring the mesmerizing city of Marrakech.
An elongated, horizontal fire pit cuts into the courtyard wall. An outdoor kitchen and bar, as well as plush outdoor sofas, make the inside of the villa nearly redundant. It is just this combination of open-plan architecture, overlaid with the semblance of absolute seclusion, that makes this hotel villa so enchanting. An isolated, modern riad oasis, indeed.
Villa Ixfalia, St Barths, Caribbean
The overgrown, jungle-like entrance of St Barth's Villa Ixfalia is deceptive. Perhaps, this is intentional—the drama of a velvet curtain opening at showtime. A wooden planked path leads guests through a wide threshold and into a vast, open-air living space.
Twenty rattan lampshades dangle and sway from the high ceiling in varying shapes, sizes, and heights. Yet, as mesmerizing as they may be, chances are you won't notice them, as your eyes will be instinctively drawn ahead.
Cue the panorama. The only thing that lies between you and the Caribbean Sea is a glacial blue infinity pool. Perched several hundred feet in the air, you may feel you are swimming in the sky, with vistas that overlook the beaches of this swanky European-influenced island.
Rooms are designed in soft earth tones, and with natural textiles, all sea-facing. Some have private outdoor showers, all have flat screen Apple TVs, and found objects, on display. Bleached animal skulls, driftwood sculptures, and gigantic white shells add to the nature-inspired villa vibe.
The master bedroom's inviting king-sized bed faces floor-to-ceiling glass doors that open to the pool, and then onwards towards the sea. One feels miles above the world, both literally and figuratively. A welcomed distance from reality.
The infinity pool and patio, with tiers of large, double-wide sun loungers and captivating views of Eden Rock Resort far below, is the towering focal point of Ixfalia. Guests will find themselves in a constant conundrum—wanting to explore the island, but never wanting to leave the villa. With a dedicated butler and French chef on hand, there is virtually no need.
Get inspired
As the world prepares to start traveling again, the allure of a villa holiday is all the more intoxicating. What better way to get friends and extended families together than in a venue where everything needed is one place? Beyond the swoon-worthy views, the sunsets, the beaches, and the infinity pools, lies the most important luxury of all—the people with whom you choose to share it.
Jamie Edwards is Founder of I am Lost and Found. I am Lost and Found is a luxury/adventure travel website that inspires others to explore the world, through first-hand experiential writing and captivating photography.
If you would like to be a guest blogger on A Luxury Travel Blog in order to raise your profile, please contact us.