I'm proud to call this beautiful continent Africa, home. If there's any advice I can give, it would be to never pass up an opportunity to visit Zimbabwe – I can guarantee you'll want to come back for more, again and again!
Renowned for being one of Africa's most beautiful destinations with a superb all-year-round climate with an incredible diversity of landscapes and top destinations such as Victoria Falls – one of the world's Top 10 Natural Wonders; and Hwange National Park which at over 14,000 square kilometres in extent is one of the largest wilderness sanctuaries in Africa and home to a 30,000 strong elephant population amongst its 100 mammal species.
The country also boasts the five World Heritage Sites of Victoria Falls, Mana Pools National Park, Matobo Hills National Park, Great Zimbabwe, and Khami Ruins. The professional guides at these safari lodges in these areas are regarded as the best in Africa.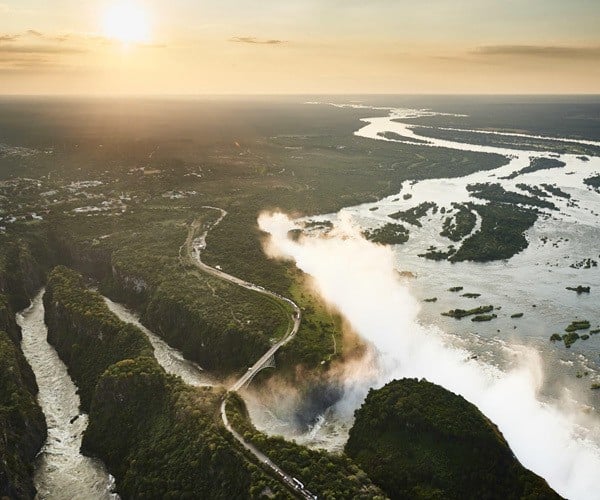 Zimbabwe's superb wildlife offerings in Hwange, Mana Pools & Gonarezhou National Parks are contrasted by the cultural experiences of Great Zimbabwe & Matobo Hills National Park. The Eastern Highlands offer an entirely different landscape with a range of mountains filled with breath-taking waterfalls, clear streams, and endemic flora and birdlife.
Zimbabweans are naturally friendly, warm but professional in their hospitality & excellent standards preside in the lodges and hotels across the country. Zimbabwe generally does not focus on mass tourism and this provides a far more intimate and personalised experience compared to many other African destinations. Below is a memorable photo of our time spent in Hwange National Park with the family enjoying some 'sundowner magic'.
From my personal experience I've hand-picked a few unique and 'must-see' luxury lodges across the country to put on your 2021 bucket list of places to visit, any unique itinerary is possible!
Victoria Falls – Victoria Falls River Lodge
Set on the banks of the Zambezi River, the Luxury Tented Suites at Victoria Falls River Lodge are pioneers in many ways. As the first privately owned lodge situated in the Zambezi National Park, the lodge is the ideal place from which to explore Victoria Falls as it blends the African Safari experience with one of the Seven Natural Wonders of the World – the spray of which can be seen in the distance!
The combination of personal service, exceptional wildlife viewing, fine dining and luxurious accommodation ensure an unforgettable experience that will leave guests wanting to return. Within easy access to the historic town of Victoria Falls, you can explore the falls on foot or take advantage of any of the many adrenaline filled activities available such as ziplines, bungee jumping or white water rafting.
Victoria Falls River Lodge is set upon raised decks and sheltered by vast expanses of thatch – the relaxed atmosphere of these family-friendly accommodations perfectly complements their natural surroundings.
Immense open-flow lounge, dining and bar areas, decorated in a light contemporary style and equipped with all the modern conveniences one would come to expect from top class lodgings, invite a cooling respite from the baking African sun.
Whether electing to take a refreshing dip in the sparkling infinity pool, indulging in a relaxing treatment at the Africology affiliated Toa Spa, or sipping on a cocktail whilst drinking in the panoramic river views from the riverside bar at sunset – Victoria Falls River Lodge is designed around an array of experiences that will restore and re-energize.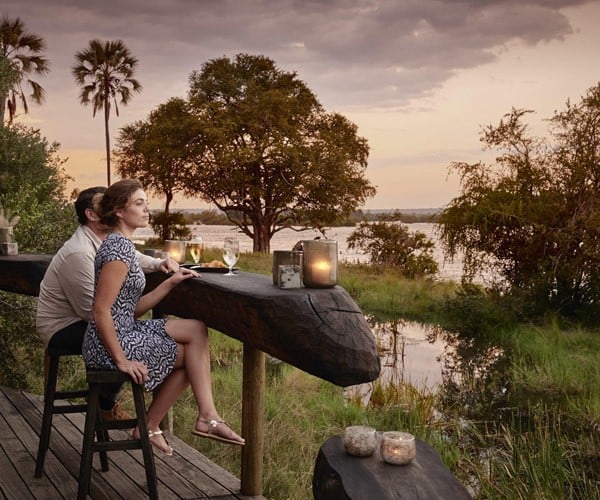 Hwange National Park – Linkwasha Camp
Linkwasha is situated in a private concession in the best location in south eastern corner of Hwange National Park. It is found near the famed Ngamo Plains, where wildlife gathers in numbers during summer – to add to the year-round excellent viewing from the camp itself; Linkwasha overlooks a pan that is a magnet for game seeking to quench its thirst.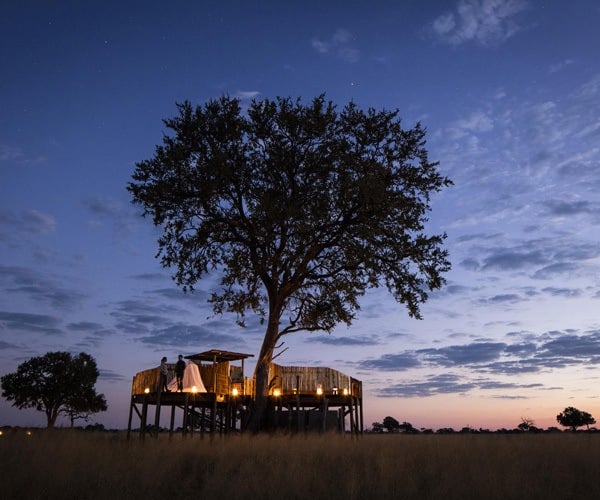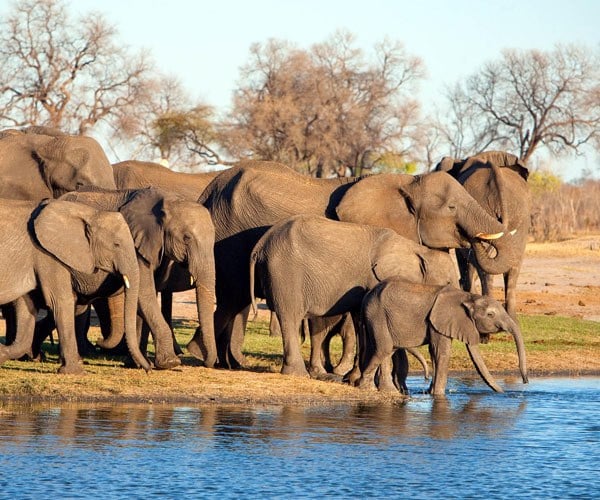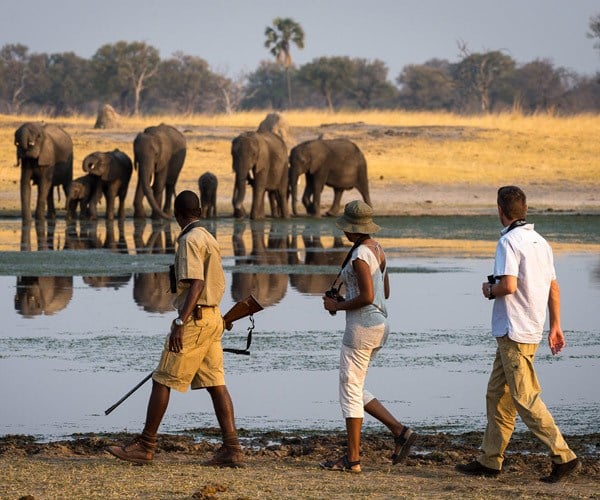 The camp is open plan and has a wonderful mix of interiors to give you a real flavour of being on safari. There are eight en-suite tents and there is also a family tent that all look out on the plain. The main camp area has different decks, a pool area and a lovely lounge to gaze out over the waterhole.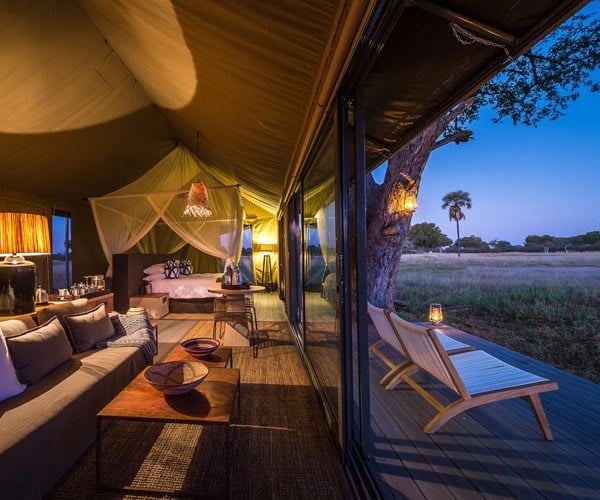 The Camp has a non-profit partner, Children in the Wilderness, which works closely with the surrounding communities and schools, ensuring they benefit from conservation and sustainable ecotourism. Guests can enjoy a local village visit which often includes a guided tour of the school, meeting the headman or participating in community projects.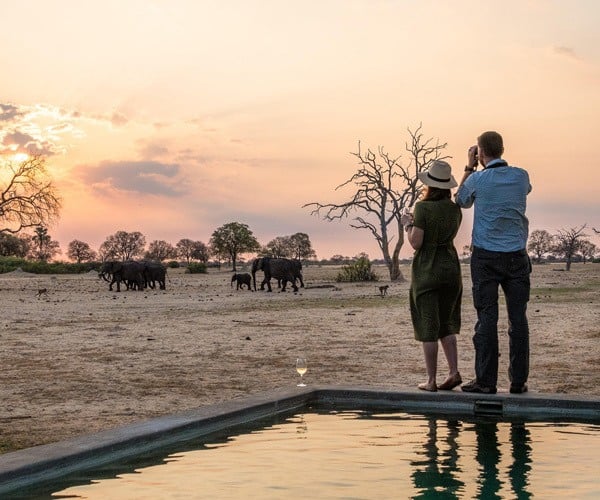 Mana Pools National Park – Nyamatusi Camp
Set in one of the wildest and most remote parts of Africa, on the banks of one of the oldest rivers in the world, Nyamatusi allows guests to experience an authentic view of the old untouched Africa.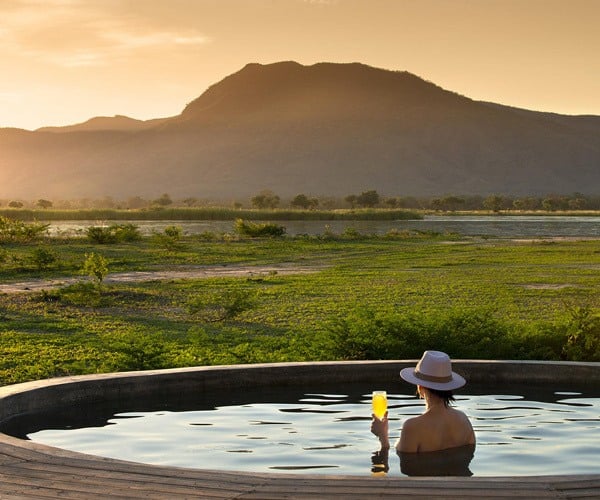 Inspired by the traditional custodians of the land who worshipped the river of life, the design of the camp subtly incorporates the element of water and pays homage to the astounding beauty of the mighty Zambezi River. Consisting of six luxury tented suites with uninterrupted views of the river and escarpment beyond, the camp inspires a feeling of remoteness. There is an abundance of game and birds dance on the breeze.
Guests are able to spend their days walking in the footsteps of ancient explorers and following the tracks of elephants. Here, visitors can watch the drama of the wild play out before their eyes on game drives and canoeing safaris and marvel at the incredible sights and sounds of one of Africa's last remaining wild frontiers.
Lake Kariba – Changa Safari Camp
Changa Safari Camp is a bright and beautiful spot on life's demanding horizon, a place of romance and luxury that promises peace and seclusion in an unusual blend of landscapes.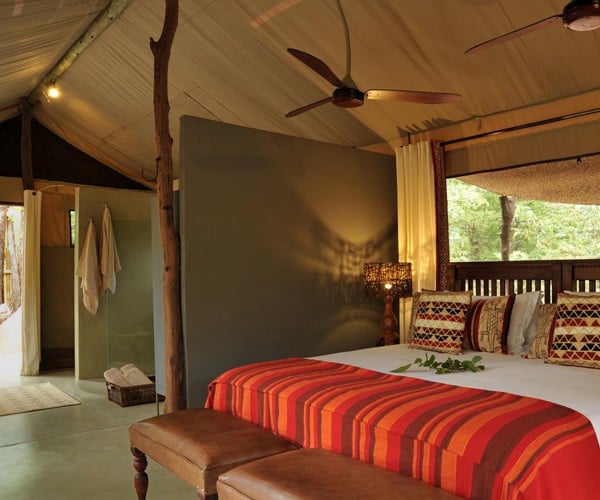 On the shores of Lake Kariba, with the Matusadona mountains in view, the proximity to nature and true wilderness is unparalleled… four and a half kilometers of shoreline on a private concession ensure that this luxurious tented camp becomes a relaxing remote retreat.
Each day ends with a sundowner on the shore, elephants chomping nearby, a fish eagle marking the moment perfectly… later, tales of excitement are shared with laughter around the fire, and a delicious dinner is the time for tomorrow's game drive and picnic plans to be discussed. The pace is set by you.
Beck Edwards is Director at Off 2 Africa. Off 2 Africa is an intrepid, larger than life inbound Destination Management Company into Southern Africa.
If you would like to be a guest blogger on A Luxury Travel Blog in order to raise your profile, please contact us.