By
Jenny Wilkinson
on Jan 25, 2021 in
Asia
,
Ecuador
,
Europe
,
Italy
,
Regions
,
South America
,
Spain
,
Sri Lanka
,
United Kingdom
,
Western Europe
Have you watched landmark dates come and go without the festivity you had always hoped for? Was a 40th birthday spent in your pyjamas at the kitchen table, waving at friends on Zoom? Did a year of planning a family reunion end in working out refunds instead? The New Year may not have started as we thought it might but hope has arrived. Finally we can begin to dream of connecting again. Those weddings, anniversaries, birthdays or an annual get-together with friends will happen. Here are some of our favourite places to come together and share with loved ones; destinations that benefit from a longer, more meaningful stay.
Private Puglia
An invitation to an 18th Century palace in the heart of Puglia isn't one that many people will turn down. Palazzo Bozzi Corso is based in Lecce, Italy's 'Rome of the South.' This ten-bedroom family home has been redesigned with an elegant twist of contemporary flare. The interiors are stylish but playful – every room tells a story of theFiermonte family's colourful life. This was a home frequented by a heady gathering of artists and celebrities from Yoko Ono to Lady Astor. Today, the owners (grandchildren of the Fiermonte family) and their local team will personally lead guests 'behind the closed doors' of Lecce. They will show you a side to Puglia that few visitors have a chance to discover. They'll take you by boat to remote beaches for lazy picnics and tiny villages tucked into ancient olive groves. Special events can be held in the family's private art museum and the kitchen opened for delightful cooking lessons with the lively team of chefs. For an unforgettable night, enjoy a traditional Italian feast in the private courtyard surrounded by a thousand flickering candles and the stars above.
Palazzo's sister property, La Fiermontina is a five minute walk away and has a large pool surrounded by olive trees for a rest when you're not out exploring.
Spanish wine retreat
Every aspect of the Le Domaine gazes onto swathes of the estate's vineyards in Ribera del Duero. Founded in 1146, this former monastery has been converted into a luxury retreat. Every aspect maintains the  tranquillity you would expect from somewhere originally designed for inner reflection. A short stroll through the flower-filled gardens takes you to the banks of the Duero River. These mighty waters carve their way to Portugal's North Atlantic coast, feeding the region's abundance of grapes along the way. One of the best ways to understand wine-making in Ribera is with a private tour of Le Domaine's vineyards (Le Domaine operates one of the largest vineyards in the region so there is plenty of land to explore and the wine they produce is fantastic). When you're not tasting wine, the hotel has bikes and horses to get out and enjoy the natural surroundings. In the evening dine in the monastery's quad watching the sky turn from pastel hues to a deep and infinite starlit night.
Insider tip: There are some excellent boutique bodegas in Ribera del Duero that aren't open to the public. With enough planning the owners will often open their otherwise firmly closed doors to like-minded guests keen to get under the skin of the region.
Heckfield Place, Hampshire, UK
There is something in the air at Heckfield that seeps into your bloodstream from the moment you arrive. It forces you to slow down and move with the rhythm of nature's steady pace. This exquisite country house hotel has 47 rooms and can be hired exclusively for large groups. For smaller gatherings, there are plenty of charming rooms to use privately within the hotel. We love the oak-panelled dining room that can seat up to 20 people for dinner. The room has floor-to-ceiling windows that open onto a terrace overlooking the lake and gardens – great for chatting around the firepit on a balmy summer evening. There are over 400 acres of estate land to ramble in and enjoy riverside picnics surrounded by nature. Heckfield also has an impressive commitment to sustainability using their land to develop the biodynamic farm that produces much of the food on the menu.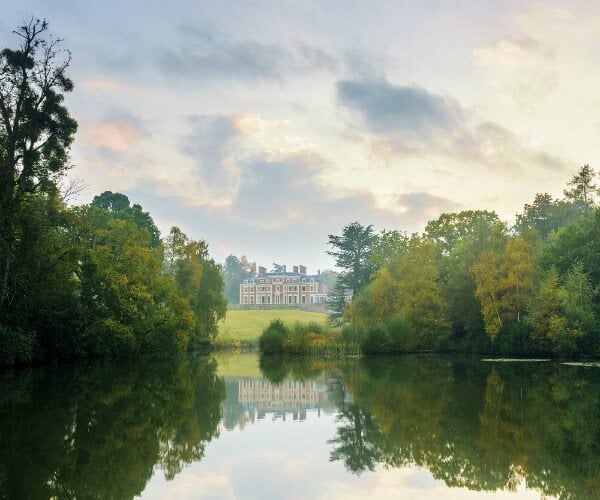 Insider tip: The art deco style screening room can be booked exclusively for an extra special movie night or a private lecture with a surprise guest speaker.
Galapagos boat charter
One of the best ways to experience the extreme natural diversity of the Galapagos Islands is from the comfort of your very own boat. This enables you to reach the far-flung islands of the archipelago, cruising at night and waking up with a new, jaw-dropping view every morning. You'll explore volcanic craters one day and the softest sugar-white sands the next. Thankfully these islands are well protected by local and international conservation efforts. However, it is essential to choose a vessel that contributes to protecting the fragile ecosystem and local island community. The Origin and sister ship, Theory are two of our favourite. These ten cabin luxury yachts come with a highly experienced local crew who operate a genuine passion for preserving the islands they call home.
Insider tip: If you're considering a multigenerational visit there is no age limit on a private charter. Every aspect of the sailing experience from the guides to the menu can be curated to suit young and old.
Secret Sri Lanka
Sri Lanka is a great country to visit as a group. This relatively small island is packed with contrasting cultures and landscapes from one tip to the other. Combine a charming train ride into cavernous mountain ranges with a rainforest adventure and there is no need to spend time checking in and out of airports. Family homes and small boutique hotels can be hired exclusively allowing you to completely tailor the experience. Start in the tea plantations at a home perched in the hills with distant views over the valleys. When you feel replenished, travel to the coast and stay at a beach house overlooking golden sands and turquoise water. Day trips with our local friends will take you from hidden temples to empty beaches far from the tourist trail. They will give you their own account of the real Sri Lanka so you can learn the story told by its people. 
Insider tip: Sri Lanka is a destination that comes alive if you slow down and take time to let it sink in. We always advise longer stays at two or three properties rather than box-ticking along the well-trodden Golden Triangle.
Jenny Wilkinson is the Founder of The Insider Travel. The Insider Travel designs bespoke small group journeys and retreats in the United Kingdom, Europe, Asia and Latin America.
If you would like to be a guest blogger on A Luxury Travel Blog in order to raise your profile, please contact us.