By
Trina Howes
on Jan 25, 2021 in
Croatia
,
Cruises & Boat Travel
,
Eastern Europe
,
Europe
,
Greece
,
Middle East
,
Regions
,
Speciality Travel
,
Turkey
,
Western Europe
Celebrate a summer of freedom in the Eastern Mediterranean and cruise wherever you desire on a luxury yacht charter, one of the safest ways to have a break far from home and still maintain social distancing. The wonderful luxuries on board mean you can spend all your time aboard or in the water or some remote anchorage, while provisions can be left at the dock so your crew need never come into contact with anyone on land.
Testing beforehand will ensure that everyone on board is virus-free before heading to low danger destinations, and for the extra-cautious, you can spend every day amongst the wonders of nature without ever heading into town. The Eastern Mediterranean has an abundance of islands with scattered ruins and picturesque beaches, providing a fulfilling holiday where the attention is placed on the destination and time well spent with family and friends.
Sailing yachts perform well in the Eastern Mediterranean winds, particularly amongst the Saronic Islands close to Athens. Catamarans are some of the most popular because they are sized for family and friends groups and have a great collection of water toys for their price range. Their shallow draft also means that they can get up close to the shallow coves to escape the crowds and enjoy some privacy and tranquillity, oftentimes with a sandy beach accessible by tender or even a short swim.
Add a little more Eastern Mediterranean culture to your yacht charter and choose a luxury gulet – a traditional wooden sailing craft built in Turkey. The amenities and interiors onboard range from traditional to contemporary, with a growing number boasting deck Jacuzzis and a large selection of water toys designed for the anchorages in the region.
Superyachts and even mega yachts are available for those who want to spare no expense, taking the party with them wherever they travel.
The opulent city of Venice is for many the first or last stop on an Eastern Mediterranean itinerary, and it's filled with cultural wonders to awe visitors of all ages. A whirlwind tour of the most famous sites would take you to the Grand Canal, the Doge's Palace and Saint Mark's Basilica, however, there are plenty of museums and art galleries, and the Murano and Burano Districts giving the opportunity to pick up a memorable memento.
Across the sea, Istria is a place of picturesque beauty – one where Greek and Roman influences from ancient times give a unique character to this part of the Croatian coast. Poreč makes an impressive sight as you cruise into the harbour, and the Euphrasian Basilica is one of the highlights of a tour, along with impressive Scuba diving sites offering something for all experience levels. Warm-up on one of the stunning white-sand beaches, or rest on board your luxury yacht as your Captain cruises down to the enchanting Dalmatian Coast.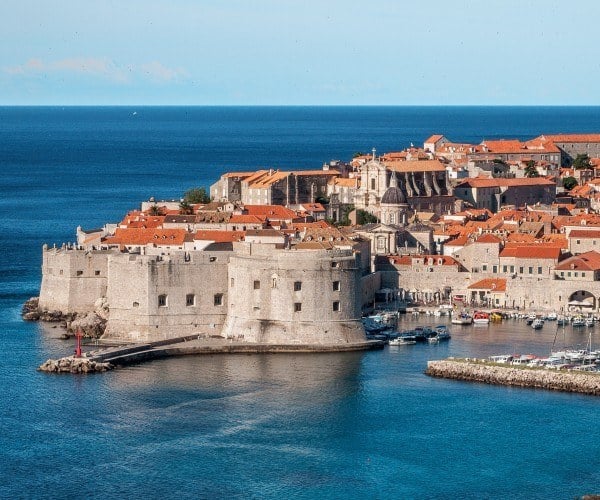 National Park Kornati is renowned for its natural allure and as a place for water sports: Find a quiet anchorage amongst the numerous coves and dine on the beach at sundown, or enjoy cocktails and conversation on your sundeck under clean and clear night skies.
The Lastovo Archipelago Nature Park offers breathtaking vistas close to some of the more well-known islands: Vis, Brac and Hvar between them offer an eclectic mix of summer parties and music festivals, and tranquil seaside hamlets bordering glassy blue seas. Dubrovnik is an exceptional city even when considering the other offerings of the Eastern Mediterranean. This UNESCO World Heritage Site has plenty to see right beside the harbour, with museums, galleries and churches all within walking distance.
The Greece charter grounds are vast, and it would be possible to cruise for a month and never see it all. The Ionian, Cyclades and Dodecanese Islands groups are the most well known, however, sailors will revel in the winds of the Saronic Islands, and the Aegean & Sporades provide a quieter, slower pace of life than their southern counterparts.
The blue-roofed, white-washed houses of Santorini are one of the most well-known sights of the Cyclades, as are the windmills along the shore. Spend the day wandering through cobblestone streets, shopping and taking in the atmosphere before a night tasting ouzo in one of the tavernas. From here other popular destinations such as Mykonos, Naxos and Paros can easily be incorporated into a week-long itinerary for the best sights, beaches and water sports to make your holiday or another special occasion a complete success.
Turkey is less well known as an Eastern Mediterranean charter destination but has a well-established industry offering luxury yachts for large weddings and other special occasions to compact vessels ideal for couples or a family of four. The 'Turquoise Coast' is aptly named and the clear, shallow and warm water will feel like a bath, tempting everyone in for a paddle or a snorkel to see some of the amazing species around the reefs. Whale sharks, turtles and rays glide through the region, and Fethiye is one of the best places to observe this incredible natural world. Discover the beautiful beaches around Marmaris, the shopping and culture in Bodrum where the Mausoleum of Halicarnassus, one of the Wonders of the Ancient World, still stands.
Choose the Eastern Mediterranean for a luxury yacht charter in 2021 and enjoy the freedom of an itinerary providing versatility along with a multitude of options to satisfy every interest in your group.
Trina Howes is a Director of CharterWorld America. CharterWorld is a luxury private yacht charter company that creates outstanding vacations with excellent yachts at amazing prices – worldwide.
If you would like to be a guest blogger on A Luxury Travel Blog in order to raise your profile, please contact us.