The 5 best reasons to visit Dubrovnik in Spring
While Summer is the most popular time to visit Dubrovnik, Spring (or Autumn) could be an even better option to explore and enjoy this Adriatic pearl and one of the most intriguing destinations in Europe. Here are the 5 most important reasons why visiting Dubrovnik in the Spring is the best idea ever!
Warm, Mediterranean climate
Did you know that Dubrovnik enjoys a mild Mediterranean climate with around 250 sunny days or 2670 sunshine hours per year? Pleasant air temperatures ranging from 15°C to 25°C make any visit from April to June an ideal choice when it comes to exploring and enjoying Dubrovnik by foot, car, or boat. And this brings us to…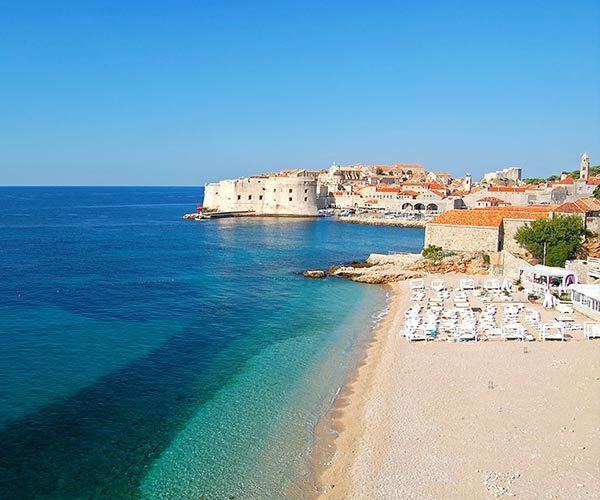 Blue sea and the islands
The Adriatic Sea, a branch of the Mediterranean Sea between Italy and (mostly)
Croatia
, is considered to be one of the cleanest waters in the world. With a very different form of the coast – a straight Italian coast with almost no islands opposed to established Croatian coast blessed with more than 1,200 islands, islets and cliffs, including 69 inhabited! Located in the southern part of the Adriatic, Dubrovnik not only enjoys a spectacular seafront location, but also breath-taking scenery and convenient access to the surrounding islands – the Lokrum Nature Park, only a stone's throw away, but also the Elafiti Islands, a group of 13 beautiful islands suitable for relaxing, swimming and sailing.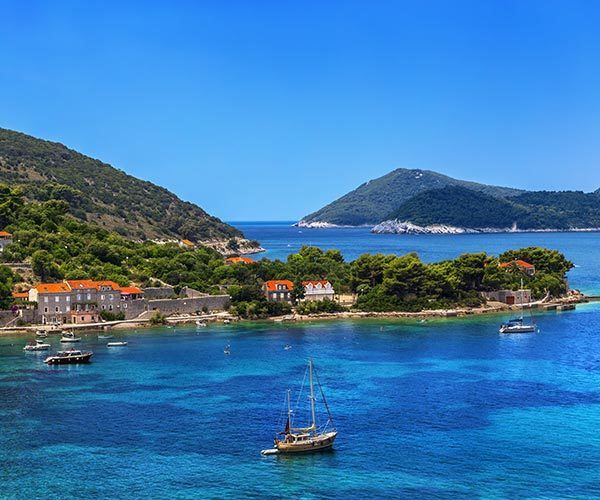 Only wandering along the beach and staring at the blue sky or the surrounding islands is a good excuse to visit Dubrovnik at any time of year. However, if you come in the Spring, you can even get your beginner's tan or even have your first swim of the season, as the temperatures of the sea vary from 19°C to 22°C. For others, the swimming season begins as early as April, but nearly all of them have their first dip by June. Even if you're not up for it, you're welcome to enjoy incredible panoramic views from the iconic city walls, or maybe enjoy a cocktail at some lovely seaside cafe.
Glorious, blooming nature
While Dubrovnik may be most recognizable for its iconic city walls or Old Town panorama, the nature surrounding the town and the area is as enchanting. Admire the blooming nature, sense the salty mist on your cheeks and the soft breeze flowing through your hair, inhale the fragrances of herbs, trees and flowers… reconnect with nature.
Take a day trip to Kalamota, Lopud or Šipan, the only populated islands of Elafiti, and enjoy the stunning scenery of the island. If you just have a few hours, why not visit the green oasis of Dubrovnik – Lokrum Island – only a short boat ride away? On Lokrum, you can visit the arboretum, wonder easily about the island in the company of peacocks and rabbits, or visit historic sites that can be seen in HBO's "Game of Thrones." A quick drive away, visit the village of Trsteno with the oldest arboretum in Europe, or even the Pelješac Peninsula, renowned for its vineyards and oyster farms, as well as the second-longest wall in the world in the picturesque town of Ston. From Pelješac, the an-hour-long ferry ride will take you to the wonder of nature, the Mljet National Park, one of eight such parks in Croatia.
Healthy, seasonal food
Another strong reason to pick the Spring months to visit Dubrovnik is delicious Mediterranean cuisine focused on fresh, seasonal food that might not be available at other times of the year. Find your inspiration in Dubrovnik's green markets, like the one on Gundulić Square in the Old Town, or the major green market in Gruž, or get tips from small and usually family-run restaurants.
The queen of the season is an oyster whose farm season begins in March. If you ask locals, the best way to eat them is hand-picked, raw with some freshly squeezed lemon juice. If you are an oyster fan, we recommend Mali Ston Oyster Festival or oyster tasting tours to sample best oysters directly from the sea. And while there, do not lose your chance to pair oysters or other sea-inspired dishes with renowned wines that can be found in a variety of wine cellars in the Pelješac Peninsula. Dingač and Postup are among the best red wines produced with the Plavac Mali grapes, closely linked to their relative Zinfandel from
California
.
If you prefer a vegetable-based diet, in addition to a wide variety of regular greens on sale, why not try any of the lesser-known wild edible plants and salads such as nettle weeds, chicory leaves (žučenica), dandelion greens and Dalmatian specialities, wild asparagus (kuke & šparoge). These are all fantastic bitter salads or interesting cooked dishes with, for example, eggs. Adventurous and nature lovers can also mix their two favourite hobbies, walking and dining, and pick their own veggies in the off-beat hikes. At Easter season, you will be pleased with the popular 'bakalar' fish meal on Good Friday, tasty Easter panetone-style 'pinica' bread or sweet 'fritule' dough balls, as well as Easter Sunday lamb specialities and artfully decorated eggs.
Crowdless sightseeing
Avoiding the crowds and social distancing has become the new normal, but it doesn't mean travelling or wandering is out of bounds. On the opposite, Spring provides the best chance to explore Dubrovnik at a more manageable pace, while also enjoying the full potential of the destination.
For once, you can visit local sights and attractions at leisure and take your time to witness centuries of heritage and culture. Not to mention an immersive amount of Instagram photo opportunities with no crowds in your background. If you prefer to experience with a guide, join some of the group tours – from classical Discovery city tours and Renaissance Dubrovnik over 1991-siege/war tour and panoramic tours to 'Ghosts and Mystery Walking Tour' and 'Game of Thrones' tours – the choice is yours. A private tour with an accomplished guide who brings lesser-known insider tales to the tour could be an even better option. Spring is also a good time to engage with Dubrovnik's residents and immerse the local lifestyle, whether it's having a coffee, going out to socialise or practising sports and hobbies. One thing you'll discover quickly in Dubrovnik (and Croatia in general) is the significance of 'having a coffee'. Particularly because it has little to do with coffee itself (although there are a few coffee-varieties on offer) but more to do with discovering the right place to meet friends, business associates or just enjoy a relaxed life under the lovely Spring sun.
Christian Larss Kreković is a General Manager at Sun Gardens Dubrovnik. Sun Gardens Dubrovnik is a luxury resort on the Adriatic coast in Croatia offering bespoke guest experiences.
If you would like to be a guest blogger on A Luxury Travel Blog in order to raise your profile, please contact us.
Did you enjoy this article?
Receive similar content direct to your inbox.