There's no denying that this is a tricky time to think about travel, plan travel and execute a stress-free vacation. However, for many of us needing to steal a few days (or weeks) to get away and escape our quarantine locations, Mexico has a ton of great offerings waiting for us when we're ready to travel again.
The weather there has been great, the resorts are bending over backwards to accommodate their guests while creating safe environments, and the Mexican government is being very pro-active in making sure everyone is using common sense when entering their country. You might not be ready to travel down there tomorrow, but when you do, just imagine how nice it would be to work remotely while savoring the perfect spicy margarita and feeling the warm sand beneath your feet.
The number of luxury resorts throughout Mexico seem to grow each month. For those seasoned Mexico travelers, or those looking to break from their normal destinations and try Mexico for the first time, any of these five luxury resort hotels are guaranteed to deliver you an elevated level of service at a time when service and safety are things we can't get enough of when traveling and vacationing.
I see several umbrella drinks in your near future, so pack your bathing suit and sandals, and start planning. Here are the reasons we love these luxury resorts and destinations – they will be waiting for you when you feel safe to travel again!
1. Andaz Mayakoba Resort Riviera Maya
Andaz Mayakoba Resort Riviera Maya provides plenty of space to spread out and social distance, but it's not so large that you get lost. Located directly on the beach just north of Playa del Carmen's exciting community of shops and restaurants, kids of all ages will find plenty to love about this resort. And if you're a fish taco person, you must try them here. Their fish tacos are life-changing – trust me, I wouldn't lie when it comes to fish tacos!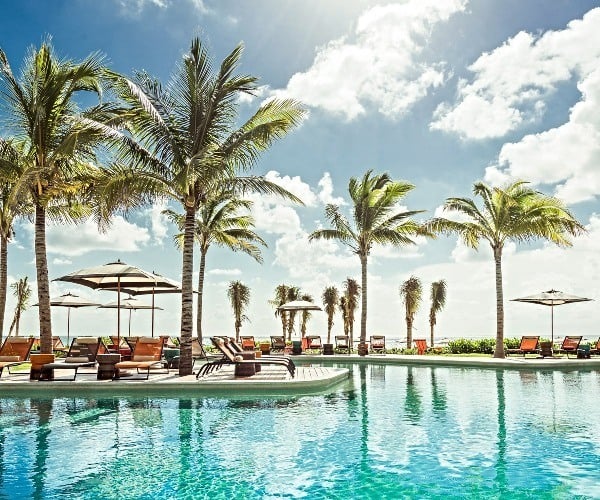 If you're traveling with kids, they have a great Kid's Club so consider that a plus. Escape to the water for swimming, paddle boarding, snorkeling or even kitesurfing for those more adventurous types. The spa excels at customizing treatments for you, so allow for a few hours to splurge on yourself at Naum Wellness & Spa. Golfers will not be disappointed with Greg Norman's El Camaleón Golf Club at Mayakoba golf course that is as challenging as it is beautiful.
For only having a few hundred rooms and suites on the property, the diversity of room types is another reason to love this resort. For my personal favorite, see if one of their Beach Front Bi-level Suites are available for the best of the best. These spacious two-level suites have stunning views of the Caribbean Sea with plenty of living and dining areas to spread out. And the real reason it's a favorite: the private plunge pool!
2. Auberge Esperanza in Cabo
Auberge Resorts Collection has become a favorite for bespoke experiences unlike any other, and Auberge Esperanza certainly lives up to this reputation. Perfectly located on the Baja Peninsula, they like to remind you that they are the only private beach resort in Los Cabos. Just four miles outside of the town of Cabo San Lucas and 30 minutes from the San Jose Del Cabo International Airport, Auberge Esperanza really does feel more like a community, versus your standard resort.
Spend the days in one of the pools, venture out for world-class fishing, arrange for a tequila tasting experience, or have a private chef prepare an unforgettable dinner for you in your villa. Regardless of what you decide, you will find that the attentive staff go above and beyond to make your stay one that you won't soon forget. My favorite activity on the property is the "Dive-In Movie" complete with snacks down at the Mercado pool!
Their curated residential escape offers always make for a great option when planning your stay. These let you live like the locals and take advantage of the Baja lifestyle with private pools, ocean view terraces and often even include a private butler and private chef to seal the deal. Whether you choose one of their Casitas or Oceanfront Villas – or splurge for one of the 1- to 4-bedroom private vacation home rentals – the community feel will have you ready to move-in!
3. Four Seasons Resort Punta Mita
Four Seasons Resort Punta Mita is better than ever after their recent multi-million-dollar renovation, and they are eager to welcome you with their "mi-casa, su casa" attitude from the time you arrive to the dreaded time arrives that you must leave. The perfect balance of luxury and sophistication with privacy and relaxation creates an ideal oasis for a Mexico vacation for the record books.
There are plenty of wide-open spaces so there's never a worry of being too close to your neighbors while enjoying the sprawling beaches and large pools with pre-reserved loungers. Looking beyond just relaxing around the resort, you can also check out the whale watching excursions, take a long walk along the nature trails, or tee it up for a round of golf on one of the two Jack Nicklaus-designed golf courses. I am always eager to visit the spa at this property, and highly recommend that you try something new: they have a "touchless treatment" when healing vibrations of Tibetan bowls balance your energy centers and restores harmony in your body. I just love it and feel completely refreshed when I'm done!
Here, it's all about the service…  Their signature poolside ice cream attendant, a sunglass "doctor", artisan churro maker and celebrated hourly complimentary snack amenities at Nuna pool. What's not to love? The Ocean Plunge Pool Suites are a favorite with the extended terraces, but if you are needing more space, then the 5-bedroom villas and beach homes have you covered!
4. One&Only Mandarina
Of course, you want to be one of the first to stay at a new resort, and I know you will love everything about One&Only Mandarina. Not far from Punta Mita, this is a true escape in every sense of the word. This new community is situated on a rare undeveloped piece of the coastline along the Riviera Nayarit. Low-density planning, sustainable design, unique architecture – they thought of everything, and then delivered it with the uber high level of service you expect from the One&Only brand.
Did I also mention the coastal rainforests, white sand beach and the opportunity to personalize your very own personal retreat with yoga, meditation and rainforest workouts? One&Only Mandarina is ideal for simply relaxing, catching up on your work Zoom meetings, or pushing the envelope to try something new. Polo, perhaps? The Mandarina Polo & Equestrian Club is coming soon, and it will be a treat for experts and novices alike wanting to play polo or simply take a trail ride.
Regardless of how you want to spend your days, the reason I'm obsessed with this resort is the opportunity to stay in one of their treehouses. This is not your neighbor's backyard treehouse; this is your very own palace high in the trees! The Panoramic Ocean Treehouse is worth the splurge with views that go on forever, and is completed with a private pool, floor to ceiling windows and doors… and you can even have room service delivered 24 hours a day in this treehouse. This is an Instagrammers dream destination, and I just love everything about it!
5. The St. Regis in Mexico City
With tourism slower than ever before, this is also a unique time to visit Mexico City – though the energetic buzz around the city is not at its typical over-the-top level, it's still a great destination to explore. The St. Regis Mexico City will be the perfect place to call home, and their extreme attention to safety will leave you free of worry so you can focus on Mexico City's culinary scene and culture! Rising 31 stories above the streets below, The St. Regis Mexico City is a modern masterpiece, but with authentic nods to the local culture throughout the design and offerings.
While at the property, I highly recommend a visit to the indoor pool and then a treatment (or three) at the Remède Spa. You deserve it! Another local favorite outside the doors of your home-away-from-home is a small group food and drink excursion with Club Tengo Hambre. With nearly seven centuries of tradition among this cosmopolitan metropolis of more than 20 million people, these tours showcase why Mexico City is known to be one of the most exciting food cities today. These tours offer both the best of the local street food vendors and globally ranked restaurants, so definitely consider a tour with this group.
Back at The St. Regis Mexico City, I love the large rooms and suites that the hotel offers. Be sure to ask for a higher floor if you're okay with heights as the views of Mexico City are mesmerizing. While there is not a bad room type within the hotel, I prefer the Executive Junior Suite for the unique design and natural light. However, if you are looking to spoil yourself, the Astor Vice Presidential Suite gives you over 1,600 square feet of luxury. The best part of this suite though is the view out over three of the most representative icons of Mexico City: The Angel of Independence, Diana the Huntress Fountain and the Chapultepec Castle. You must, must try their signature Sangrita Maria if you're a fan of a good Bloody Mary… and this one is epic. Yes, please!
Eric Hrubant is Owner and President of CIRE Travel. CIRE Travel is a concierge style travel agency specializing in luxury vacations and honeymoons, once-in-a-lifetime bucket-list journeys as well as group and corporate travel.
If you would like to be a guest blogger on A Luxury Travel Blog in order to raise your profile, please contact us.