Over the last two decades Mallorca has accomplished a culinary transformation. A complete overhaul from the tourist fare of old to one of the world's most appetising destinations and not just for its World Heritage landscapes, pristine beaches, local culture and world class luxury hotels but also for it's outstanding food scene.
A wave has been building of Mallorquin restaurants showcasing locally-sourced ingredients of fish, lamb and pork, fruits and vegetables, nuts, oils, local wines and with the island's rich historical food culture, it is now producing outstanding cuisine recognised by the gastronomy´bible ` the Michelin Guide.
In the annual Michelin star awards which take place each November, Mallorca was awarded 9 Michelin stars and 2 Bib Gourmand.
In recent years our appreciation of good food has experienced a sea change. We're now immersed in tv challenges from Master chefs to best bakers and our understanding is so much better of what it takes to produce outstanding food.
We have learned to absorb international influences and nowhere is that more evident in Mallorca where the links with Central and South America have brought new and exciting flavours from Mexico and Peru, for example, that can be blended with fantastic local Mallorcan ingredients.
But the key factor that has driven so many more to seek out the best places to eat, especially those rewarded with a Michelin star or stars, is that eating out is no longer so formal, especially at lunchtime. You no longer need to spend an arm and a leg to sample Michelin starred cuisine. It is possible to sample a 5 course lunch menu of a Michelin star Chef in Mallorca for €35!
But enough about the background, lets talk about where you should be eating next time you visit Mallorca !
Of the 9 Michelin stars awarded, two were new for 2021.
Bens d'Avall
The first went to Benet and Jaume Vicens at Bens d'Avall, Sóller, celebrating 50 years of cooking which has passed from father to son. The location is just spectacular on the the Sóller to Deiá road. Focusing on homegrown produce they have their own cliff terrace vegetable patch.
Dins by Santi Taura
The second new star was awarded to Dins by Santi Taura in Palma. Originally from Lloseta where he owned a restaurant for many years before heading to city, cooking in the new luxury hotel El LLorenç Parc de la Mar, his unique skills have at last been recognised. Of the award Taura said: "We don't invent anything, we only cook things that are documented in our gastronomic history, such as Fornet de la Soca, but in a restaurant."
Andreu Genestra's restaurant
Of the other seven restaurants awarded, Andreu Genestra's restaurant, in Capdepera received a green star, which is a new category in the Michelin Guide in recognition of sustainability and environmental awareness. Genestra's was the only restaurant in Mallorca to achieve it, along with twenty others across the rest of Spain. Located in the north east of the island at Hotel Predi Son Jaumell, the location is special.
The other six star were awarded to:
Marc Fosh
Marc Fosh, the first British chef to have ever won a Michelin Star in Spain. Marc opened Marc Fosh Restaurant 12 years ago and in 2017 won his Michelin Star and has maintained it ever since.
Marc Fosh Restaurant is located in the 17th century Hotel Convent de la Missió in the heart of Palma. Marc has also recently opened Sa Pleta in the sister hotel Pleta de Mar in the north east of the island which will be open this year to non-residents for the first time.
Adrián Quetglas Palma
Born in Buenos Aires to a Mallorcan father, his professional journey has taken him from Paris to Moscow training with great chefs such as Marc Fosh ( above ) and he now calls Mallorca his home. He likes to cook traditional family meals with a twist such as escaldons, tumbet, frito mallorquín and empanadas.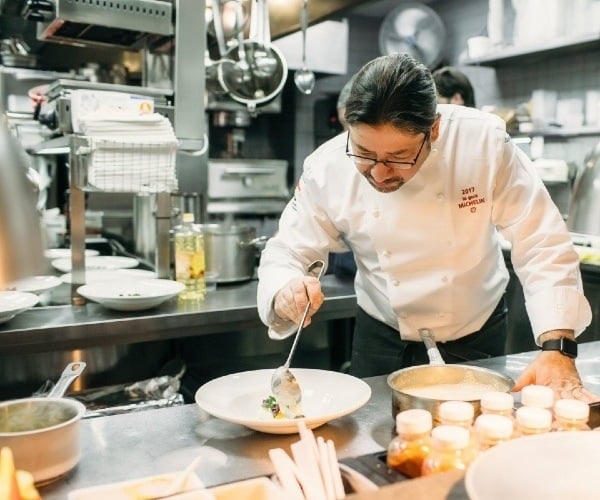 Es Racó des Teix
Es Racó des Teix, Deiá has German chef Josef Sauerschell at the helm. Before opening his own restaurant, he worked as a chef at the luxury Belmond La Residencia also in Deià. For his creations there, he obtained a Michelin star in 1991. In 2000 he and wife Leonor opened their restaurant in Deià, which was awarded a star in 2002 and has retained it annually since. With a vine-covered terrace and views across the Tramuntana mountains out to the Mediterranean, its location is superb.
Es Fum
Es Fum is located in the 5 Star St Regis Mardavall, south west of Palma. Miguel Navarro, the head chef since 2017, fuses the freshest produce of Mallorca with the best Mediterranean flavours in every dish.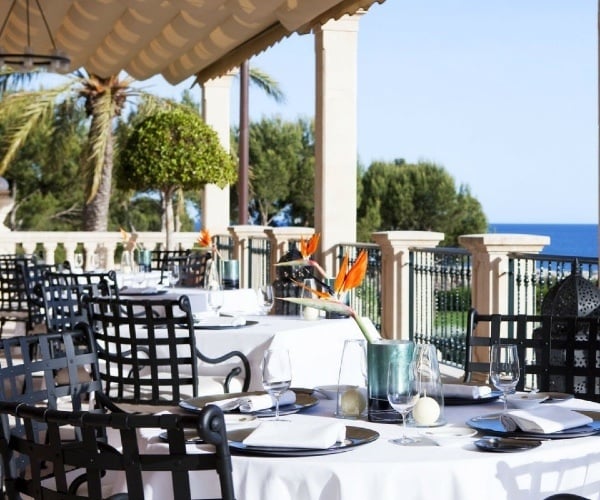 Maca de Castro
Maca de Castro Restaurant in Port de Alcudia is run by female chef Maca. Maca de Castro's cooking dispenses its passion for Mallorcan food. Born in Mallorca and from a family with close ties to the world of gastronomy, she has developed an affinity with local ingredients.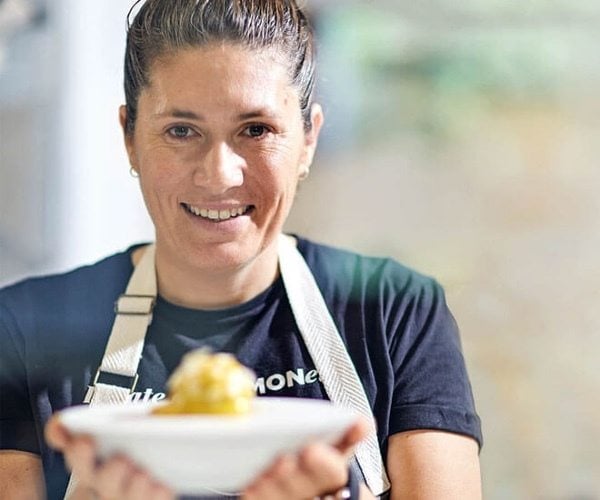 Voro
Voro headed up by Álvaro Salazar was awarded a Michelin star for the second year. Voro is located in the Cap Vermell Grand Hotel in Canyamel in the north east of the island with its cuisine embedded in the Mediterranean.
In addition to the Michelin stars this year on Mallorca, there were two Bib Gourmand awards for the first time, often a precursor to a future Michelin Star.
Miceli
Miceli, by Marga Coll. A family-run restaurant in the village of Selva with lots of personality set in a charming stone house in which Marga was born. Taking its name from the filaments (mycelia) that mushrooms use to extract nutrients from the soil, the food and the location are special, with a terrace, partially covered by a glass porch, enjoying superb views. Traditional Mallorcan cuisine with a modern twist.
Can Boqueta
Can Boqueta, by Kiko Martorell has long been a favourite for residents and visitors alike in Sóller. . Occupying a typical Mallorcan town house with rustic decor and a lovely patio for warm evenings, owner-chef Kiko offers an innovative take on Mallorcan cuisine enjoyed on two tasting menus – a simpler offering at lunchtime and a more elaborate option in the evening.
What a difficult decision you have ahead of you! Wherever you choose, I guarantee you will leave with memories that will last a lifetime.
Deirdre O'Connor is the Managing Director of MallorcanTonic. MallorcanTonic is a luxury hotel and information booking portal, offering expert knowledge about the island of Mallorca.
If you would like to be a guest blogger on A Luxury Travel Blog in order to raise your profile, please contact us.