Marsa Alam is located in Egypt on the western coast of the Red Sea about 300 km south of the second scuba diving destination in Egypt, Hurghada. It's known for its beautiful sandy beach and excellent scuba diving spots. Marsa Alam has become a premium tourist destination, especially for scuba divers as its sea is known for having colored fish, clear water, and enchanting coral reefs.
1. Boat trip to Satayh Dolphin Reef
The Satayh Dolphin Reef is a protected area where you can snorkel and swim with dolphins. While you enjoy the underwater fascinating world, you get connected to about 60-80 dolphins that will start a beautiful show once you get close to them. This area is known for dolphins and sea mammals which will get you mesmerized, especially by the unique varieties of corals and fish.
2. Snorkeling tour at Abu Dabbab Beach
Abu Dabbab Beach is known for being home to the endangered Sea Cows which are also known as "Dugong". There are only seven of them living in the Red Sea waters, and in Abu Dabbab you can see two of them. In addition, it has a sandy beach with crystal clear and warm water. The beach hosts a huge variety of colored fish, green Turtles, and the endangered Dugong as mentioned before. It doesn't matter if you are not a diver or even a snorkeler, you can still enjoy its clean and well-organized beach.
3. Camel riding at Marsa Alam
Enjoy a one-hour camel ride in the Camel Yard of Marsa Alam. Dive deep into Egypt's culture and its most regarded companions "Camels", which are known as "Ship of the Desert". Know everything about these beautiful creatures in the one and only camel yard in the Middle East. You can also live the best Bedouin experience at the guest rooms available there.
4. Morning quad bike desert safari
Enjoy quad biking in Marsa Alam, and experience the incredible nearby desert. Drive between the beautiful mountains of the region and take the chance to see the real Bedouin life. Don't forget to drink the sweet Bedouin tea while enjoying the amazing view, in addition, you can ride camels in the desert.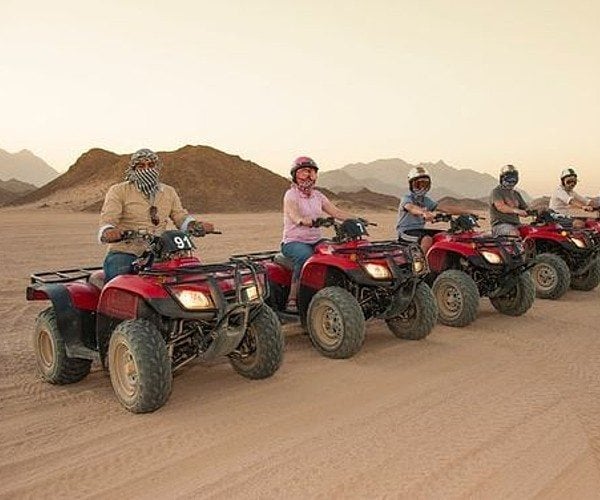 5. Night out in Port Ghalib
Have a beautiful night out in Port Ghalib marina as it's full of restaurants, bars, bistros, and parties. You can also shop and buy amazing souvenirs from the shops available there. If you want to visit fancy cafes or traditional restaurants, all your needs will definitely be fulfilled. You can also enjoy a romantic evening on the marina with fascinating views of the Red Sea that will blow your mind away.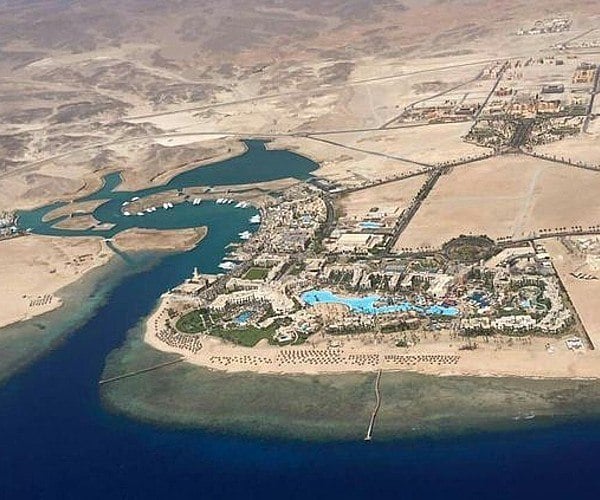 6. Snorkeling trip to Hamata Islands
Take a snorkeling trip to Hamata marina which is situated 130 km south of Marsa Alam. Have an unforgettable day discovering the perfect nature of Hamata National Park. Visit the 3 Virgin Islands and snorkel in the pure waters around the islands, and discover outstanding colorful fish and corals that you cannot find anywhere else. The boat will then stop on one of these tropical islands so you can take a closer look while watching the large number of birds that make it even more magical.
7. Snorkeling at Wadi El Gemal National Park
Wadi El Gemal is one of the most natural areas of Egypt. It has many spots for diving, relaxing, safaris, and bird watching. Take a half-day tour to Wadi El Gemal, and explore the coastline of the Red Sea on a snorkeling tour. Snorkel and swim in the crystal-clear waters of Wadi El Gemal and enjoy observing the beautiful coral reefs, pufferfish, clownfish, and other colorful fish species.
8. El Qulan Mangrove Forest
Take a trip to El Qulan Mangrove Forest which is known for its unbelievable miracle of the famous Mangrove Tree in the middle of the water. Enjoy the most beautiful crystal water and the fascinating sea view while taking the best photos with the incredible tree in the shallow waters.
9. Snorkeling tour to Sharm El Luli
Discover the white sand shoreline of Sharm El Luli and the coral reefs beneath the ocean. Sharm El Luli or Ras Hankorab is known for the flawless white sands and fifty shades of blue waters of Sharm El Luli. It's the perfect place where you put on your snorkeling equipment and just walk into the water right from the stone-free shoreline. After two minutes of snorkeling, you will find yourself entering an enchanted underwater forest.
10. Al-Nayzak Lake
Al Nayzak is a natural pool that is believed by Marsa Alam inhabitants to have been shaped by a shooting star, that's why it's named "Al Nayzak" which is an Arabic word for a meteorite. It's shaped like an eye filled with the turquoise beautiful blue waters of the Red Sea. It has been one of the best attractions for tourists from different nationalities. It's known for its pure deep water, and most importantly, it is from the sea currents, which makes it very safe to dive particularly in the winter.
Marsa Alam is full of outstanding attractions that seem endless. However, if you are ever planning a trip to the magical Marsa Alam, we will be very pleased to assist you in visiting the best places in the region in order to have the most wonderful experience. Afterall, Marsa Alam is known to have some of the best beaches in the world!
Sherif Khalil is Owner of Dunes & Beyond. Dunes & Beyond offers luxury tours, Nile cruises and desert safaris in Egypt.
If you would like to be a guest blogger on A Luxury Travel Blog in order to raise your profile, please contact us.