By
Jenny Wilkinson
on Mar 21, 2021 in
Attractions
,
Europe
,
Food and Drink
,
Going Out
,
Regions
,
Road Travel
,
Spain
,
Speciality Travel
,
Travel Miscellany
,
Western Europe
The epicentre of Spain defines so much of the culture that flows from here to its borders and coastlines. Journey into the provinces that circle Madrid and you will discover a way of life that has refused to bend to the demands of mass tourism. Segovia, Avila, Toledo, Cuenca, Soria; these provinces are pure Spain. The medieval cathedrals that pierce so many horizons never let you forget the country's Catholic heritage. In leafy squares, family-run tapas bars welcome locals with Spanish dishes faithfully passed down the generations.
The doors to our travel dreams are finally getting ready to open again. If you're now starting to plan a holiday to foreign climes, this tranquil part of Europe won't disappoint. Central Spain is the perfect destination for savvy explorers; for those who crave a sense of discovery and immersion in authentic traditions. With crowds predicted to flock to Spain's coast this summer, this is the year to go against the grain and discover the road less travelled.
Castles and cathedrals
Some of Spain's finest and most historically important cathedrals are found in its central provinces. In Toledo, the 13th Century cathedral  is one of the finest examples of its kind in the world and home to a magnificent El Greco oil painting of Christ's resurrection.  North-east of Madrid, the university town of Siguenza played an integral role in civil wars that have left indelible marks on Spain's chequered history. The bullet-ridden walls of the town's vast cathedral is an all too visual reminder of these darker times.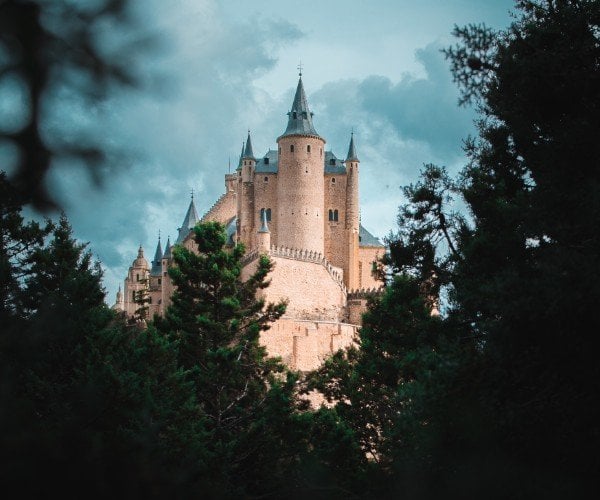 Presiding over many of these cities is a magnificent castle strategically located with far-reaching views to spot enemy invasions. Some have crumbled into disrepair, others converted to five star hotels by the Paradores chain. In Segovia, the Alcazar, with its fairy tale-turrets is said to have provided much of the inspiration for Disney's logo.
National parks
One of our favourite national parks in Central Spain is the Alto Tajo in Castilla La Mancha. Cliffs rise precipitously from the banks of the Tajo River with look-out points that give you never-ending views of incredible rock formations jutting out of the pine forest. Jostling alongside 400 million year old fossils peering from the rock face is one of the most charming churches in the region. The Sanctuario de la Virgen is a 12th Century church built into the rocks and still in near perfect condition. Come here with a picnic and enjoy freshwater rockpools, thundering waterfalls and the soothing sound of the breeze in the pines.
Culinary curiosities
Food-lovers should not overlook the rich tapestry of culinary experiences to be had in Central Spain. Many foodies gather north in San Sebastian, which holds one of the highest Michelin stars per square metre in the world. But what makes Central Spain so exciting is the absence of the crowds and the unfailing calibre of the cooking. Some restaurants, like Noma in Siguenza have achieved international acclaim but others, like El Doncel in the same town are experimenting with local produce and, despite the accolade of a Michelin star, still almost entirely frequented by locals. Now is the time to explore before everyone else discovers Spain's best-kept foodie secret.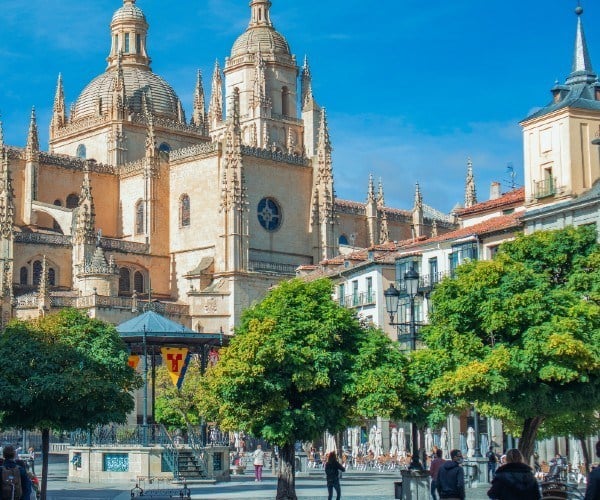 Every grand town and little village has a main square known as a 'plaza' where tables spill out from tapas bars into the dappled shade. In the dimming light, this is people-watching heaven as every generation gathers to take a walk on the promenade or play a game of cards in the cool of the early evening.
Take a road trip
If you enjoy the adventure of a road trip you will love driving through Central Spain. A combination of impossibly straight horizons and tiny lanes that carve into cavernous gorges will make you feel like you're on the set of a car commercial. Thanks to EU grants, brand new highways make a smooth and easy ride across relatively long distances but the true excitement comes when you veer off the main road and let little country tracks lead you to new and unexpected places.
We love the road from Siguenza to Burgo de Osma which twists through empty farmland golden with sunflowers and wheat in the summer. You'll pass shepherds leading flocks from tiny villages into the hills and forgotten towns rich with Moorish, Roman and Catholic influences.
A slower pace of life
Central Spain moves at an unhurried pace; it always has and it probably always will. We've all had to take stock lately of how much we pack into our days and a journey here won't let you forget those lessons. In this part of the world everyone takes time to savour the moment. There's no grabbing a sandwich or takeaway coffee on the way to something else – they sit down and enjoy the taste, the atmosphere, the company.
A holiday here should never be a tick-box  of every historical highlight – pick two or three places to visit and get to know them intimately. This is one of the best ways you can support the local economy and keep your carbon footprint down. Eat out and review the little tapas bar on the corner; buy local handicrafts from the many charming independent shops you'll find in towns and villages. You will return feeling like you had a genuine and positive interaction with the local community and isn't that what travel is all about?
Jenny Wilkinson is the Founder of The Insider Travel. The Insider Travel designs bespoke small group journeys and retreats in the United Kingdom, Europe, Asia and Latin America.
If you would like to be a guest blogger on A Luxury Travel Blog in order to raise your profile, please contact us.