5 of the best family retreats to plan for your next holiday
While the Covid 19 restrictions continue to limit our freedom to travel whenever and wherever we want, we tend to forget the fact that our children also miss going abroad and experience new adventures. Who would have though that youngsters would get bored of looking at a computer screen all day every day?! Lucky enough some countries (like the
Maldives
to name just one) are still open for business and are seeing great numbers of visitors despite all the PCR tests and follow-ups involved. Others are preparing to open up the boarders once again soon to welcome guests with the biggest smile that's been recorded in the history of tourism industry. Long story short…it's the perfect time to plan your next family escape as every member of the family can use a well deserved break. And the below list should make that task a lot easier.
Gili Lankanfushi, Maldives
If you would like to spend a family holiday in an eco-friendly environment situated in one of the most beautiful locations in the world….look no further. This boutique resort is all about quality time and while everybody is walking around barefoot (thanks to the "no news, no shoes" philosophy) there is no shortage of unpretentious luxury. Families are welcomed with open arms by all the staff who know every guest by name, and while it might be your first visit to the resort, it feels like you are visiting an old friend which you haven't seen in a while. Your butler called Mr. Friday will arrange everything during your stay to make sure you and the kids are having the best time. Gili Lankanfushi might be one of the most eco-friendly resorts in the world, but that doesn't mean it limits them in any way as they provide excellent service and mind-blowing experiences.
Having a tailor-made Mr. Friday uniform for the kids to join the staff during their hours is just one of the many examples which shows that nothing is impossible here, on the contrary. Freshly made popcorn and marshmallows with yummy chocolate sauce while the whole family is watching their favourite movie in the jungle cinema under the stars… yes, that's just another day at Gili Lankanfushi. Or the small details like the bicycles which are provided to cycle around the island that are made out of bamboo. And please don't stress about being forgotten as a parent, cause wellness and mindfulness are equally important on the island too. The spa for example is located overwater which provides you with the opportunity to enjoy all kinds of different massages while you are able to see the marine life underneath you. Wellbeing is also stimulated from the inside out thanks to the amazing food that is served here. They even have their own vegetable garden which isn't a standard on every tropical island, not to mention the special kids menu which features some of the best food I've seen in a very long time. Minor detail…the villas (rooms would be an insult) are amongst the largest in the Maldives which allows you to stay comfortably in any villa type with 4. Unless you have a very large family in which case I suggest you stay at the residence as it is the largest overwater villa in the world and easily comparable to staying on a private island as literally everything is provided in this massive mansion on stilts. As you can see, there's literally everything for everyone and as a family you'll find this place to be pure perfection and the ideal setting to reconnect with each other.
&Beyond Ngala Safari Lodge, South Africa
Safaris and
family travel
go hand in hand, as only few things in life will disconnect you more from the real world than being with your family in the middle of a wildlife reserve. And this it's not just any wildlife reserve, it's the world famous Kruger National Park! Being part of the &Beyond brand you already get a sense of the quality of service and overal experience which is waiting for you, however they have several lodges which are designed with family travel in mind. And Ngala Safari Lodge is just one of them. It features the wildchild programme which is the perfect way to keep your kids entertained while at the same time being educated about the local cultures, food and of course wildlife. Finding an assignment for the expedition of the following day on their pillow is just one of the many ways to ensure the younger members of the family will have a good night sleep. And they'll need it if they want to venture out with one of the rangers to look for tracks, or make many others memories which they can write down in the scrapbooks they receive upon their arrival (together with a bunch of other goodies).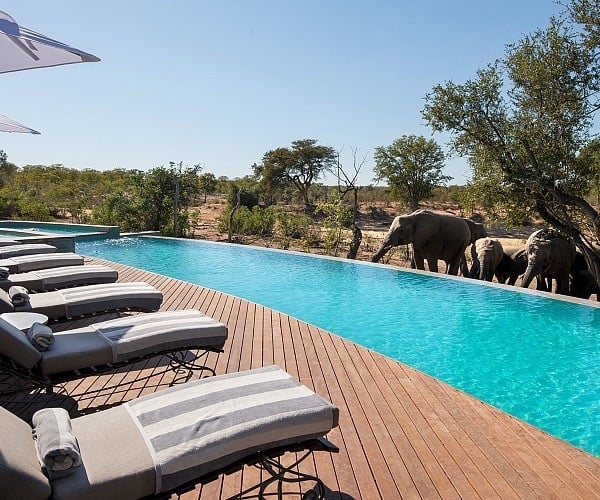 And what about the parents? Well, being surrounded by all the beautiful nature and wildlife it's only a given that you'll have some amazing game drives waiting for you. And if you choose to sleep in a family suite you get your own private game vehicle which makes it possible to take the younger kids along without being worried they would disturb any of the other guests. Of course there's more than just the game viewing and you'll be surprised about the amount of experiences that are offered in such a remote area. But if there is one that you really can't miss it's a visit to the local community which will leave you with lifelong memories.
Ashford Castle, Ireland
Any stay in a castle qualifies as the perfect family getaway, yet Ashford Castle elevates this experience to a new level which is hard to beat. This 800 year old monument has undergone a massive 5 year renovation and Red Carnation (the brand that owns this beautiful piece of history) has turned it into one of their flagship properties, and for good reason. While the adults can relax at the beautiful spa, play a round of golf or test their skills at clay shooting, the children will be entertained through all kinds of activities like treasure hunts or a visit to the Wolfhounds.
Being a family friendly hotel there's an activity galore that can be experienced with the whole family and which is connected to the history of the castle. Falconry is just one example, but there are many more. Maybe a game of four-ball at the golf course is the perfect way to settle once and for all who's the best in the family, or some horse riding in the stunning landscape surrounding this luxurious hotel to see if mom is a better equestrian than dad or any of the kids. All those activities surely wake up an appetite but not to worry, there's plenty of choice. My recommendation….try the afternoon tea while the kids have their own special  afternoon tea tray filled with yummy treats for them. After all, it's a family holiday and those times are ideal to spoil the little ones that little bit more.
Intercontinental Maamunagau Resort, Maldives
This newly opened resort needs to be on your radar if it wasn't yet. Yes, it's part of a chain but it certainly doesn't feel like it when you arrive at the island. It's the second property in this list that's located in the Maldives, but let's be honest, sun, sea and beach are the perfect ingredients to turn any family holiday into an unforgettable one. But that would be too simple, isn't it? Hence why Intercontinental Maamunagau created one of the best kids clubs in the archipelago to ensure the parents of some quality, and more importantly alone time. Don't get me wrong, we all love our kids and there's nothing we like more than spoiling them and putting smiles on their faces, but we all need these quiet times occasionally. And the resort totally got that from the get go.
The children can have plenty of  fun in the kids club thanks to its massive outdoor pool and play area, but also inside where the pirate's theme runs through the whole building. And the activities aren't limited to that! What about sunset painting lessons on the beach near the lighthouse? Yes, a lighthouse that sends the cool factor of this resort straight through the roof for any child who loves to climb up and enjoy the endless vistas of the island and everything that's around it! There's another club located on the island too, called "The retreat" which is an adults only area with a beautiful infinity pool, a bar, loungers and everything else you need to relax when the kids are having fun on the other side of the resort. Some parents might be taken back to visit the Maldives because the rooms are located above the sea and we all know what children do when they see the water but they can't swim yet….however this resort has multiple beach villas which I'm sure will give instant reassurance to some of the adults.
COMO Point Yamu, Thailand
Aaah… Thailand. It couldn't be excluded from this list as it is one of the most family friendly destinations you'll find on this globe. There's always a smile of the faces of the Thai which instantly puts the whole family in the right mood. Being located in Phuket, COMO Point Yamu certainly has the surrounding area to use to its advantage. You can explore the jungle inland in the morning, have a leisurely stroll along the beach in the afternoon and sip cocktails at sunset whiteout even breaking a sweat and all in one day. The kids might have other plans for the day though, as this resort houses one of the dedicated "Play by COMO" spaces which is the ideal place for the kids to have some proper fun.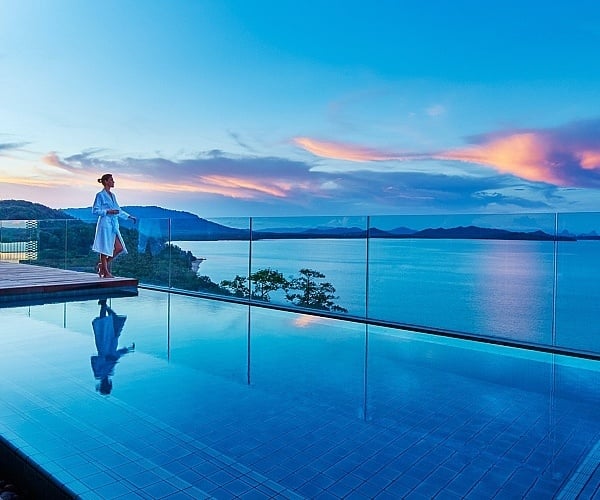 One of the things I like most about it, is the fact that they focus on the classic social play and skills, rather than the computer and technology-driven games you find everywhere these days. Local heritage and culture is never far away and the youngsters are invited to join classes of traditional games, Thai dancing and even some Thai boxing (no worries, it's all very much in a playful manner). And whoever says Thailand says amazing food! And there's certainly no shortage of that. While the little ones prepare more traditional dishes like pizza in the play by COMO space, adults are able to join proper Thai cooking classes which are always fun to do but even more importantly very yummy to taste. Pad Thai anyone?!? And there's a long list of other activities which will certainly make the kids but also the parents smile, so make sure you spend enough time to take it all in and to fully enjoy each others company. Would you consider one of the above mentioned resorts, or are there any others that needed to be included in this list? I would love to know as I'm ready to go on another holiday with my kids and, like most of you, I'm always open for suggestions.
Did you enjoy this article?
Receive similar content direct to your inbox.