In this post-Covid era most people are ready for a change of scenery after having spent so much time at home working, video conferencing, home-schooling the children, cooking, online networking and streaming. Travelling abroad or even within one's own country has become something special. Being served again in a restaurant, beer garden, café or bar becomes very special, as restrictions are lifted. Yet, utmost relaxation, regeneration and pampering come with a massage, a skin treatment or any other kind of wellness therapy.
Needless to say, this will surely become a highlight of travel in the future, because, after all, the discerning guests of luxury hotels have been waiting for this for such a long time. The fragrance of soothing oils, the sound of relaxing background music and a sense of being physically and mentally recharged will be treasured as a memorable experience for many weeks and months to come, once we can embark on non-essential travels again and government restrictions are eased. For a wonderful kick-start to the new life here are my top 5 spa and wellness hotels in Scotland.
Isle of Eriska Hotel, Spa & Island
There is always a certain magic about an island and Eriska is no exception. Peace, tranquillity and comfort have always been the most important attributes of this hotel which draw people back to the island again and again. With stunning views of Loch Linnhe and the Morvern Mountains, the Isle of Eriska is located in the heart of West Argyll, just 12 miles north of Oban and 40 miles south of Fort William on the west coast of Scotland. Once guests cross the bridge to the Isle of Eriska, the hotel and the Stables Spa welcome them to a private wellbeing island where they can indulge themselves in an oasis of regeneration. The spa philosophy captures the nutrients of the sea to nourish the body, mind and soul. Set in the former stables and accessed by a path through the garden, the spa provides the guests with a setting to refresh, rejuvenate and release their inner wellbeing.
As the pace of modern life accelerates, the natural ishga and ESPA products and philosophy are more salient than ever before and have been chosen to create refreshing treatments, to infuse the mind, allowing the body to be cleansed with every breath harmonising the human being with the island. The ishga company sustainably harvests the seaweed by hand to produce 100% organic, antioxidant products with anti-ageing properties which help protect the skin. ESPA was born from the deep-rooted belief that in order to progress with peace, one needs to pause, recharge and reconsider one's life.
In addition to a 17m indoor swimming pool, sports hall, sauna, steam room, jacuzzi and fully equipped air-conditioned gym the Isle of Eriska offers a wide range of treatments for both women and men in five intimate rooms with a very relaxing atmosphere. The guests can choose from facial and body treatments to leave the skin feeling smooth, soft and re-hydrated. There is also an extensive range of massage treatments to relieve stress, release muscular tension, aches and fatigue. Finally, with indulgent manicures and pedicures guests can improve the appearance of hands and feet so they look healthy and well-nourished.
Fonab Castle Hotel & Spa
This 5-star hotel sits in the heart of Highland Perthshire. Inspired by its historic past and its stunning surroundings, Fonab Castle Hotel & Spa has been lovingly restored. The odd contemporary twist adds to its unique charm. Fonab Castle offers individually decorated bedrooms including the Penthouse Suite on the fourth floor with unrivalled views of Ben Vrackie and the awe-inspiring Loch Faskally. The interior features Ulf Mortiz glass studded wallpaper adorning the walls which are tastefully decorated in muted cream velvet.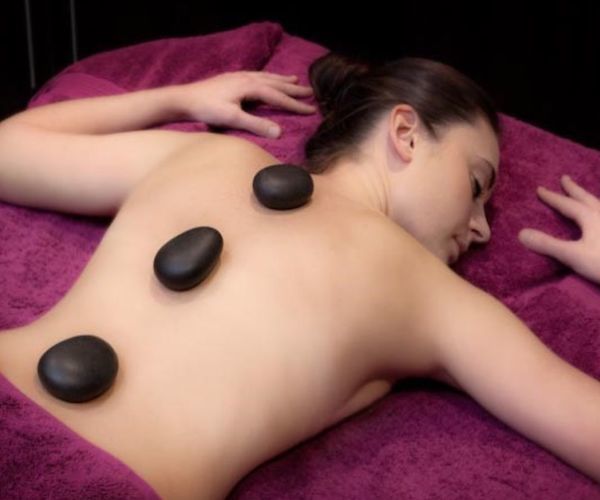 With a high mountain and a peaceful loch at the doorstep, it is no surprise that the Woodland Spa at Fonab Castle is a destination for relaxation and haven of tranquillity. Guests can not only expect the splendour of a traditional castle, but also indulge in a moment of calm to themselves and enjoy their time in a complete rejuvenating experience at Fonab Spa. Facilities include a 15m indoor swimming pool, a spa pool, sauna, aroma and steam room as well as a thermal suite. In order to calm the guest's mind, body and soul the experienced therapists only use the finest ingredients with naturally rejuvenating and soothing properties.
Guests can choose from Matis facial and body treatments, manicures, pedicures, lashes and brows as well as Lycon waxing. Specific skin concerns will be treated with anti-ageing, soothing, purifying, peeling or hydrating ingredients. The luxurious array of massage balms is customized to achieve a wide range of desired effects – from detox to relaxation and anti-ageing to slim with a hot stone massage and a full body exfoliation being the ultimate pampering and self-indulging experience.
The Marcliffe Hotel & Spa
If guests simply want to relax and chill-out in the comforting and ultra-elegant atmosphere of a luxurious 5-star hotel, the Marcliffe at Pitfodels, set in its own picturesque grounds on the outskirts of the historic city of Aberdeen, is exactly the right place. This intimate, family-run hotel is very proud of its ambience of warmth, ease and charm. With Aberdeen city centre just a 10 min drive away and Royal Deeside at its doorstep, this hotel is steeped in history and outstandingly rich heritage of the region, such as the Castle Trail, the Secret Malts of Aberdeenshire and an abundance of fine golf courses.
The Marcliffe Spa aims to relax, de-stress and indulge their guests using authentic ingredients to renew and calm mind, body and spirit. Residents can choose from the following spa treatments: facials, Lycon waxing, body treatments, FakeBake tanning, luxury manicures and pedicures as well as Swedish, aromatherapy and hot stone massages. The Marcliffe Spa offers a wide range of treatments for women and men. Trained therapists only use plant, flower and marine based beauty products made by Comfort Zone which are only available in exclusive 5-star spas. All treatments need to be booked, same as the in-house hair salon.
There is also a wide range of packages available at the Marcliffe Spa. Guests can decide whether they want to combine an overnight stay with two signature treatments or four hours of spa treatments followed by a delicious champagne lunch in the hotel's Drawing Room or Conservatory Restaurant ("Ultimate Tranquillity"). Keen golfers can enjoy the "Golfers' Retreat" where specially trained therapists will work on their back neck, shoulders, arms, hands, legs and feet to get the golfer ready to be back on the golf course the next day. A variety of spa rituals including Himalayan salt stones and body strategies including mud therapy as well as wellness for cancer ("Beauty Reloaded") round off the offers of the comfort zone at the Marcliffe Spa.
The Old Course Hotel, Golf Resort & Spa
St Andrews is so much more than the Home of Golf. It presents breathtaking beach views and a chance to step back in time to explore ancient castles, stately homes, and the third oldest university in the English-speaking world. In contrast, the luxury 5-star Old Course Hotel not only borders the 17th hole of the world-famous Old Course, but offers a wealth of modern amenities for golfers and non-golfers alike. The hotel has just completed 31 new Old Course facing bedrooms and a new glass fronted restaurant on the 4th floor. These new developments and The Open coming to St Andrews in 2022 will surely contribute to the reputation of the Old Course Hotel as one of Europe's leading golf resorts.
The Old Course Hotel also prides itself on having the only KOHLER Waters Spa in the UK. It creates relaxing, rejuvenating experiences inspired by the natural restorative properties of earth's mineral-rich waters. This exceptional spa offers a range of treatments or an all-day immersion with therapeutic water treatments and results-oriented facial and full-body massages. Guests can also enjoy a 20m indoor swimming spa pool, a hydrotherapy pool, a steam room for muscular relaxation, a sauna and cool plunge pool as well as a rooftop garden with a hot tub.
The treatment menu of the KOHLER Waters Spa leaves no wish unfulfilled. There is a total of 13 treatment rooms including rooms for two people to enjoy the treatments together and two wet-treatment rooms with KOHLER bathing experiences. Guests can enjoy a wide range of massage therapies and wellness treatments in a very personal, peaceful and intimate atmosphere. Unique body wraps and scrubs as well as finishing treatments for hands and feet leave the skin moisturized, silky-smooth and with a youthful glow. In addition, aches and pains are eased, the metabolism is stimulated and vitality and balance restored – guests leave with mind and body fully refreshed.
The Sheraton Grand Hotel & Spa
Edinburgh has got an UNESCO World Heritage city centre which is best explored from the doorstep of the Sheraton Grand Hotel. The Sheraton is a luxury 5-star hotel in the heart of this historic city and one of the flagships of the world-famous Sheraton brand. Guests start the day with inspiring views of Edinburgh Castle from a Castle View Room or Suite after a dreamily comfortable "Sheraton Signature Sleep Experience". After a healthy breakfast hotel residents can spend the day on foot exploring the small alleyways off the Royal Mile and browsing the boutique shops on George Street, before they revitalize themselves in Scotland's most renowned urban thermal spa experience – One Spa.
Guests can start their journey to wellbeing and rejuvenation by unwinding in the rooftop hydropool. They can then proceed to find inner calm in the thermal suite with an unrivalled range of stimulating water, salt and heat experiences designed to help rebalance and refresh body and mind. Another choice offers the opportunity to indulge in a soothing spa treatment and relax at Edinburgh's ultimate spa experience. A 19m indoor swimming pool with infinity edge on the top floor of the hotel and a fully equipped fitness studio with classes and coaching are also available for the more energetic. Afterwards guests can relax in one of the saunas, steam room, laconium or hammam.
To escape busy city life and step into a world of relaxation guests can also choose from a range of treatments such as body scrubs and wraps, therapy and foot baths, facials, hair and scalp treatments as well as bamboo massages and treatments for two people together. Open from early in the morning for guests to enjoy an extra-stylish start to the day, NOW by One Spa offers a range of treatments from big-hitters including HD brows, LVL lashes, Shellac and CACI non-surgical solutions as well as waxing, spray tan, paraffin hand and lip treatments. After a severe pandemic and continuous lockdowns, isn't it time to indulge yourself in an ultimate luxury stay and spa experience when government restrictions allow?
If your answer is 'yes', then these five spa and wellness hotels can be combined into an ultra-luxurious Scottish spa and wellness experience. Guests can enjoy the scenery and heritage of Scotland on this tour – and indulge in special treatments at one or more of these hotels of their choice. The distance between them ranges from 50 miles (96 km) to 96 miles (154 km), thus allowing for a complete round trip to include all five spa hotels, from Glasgow Airport back to Edinburgh Airport with a total distance of just 420 miles (675 km)! Depending on whether guests decide to stay one, two, three or four nights in one of these 5-star properties, an experienced travel designer can turn such a trip into a bespoke once-in-a-lifetime spa and wellness experience. Touring Scotland from one spa hotel to the next in a chauffeur-driven limousine will also cast a spotlight on the following attractions and possible activities:
– Isle of Eriska Hotel & Spa: Oban Distillery, Jacobite Steam Train & Glenfinnan Viaduct (Harry Potter), boat trips, scenic flight tours from Oban Airport
– Fonab Castle Hotel & Spa: Blair Castle, House of Bruar, 4×4 off-road experience, salmon fishing on the River Tay
– The Marcliffe Hotel & Spa: Crathes Castle & Garden, Royal Lochnagar Distillery, Dunnottar Castle, estate hunting & shooting, meet the Highland coos
– The Old Course Hotel & Spa: V&A Design Museum/Dundee, Sheila Fleet Jewellery (opening in summer 2021), falconry, riding school, beach adventures
– The Sheraton Grand Hotel & Spa: Edinburgh Castle, The Royal Yacht Britannia, Johnnie Walker Princes Street (opening in summer 2021), themed walking tours of the city (food, literature, etc), ultimate gin tasting experience
Dorothy Welsh is the CEO of Luxury Scotland. Luxury Scotland offers true Scottish hospitality, culinary delights and unique experiences.
If you would like to be a guest blogger on A Luxury Travel Blog in order to raise your profile, please contact us.