An incredible state in northern region of India, Uttarakhand is a paradise on Earth. With a pleasant climate, lovely hill stations, lush green jungles and soaring Himalayan peaks, Uttarakhand is a state that makes every traveller fall in love with its natural beauty. The state also holds cultural significance. Important Hindu pilgrimage sites of Haridwar, Rishikesh, Char Dham are located in the state. For adventure enthusiasts, white water rafting, hiking, trekking, zip line are few of the many options available. Among such a wide array of experiences on offer, we have shortlisted top 5 places in Uttarakhand.
Jim Corbett National Park
Established in 1936 as Hailey National Park, this park was renamed as Ram Ganga National Park in 1952. In 1957 the park was again renamed to Jim Corbett National Park, after well-known naturalist, hunter and photographer Jim Corbett. The national park is open for travelers from Oct- Nov to June every year. The park is located at a distance of 244 km from New Delhi. The nearest railway station is Ramnagar which is well connected with major cities in north India.  Did you know that one of the episodes of the well-known television series Man vs Wild by famous adventurer Bear Grylls was shot in the Jim Corbett National Park? Bear Grylls and Indian Prime Minister Narendra Modi went trekking into the jungles of the Jim Corbett Park.
There are five zones to enter the national park for Safari, these are Birjani Zone, Jhirna Zone, Durga Devi Zone, Dhikala Zone and Dhela Zone. You may indulge in a sharing Jeep safari or a canter safari at the National Park. The safaris are conducted in two slots. The morning safari is from 6 AM to 9 AM and the afternoon safari is from 3 PM to 6 PM. On your wildlife safari, spot the Royal Bengal tigers in their natural habitat. You may also spot other animals and a wide species of birds. Jim Corbett national park also offers a wide range of accommodation from luxury hotels like Taj, Lemon Tree to eco-resorts. So, explore this beautiful national park in Uttarakhand which is surrounded by hills, rivers, grasslands, mountains and lakes.
Mussoorie
Located 280 km from New Delhi, Mussoorie is a popular hill station in Uttarakhand. With a beautiful setting of the Shivalik range of Himalayas and Doon valley, Mussoorie is blessed with a pleasant climate throughout the year. To calm the soul, Mussoorie is a popular getaway from fast-paced city life. The romantic air in Mussoorie entices the honeymooners to visit and spend quality time in the hills. When in Mussoorie,visit Bhatta Falls where you may also indulge in boating and enjoy a ropeway ride.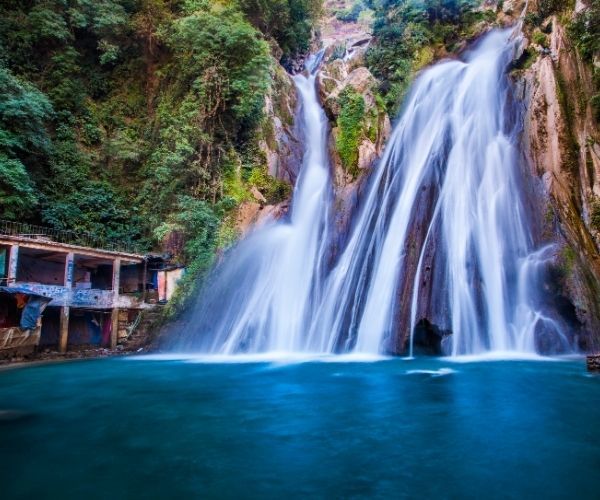 Take a stunning drive through the clouds and lush greenery to reach Kempty Falls. Plunge into the cool water gushing down the falls. See the panoramic view of Mussoorie from the second-highest point in the city called Gun Hill situated at an altitude of 2024 meters. See one of the oldest Buddhist temples, Shedup Choephelling, where you will find tranquillity and serene vibes. In the evening you can take a walk at the Mall road, located in the heart of the city.
Nainital
Nainital is another delightful hill station in Uttarakhand. The town is named after the beautiful natural lake called Naini where you can go boating and enjoy the views of surrounding mountains. Nainital is approximately 345 km from New Delhi and 75 km from Jim Corbett National Park. There is no railway station in the town, but the nearest railway station is Kathgodam (approx. 35 km away) which is connected to the major cities of North India. The town is surrounded by seven hills named Ayarpata, Handi-Bandi, Naina, Deopata, Alma, Sher-Ka-Danda and Lariya-Kanta which are popularly known as 'Sapta-Shring'. Nainital has a strong colonial heritage as it was the summer capital during the British Raj in India.
Explore the religious side of the locals during a visit to Naina Devi Temple, which is regarded as one of the fifty-one Shakti Peeths. Squeeze yourself into the Tiger Caves and Panther Caves at the Cave Gardens to get a sight of the natural habitat of the Himalayan wildlife. Other caves in the Cave gGardens are Apes Cave, Bat Cave and Flying Fox Cave. If you love adventure in the hills then grab your shoes to trek to Naina peak located at a height of 2615 m (almost 3 ½ KM challenging trek). In the evening, take a walk to the heritage market called Bada Bazaar where you will find old heritage buildings and shops and you can buy souvenirs as a memory of your Nainital tour.
Ranikhet
Ranikhet, popularly known as "Queen's Meadow" is 334 km from New Delhi and around 58 km from Nainital. Ranikhet is the headquarters of the Kumaon Regiment of the Indian Army and hence, the entire town is maintained by the Indian Army. One can also visit Kumaon Regimental Centre Museum and see the display of weapons, photos etc. that holds historical significance. The fresh, pure and heavenly climate of Ranikhet makes one fall in love with this mesmerizing hill station of Uttarakhand. Did you know that Asia's biggest government garden for apple farming is situated here?  The Chaubatia Apple Garden was built in 1869 and today one can see 36 varieties of apples grown here. Ranikhet is also home to the highest golf course in Asia which was built in 1920.
Enjoy a round of golf with a perfect surrounding of hills. Dedicated to Goddess Durga, Jhula Devi Mandir is a famous wish temple in Ranikhet. It is believed by the devotees that if you make a wish and tie a bell in the temple then your wish will be fulfilled. Hence, one can see thousands of bells tied all around the temple. When in Ranikhet, don't forget to try some local delicacies like Kafuli (made from green leafy vegetables like Spinach), Aaloo ke Gutke (Potato Dish) or Bal mithai (Sweet brown chocolate-like fudge).
Haridwar
Experience the serene atmosphere and the holy river Ganga in Haridwar. Haridwar is an ancient city and among the seven holiest sites in India. Millions of devotees come here to take a dip into the holy river Ganga. Haridwar is well connected with its rail routes to major cities. Haridwar is home to the major Hindu festival and pilgrimage, the Maha Kumbh Mela along with Prayagraj, Nashik, and Ujjain. All the spiritual activities take place at Har Ki Pauri which is one of the most sacred Ghats in Haridwar.
Enjoy a ropeway ride to Mansa Devi Temple, a Hindu temple and one of the most revered temples dedicated to Goddess Mansa Devi. You may hop on a local tuk tuk ride to reach Chandi Devi Temple dedicated to Goddess Chandika. On reaching the entrance, hike around 30-45 minutes up to the temple and along the way capture the captivating view of River Ganga and the entire city of Haridwar from the top. Also, visit the world-renowned ashram Shantikunj. Here you may opt for learning some classical Indian musical instruments like the harmonium, table, etc. or indulge in yoga. End your tour with the auspicious Ganga Aarti held every evening at the Har ki Pauri ghat. The Ganga Aarti is a sight to behold and it will surely rejuvenate your soul.
Connectivity and best time to travel
The major airport that connects this state with the rest of the country is the Jolly Grant airport at Dehradun- the capital of the state. Arrive in New Delhi or Mumbai and fly to Dehradun or may also opt for an early morning train journey from New Delhi to Dehradun. The months from October to June are considered to be the best time to visit this state. July to September marks the monsoon season with heavy rains and high humidity.
Jay Kajaria is Founder of Bespoke India Holidays. Bespoke India Holidays is an award-winning company that specialises in creating luxury trips to India and the subcontinent.
If you would like to be a guest blogger on A Luxury Travel Blog in order to raise your profile, please contact us.