By
Paul Eyers
on May 28, 2021 in
Accommodation
,
Asia
,
Cambodia
,
Food and Drink
,
Hotels
,
Regions
,
Resorts
,
Thailand
,
Travel Miscellany
,
Vietnam
As the COVID-19 vaccine roll out gathers speed and infection numbers worldwide are slowly shrinking, the possibility of travel during 2021 could become a reality, and for us that means vegan luxury travel in Southeast Asia. Currently quarantine is still a pre requisite for travel throughout the region but 'vaccine passports' are being discussed alongside 'travel bubbles' within the region to allow quarantine free travel.
Being based in Cambodia which borders both Vietnam and Thailand, these 3 exciting and vibrant countries are firmly on our radar for a healthy slice of vegan luxury travel post-pandemic. Check out these luxury hotels and resorts that go above and beyond to ensure that plant based food is not only readily available, but packed with creativity, flavour and local culinary flair.
Cambodia
Cambodia has been home since 2015 and we have slowly fallen in love with the country, the people and the food. One positive that has come from not being able to travel is the fact that we've spent time exploring our adopted home country. Every trip opens new possibilities and offers new experiences but we always enjoy returning home, to Siem Reap where we are blessed with not only the Temples of Angkor in our back garden, but one of the most vegan friendly luxury resorts in the region.
Treeline Urban Resort
Located in the heart of Siem Reap overlooking the river, is an urban oasis that will welcome you with open arms and a big heart, as part of their extended family.  The wonderful team at at the Treeline Urban Resort have made this resort an absolute favourite of ours, we feel blessed to have it on our doorstep. Strong community support, their commitment to the environment and championing local artists all fuse to create an ethos that is admirable. Combine these qualities with the fact that they have excellent vegan and plant based options available, it's easy to understand why we are big fans of theirs.
You will find a selection of delicious vegan dishes clearly marked on each of the menus at Treeline and HOK, the signature restaurant on the ground floor. The talented executive chef and his team have created a blend of local and international cuisine that you will love. Don't miss out on the most amazing 'Vegan Bangers and Hash' on the breakfast menu, or the refined take on a Khmer street food classic 'Nom Krok' which are available at HOK. Both are packed with flavour, nutrition and plant based goodness making the favourites of ours.
Thailand
We miss Thailand, living just over the border, we visit on a regular basis and are super excited for the chance to return to 'The Land of Smiles'. With a selection of enviable island resorts and some of the finest luxury hotels in Bangkok to choose from we are certainly spoiled for choice. However, when there is a private island resort who have always been committed to including plant based food on their menus and have recently launched a plant based restaurant, the decision becomes much easier.
Soneva Kiri
Soneva is considered to be one of the finest luxury resort operators on the planet and rightly so. Soneva Kiri is a resort where we were inspired, nurtured and revitalised during our stay. A resort where every detail was perfect including the beautiful natural design, the friendly laid back atmosphere and the impeccable personalised service. You can expect a private luxury escape like no other at Soneva Kiri whilst the creative and nutritious plant based cuisine at each of their resorts is something that continues to make us smile.
We dined on an array of exciting plant based food during our stay, including a selection of vegan menu items, and others that were created 'off menu' by the talented team. But since our stay, things have moved up a level with the opening of 'Colours of the Garden' where diners can enjoy an entire plant-based menu inspired by Mexican and Thai cuisine. Your experience begins by exploring the organic garden with the chef, whilst learning about the ingredients that will form part of your seven course tasting menu. The meal is paired with natural and bio dynamic wines, an opportunity to join a Medicinal Mixology cocktail class with the Botanical Bartender and guided star gazing. This is experiential dining at it's finest…
Vietnam
Last but by no means least is Vietnam which was one of the last countries we visited pre-pandemic and where we were due to visit twice during 2020. Of course these vegan travel adventures were postponed but as soon as the borders open we will be making them a reality. In the meantime, we decided to tell you about an island escape that impressed us with their plant based creations during a previous stay and is the prfect place to escape from the stresses of every day life.
Fusion Resort Phu Quoc
Fusion Resort Phu Quoc is located on a secluded bay in the north of the island and boasts a selection of luxury private pool villas, many with direct beach access. Enjoy the personal service, modern and stylish villas and the revitalising spa during your stay. We love the 'all spa inclusive' service which you will find at all Fusion Resorts which enables you to book daily inclusive spa treatments from their extensive spa menu. The 'breakfast anywhere, anytime' concept is another favourite of ours, who doesn't love breakfast served next to their private pool after an early morning swim?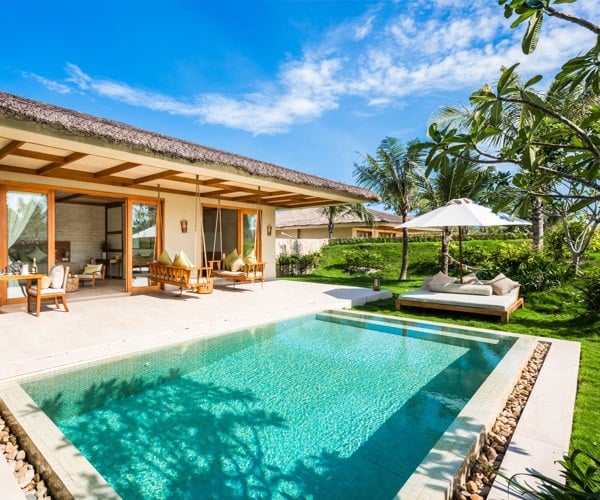 The wonderful villas make it tough to venture outside, whilst the in room dining options including poolside breakfasts certainly add to this challenge. When you do manage to leave your private villa you will be pleased to know there is a vegetarian menu available which included vegan options. This could be ordered from either of the restaurants or the chef was more than happy to create 'off menu' dishes upon request. We confess to eating 'banh xeo' every morning for breakfast, these rice flour and turmeric pancakes were lightly fried and packed with mushrooms, tofu and beansprouts. Delicious. Our favourite lunch included avocado and scrambled tofu on toast, grilled tofu skewers and nutritious smoothie bowl.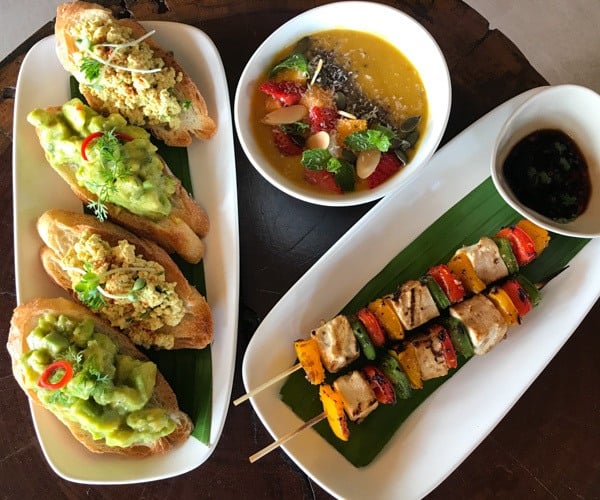 Let's hope that the borders open as we move through 2021, so we can all put COVID-19 behind us and start planning our next luxury vegan travel adventure. In the meantime, support your local hotels and resorts and book a staycation wherever you can. It's been a tough time for all and your custom will go some way to help them navigate these challenging times.
Paul Eyers is Founder of Vegan Food Quest. Vegan Food Quest have become luxury vegan travel specialists as they continue to find, eat and write about the best vegan food in the world.
If you would like to be a guest blogger on A Luxury Travel Blog in order to raise your profile, please contact us.