With pristine beaches, lush tropical jungles, scenic waterfalls, dynamic culture and warm hospitality, Sri Lanka is one of the top destinations in the Indian sub-continent. The country is a year round holiday destination offering miles of quiet and uncluttered sandy beaches that are embraced gently by ocean breeze. For adventure enthusiasts, the country offers a wide array of activities ranging from hiking at Adams peak to whale watching in Mirissa. There are numerous UNESCO sites in cultural golden triangle region of Sri Lanka that offer the travellers an insight into rich culture and heritage of the country. So, let's explore the top 7 places to visit in the dynamic and vibrant Sri Lanka.
Minneriya
Minneriya National park is known for its incredible elephant migration. During the dry season the elephants migrate to the Minneriya tank for water. This Minneriya tank was built by King Mahasen in the third century. The area was declared a wildlife sanctuary in 1938. Later, it was designated a national park in 1997. Apart from elephants, the national park is also home to 24 species of mammals, 160 species of birds, 25 species of reptiles and butterflies.
Minneriya National Park is one of the best places in the country to see the annual gathering of elephant herds. Early morning jeep safaris are generally best for bird watching and late afternoon jeep safaris are best for sighting massive elephant gatherings. Apart from elephants you may also get a chance to spot other animals like leopards, sloth bear, spotted deer and other species of flora and fauna. While visiting the park, you may plan your stay at Dambulla which is 46 km from Minneriya and also visit nearby Hiriwaduna village to experience the local Sri Lankan culture.
Pinnawala Elephant Orphanage
Pinnawala Elephant Orphanage serves as a nursery and captive breeding ground for wild Asian elephants. This orphanage was instituted to protect and care for many wild elephants that are diseased, wounded and found wandering in the forests of Sri Lanka. You may plan to visit the orphanage while you travel from Colombo to Kandy or Colombo to Dambulla.  Spend some moments with these elephants and experience the surreal bond between a human and an animal.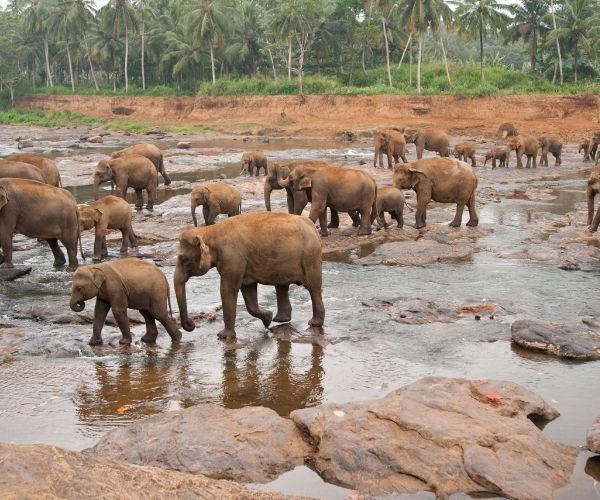 Observe the elephants from the closest proximity and capture this breathtaking vista in your digital lens. The best time to visit is the feeding time from 09:15-09:45 hours and 14:15-14:45 hours. and the bathing time from 10:00-11:00 hrs. and 15:00-16:00 hrs. when all the elephants are taken to the nearby river.
Tooth Relic Temple
Established in 16th century, the Tooth Relic Temple is the most revered site in Sri Lanka. This temple is located in Kandy which is the centre of Buddhist faith. Temple of Tooth Relic is also called as Sri Dalada Maligawa. It is believed that, actual teeth of Lord Buddha is kept well secured in a golden casket shaped like a stupa. During the annual festival of Esala Perahera this casket is paraded through the streets on an elephant back.
You should visit the temple at the opening hour in morning or evening when you can get a chance to experience the ceremonial offerings and prayers. It is mandatory to remove your shoes before entering the temple and wear a proper attire covering shoulders and legs. The whole temple complex is filled with lotus blossoms and incenses that are offered by the pilgrims. Get stunned by the classic Kandyan architecture as you explore the Tooth Relic Temple.
Horton Plains
Horton Plains is a plateau and popular national park in Sri Lanka. Located in the central province, it is 28 km from Nuwara Eliya and 102 km from Kandy.  Horton Plains is spread over 3169 hectares and is situated at an altitude of 2,100 meters above sea level. Horton Plains was traditionally known as 'Mahaelilya'. Later the area was renamed as 'Horton Plains' after Sir Robert Horton, a former British Governor.
It is surrounded by some of the highest peaks. Here you will find number of waterfalls, lakes, rocky hills and stunning landscapes. Take a 9 Km hike to a point which is known as World's End. During the hike you may spot herds of Sambar deer, trip-necked mongoose, long-tailed giant squirrel, wild boar, and others.
Tea plantations at Nuwara Eliya
Nuwara Eliya is known for its lush green tea plantations. Known as the "Little England of Sri Lanka" the rolling hills decorated with green tea leaves will surely astonish you. To experience the history of British Ceylon, visit the tea factories and estates where you can understand the tea processing or indulge in the tea plucking session with the locals.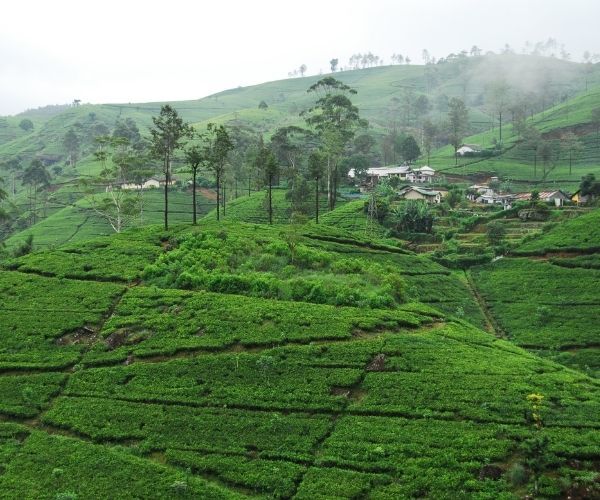 The ideal climate, fertile soil, higher rainfall and humidity provide an excellent ambience for the tea plants to flourish. Do you know that 350 million Kg of tea is exported by Sri Lanka every year? There are number of tea factories in Nuwara Eliya. Some of the best that you can visit are Mackwood Tea Factory and Pedro Tea Estates. At Mackwood Tea Factory, you can explore the museum and also try some amazing flavours of tea like cinnamon, apple, etc.
Yala National Park
Situated in the south-eastern corner of Sri Lanka, Yala National Park is Sri Lanka's most popular wildlife destination. Yala national park is famous for its large number of leopards, elephants and also home to around 130 species of birds including flamingos, pelicans and storks. During the jeep safari, along with leopards you may also spot Indian elephant, wild boar, mongoose, crocodile, spotted deer and lizards.
Yala National Park is divided into five zones, among which zone 1 & zone 5 are open for visitors. Early morning jeep safari will increase your chances of spotting Elephants, Leopards and various species of birds.
Mirissa
Located in the southern province, Mirissa is the largest fishing port on the southern coast of Sri Lanka. The gentle ocean waves, coconut trees, sandy beaches make this place heaven on earth. Enjoy a relaxed ride through the ocean as you surf from the Mirissa's Bay Surf Point. The best and ideal time to go surfing at Mirissa is from October to March.
In the early morning, hop on a boat to spot beautiful dolphins and whales in the Indian Ocean. As you sail away from the land and reach the middle of the ocean with blue water on all sides, get ready to see the hidden treasures beneath the water. Slithering through the waves and swimming your way, the experience to the see the dolphins in their natural habitat is a lifetime experience. At Mirissa, crack open a coconut on the beachside and end your evening with a romantic beach dinner and fresh coconut drink.
Other places that are worth of visiting in Sri Lanka are Sigiriya, Weligama, Arugam bay, Galle, Colombo, Udawalawe and Bandarwela. These places offer an array of experiences ranging from heritage, culture, food to nature.
Jay Kajaria is Founder of Bespoke India Holidays. Bespoke India Holidays is an award-winning company that specialises in creating luxury trips to India and the subcontinent.
If you would like to be a guest blogger on A Luxury Travel Blog in order to raise your profile, please contact us.