Italian cuisine is a true treasure to discover and each Italian region has different traditional recipes to offer. In today's post we will introduce 10 typical dishes of Apulia you really cannot miss to try.
Apulia, or as the Italians call it Puglia, is well renowned for its amazing nature and the pristine waters of its sea. Local recipes complement the charm of this corner of Italy: each recipe is part of a rich culture showing the clear connection between people, land and spirituality as well. Many recipes derive their origins from specific religious celebrations  and are prepared only on those occasions.
What makes the Apulian cuisine so delicious? It's all about the basics:
excellent extra-virgin olive oil
cheese
bread
tomatoes
good wine
These ingredients grow naturally thanks to the mild climate of Apulia and when combined in century old traditional recipes the effect is just incredibly tasteful and healthy. We collected 10 Apulian recipes you cannot miss on your Apulian journey and remember, when in doubt, do as the locals do: eat the Apulian way.
Focaccia Barese
Focaccia is a special flatbread topped with cherry tomatoes and possibly black olives. It is a special recipe born in Bari, a town in the north region of Puglia. Focaccia is a typical street food but it's also consumed as a lunch dish or afternoon snack by locals. Actually many cocktail bars serve focaccia as an appetizer for their aperitifs with local wine or fresh beer.
Orecchiette con cime di rapa
The famous Orecchiette with cime di rapa (pasta with turnip greens)  is one of the most typical recipes of Apulia, for sure. This is basically a home made fresh pasta dish with cooked turnip greens and chili pepper, possibly with anchovies. The word orecchiette comes from the shape of the pasta, a small ear. Eating orecchiette with cime di rapa is actually one of the most typical things to do when in Puglia!
Burrata
When in Puglia, do  not forget to try the multitude of different fresh or seasoned cheeses the region offers. Burrata cheese is well known for its buttery and soft texture. We recommend you dress it with a little bit of olive oil, a few basil leaves and some fresh tomatoes, together with Apulian bread or taralli (see below). You will love burrata for sure!
Taralli
Taralli are basically crispy little rounded breads cooked with extra virgin olive oil and white wine. They come with different flavours: onion, rosemary, fennel seeds, chili pepper. They are used as accompaniment for many aperitifs, especially with red or white wine and it's a special Apulian dish you can serve to your friends at the last minute.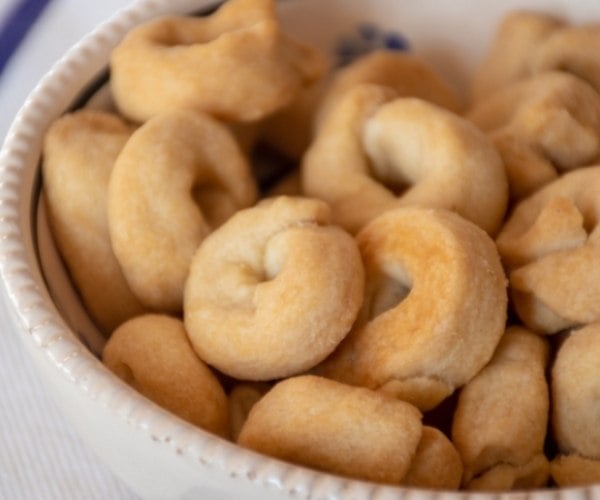 Friselle
Friselle is a crunchy dried bread in the shape of a donut and it's used instead of a sandwich. First you have to put them under cold water so they start to soften. Then you cover them with a topping of your choice, such as mozzarella cheese, fresh tomatoes, olive oil, pepper, black or green olives, tuna and whatever you may like. Friselle is  just perfect for your very Italian aperitifs!
Panzerotti
Panzerotti is a delicious fried street food, filled with mozzarella cheese and tomato sauce. It is consumed freshly baked for a quick lunch or a tasty snack.
Puccia
Puccia is a little rounded and soft bread stuffed with ham, salad and cheese. It is a typical street food from Salento, the Southern region of Puglia. As panzerotti, puccia is often used as a lunch dish. You can compare >puccia with the similar sicilian pane cunzatu (seasoned bread).
Apulian bread
The Apulian bread is the result of a millenary art handed down over the centuries from one baker to his successor and it is jealousy kept inside the Apulian bakers' world. The Apulian bread is renowned for its soft dough and a golden crispy crust. You can serve it with olive oil and some salt: believe us though it's someway a poor dish, its taste will make it a special treat you will remember for long.
Tiella
Tiella is a local dish made of rice, potatoes, tomatoes and mussels, covered with bread crumbs. The combination of these poor ingredients is baked and the result is a yummy dish of the Apulian tradition. Together with tiella, mussels are very common in Puglia. You can taste them baked or au gratin.
Pasticciotto
Let's finish this journey in the Apulian culinary tradition with a typical local dessert: a pasticciotto. The real pasticciotto is a dessert made with pastry filled with custard. You can have a pasticciotto for breakfast or as a tasty treat during the day.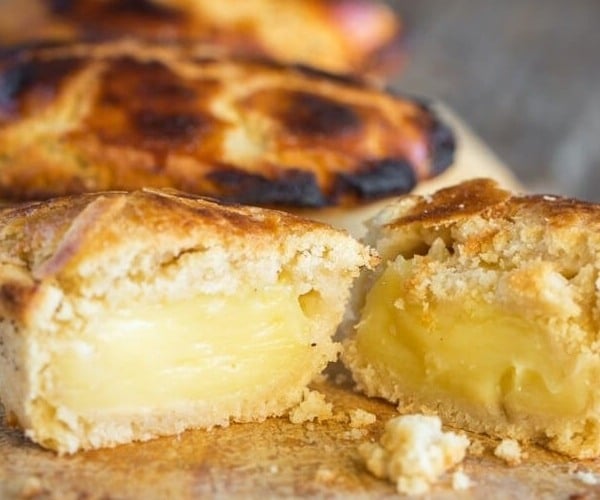 Have you ever eaten one of these Apulian specialities?
If not, we recommend you to travel to Puglia at least once in your lifetime. Enjoy our marvellous sea, relax by the sandy white beaches and taste all these gourmandises that make Puglia a great place to be for food lovers.
Vincenzo Peluso is CEO at Isula Travel. Isula Travel is a holiday villas rental company, providing a bespoke experience in luxury villa across Italy and Croatia.
If you would like to be a guest blogger on A Luxury Travel Blog in order to raise your profile, please contact us.