By
Michael Edwards
on Jun 06, 2021 in
Accommodation
,
Europe
,
Food and Drink
,
Going Out
,
Hotels
,
Regions
,
Restaurants
,
Travel Miscellany
,
United Kingdom
,
Western Europe
Rothay Manor is a wonderfully elegant Regency mansion which has become a boutique hotel at the heart of the Lake District. Privately owned by Jamie and Jenna Shails, the hotel is renowned for fine-dining going from strength to strength with Dan McGeorge creatively leading an impressive culinary team.
Although the house remains true to its Regency origins, it was built in 1835 for a wealthy Liverpool merchant seeking Lakeland tranquility there is a light contemporary touch to the decor. Decanters on horizontal piles of books reference the 19th century but today's Regency stripes are thinner and lighter, merely a discrete echo of Georgian days.
The welcome
Even though we have already completed an online check-in, great care is taken to set-up our stay: dining reservations are confirmed whilst a porter takes our luggage to our first floor room. As this is a Grade 2 listed preciously preserved house there are no lifts.
The room
A relaxing palette of colours brings the spirit of the Lakeland's natural environment into our large room. There is ample space for a large wardrobe containing ironing board and safe, a five drawer chest and dressing table. A well-equipped tea / coffee tray and mini-fridge, with fresh milk,are hidden from view in that huge wardrobe.
Framed vintage black-and-white postcards along with pages from 19th century Lakeland themed publications decorate the walls giving a sense of the region's historic allure.
The bathroom
There is ample room for storing toiletries in a bathroom featuring a fast-filling bath and separate shower.
Supplies of Noble Island's Willow Song toiletries are a suitably florally fragrant choice matching in with a location of such natural beauty. A low-level sensor triggers a night-light which is increasingly featuring on traveller's hotel wish lists.
Facilities
With an established reputation for fine-dining, Rothay Manor's standing has further soared after Dan McGeorge's victory in the dessert section of the BBC's Great British Menu.
Though ironically, his Give a Dog a Bone TV winner, is child's play compared to his spectacular Peach Melba. Sugar is rolled out, pumped into a sphere, left to set, then filled with almond sponge, raspberry sorbet, vanilla cream and slices of peach. Unsurprisingly it is the most popular dessert on the a la carte menu.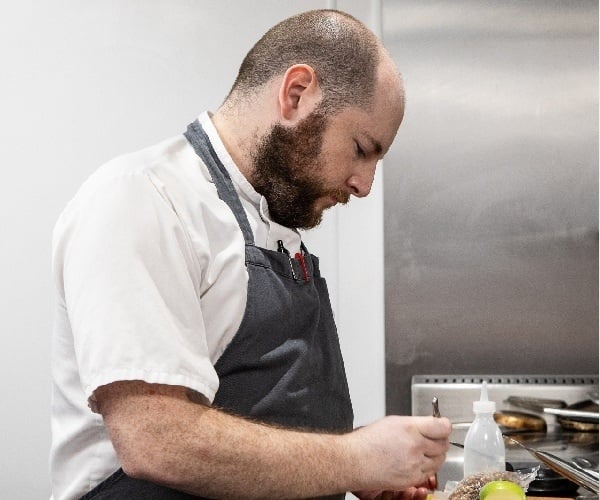 If you prefer to try Give a Dog a Bone, celebrating the first four guide dogs from back in 1931, that features on McGeorge's Great British tasting menu. There is a matched wine flight selected by Miles Cornish available to accompany the meal.
This is serious dining with inventive canapés, an amuse-bouche, a choice of breads and butters – all before the starter and main course – then a veritable dairy of a cheese board is offered before the pre-dessert and dessert.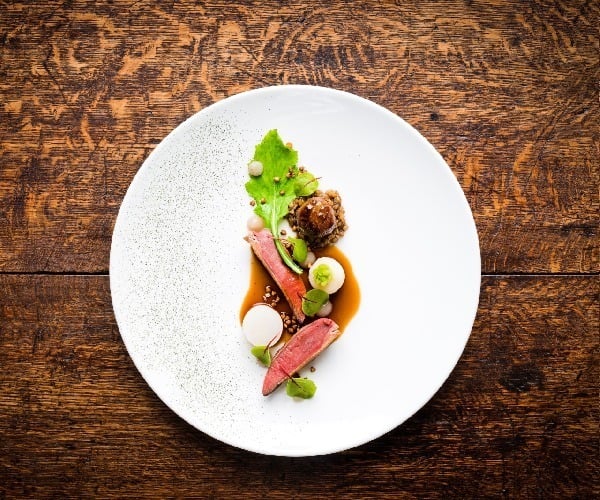 Main courses include duck served with a duck tortellini and duck consommé, stone bass accompanied by an oyster and of course Lakeland lamb.
Location
It is an easy walk into the centre of Ambleside for its galleries and shops, many of them specialising in outdoor living equipment. Yet, Lake Windermere is also just a sort stroll away for cruises, fishing, sailing, wild-water swimming or just a coffee with a view.
Traffic is busy and parking is frequently a challenge in the Lake District so many guests arrive and park their car for the duration of their stay. Rothay Manor is so well-placed that guests happily occupy themselves for days on end without ever reaching for their car keys.
Other nice touches
Rothay Manor's gardens are magnificent, maturing nicely as they approach their third century, idyllic for afternoon tea or a pre-dinner drink on the terrace.
Currently, an extension is being built, opening very soon, which will include a Dog Wash and Boot Room.
The cost
Bed and breakfast in a classic double room begins from £200. Currently the a la carte menu, which is also available to non-residents, costs £60 per head.
The best bit
Rothay's restaurant has 3 AA Rosettes but McGeorge is clearly approaching Michelin star territory.
Precise technical skills combine with creativity and immaculate sourcing. Moreover, McGeorge has a passion for Japanese cuisine occasionally using oriental flavours to great effect. Look out for a dash of wasabi crowning the duck on brioche canapé or the cherry blossom ice-cream pre-dessert.
The final verdict
Superb fine-dining at the heart of the Lake District in a beautifully maintained Regency country house. Chef Dan McGeorge is clearly taking the cuisine to new heights.
Disclosure: Our stay was courtesy of Rothay Manor.