Africa's wild dogs, also known as painted wolves, are arguably the most enigmatic animals that one can witness in the wild. Their social structure is fascinating, and their antics are often remarkable. Always on the move and full of energy, you can be sure any time spent with these carnivores will leave you delighted.
In the past, wild dogs have been persecuted, especially by farmers, who have not taken lightly to their livestock being predated on. More recently however it is the impact of land encroachment that is their biggest threat. With packs roaming for kilometres upon kilometres per day, they need an enormous amount of space to survive. With land encroachment also comes the threat of canine distemper, rabies and other disease threats posed by domestic dogs. Add to this the threat of competing with lions, leopards and hyenas then you would be right in thinking the life of a wild dog is certainly not an easy one.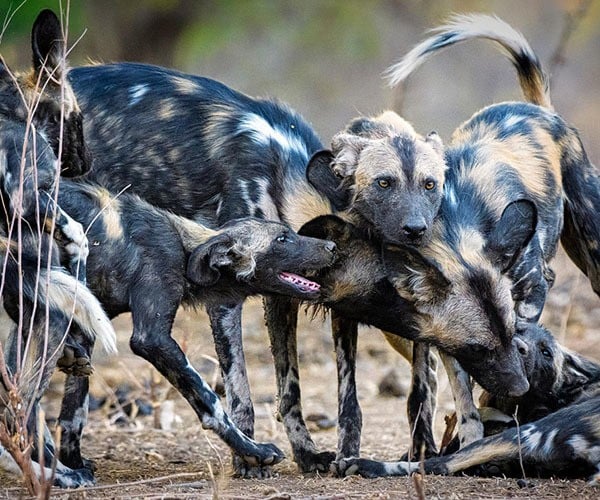 Although they face many challenges and their numbers have dwindled, wild dogs are extremely resilient and cunning. Couple this with some fantastic conservation work in numerous countries across the continent of Africa, the result has been some viable populations stabilising and in certain areas, increasing. Whilst finding wild dogs on safari is certainly no guarantee, below you will find some of the best camps in Africa which will provide you with the best chances of seeing these incredible canines.
Vundu, Mana Pools
Mana Pools is one of Zimbabwe's most treasured National Parks. Often thought to be one of the homes of the walking safari, as well as incredible authentic safari experience, it is here that wild dogs roam wide and free.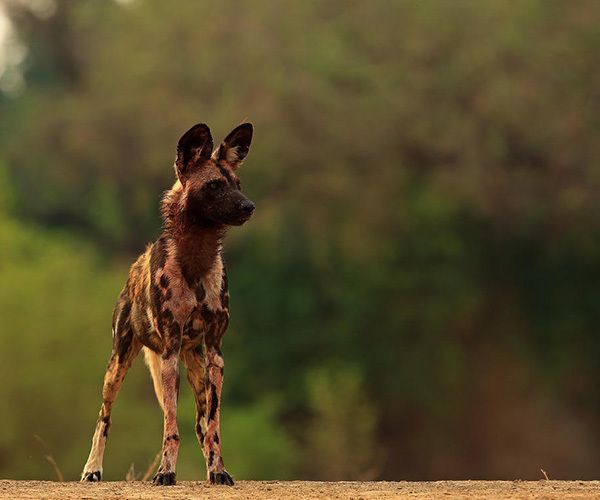 Featured heavily in the BBC's Dynasties series, Mana Pools is an exceptional place for game viewing, especially during the latter part of the dry season. For wild dogs however, it is Vundu Camp that steals the limelight, so much so that this was where Sir David Attenborough stayed during his stint of filming in Mana.
The camp itself is situated in its own private concession within the National Park and is a permanent tented camp that gives guests views of the famous floodplains as well as access to the mighty Zambezi River. Whilst canoeing, fishing and night drives are all possible, the best way to find the wild dogs of Mana is in a 4×4 vehicle. Often active during the cooler hours, wild dogs are extremely speedy and keeping up with them is no easy task!
Londolozi, Sabi Sands
Located deep in the heart of the Sabi Sands, Londolozi boasts some of the best game viewing in South Africa. Due to its location in the heart of the reserve, and with its own private concession, Londolozi offers access to an incredible diversity of game viewing.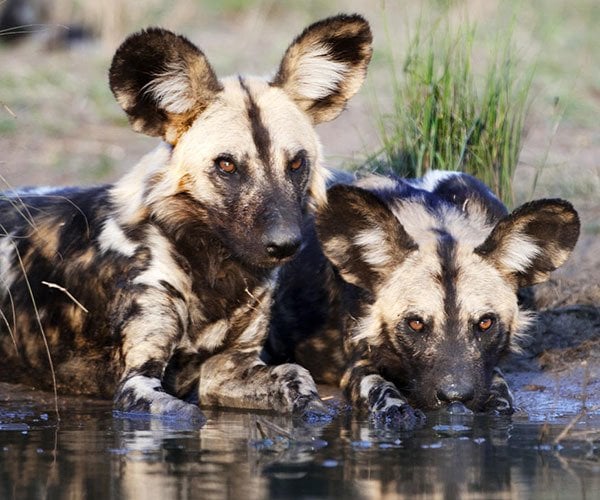 The best time of year to visit for wild dogs is during the denning season when the packs tend not to roam as far. If you are lucky, the pack will have denned on the Londolozi concession and will spend much time here, however as with anything in the wild, nothing is guaranteed.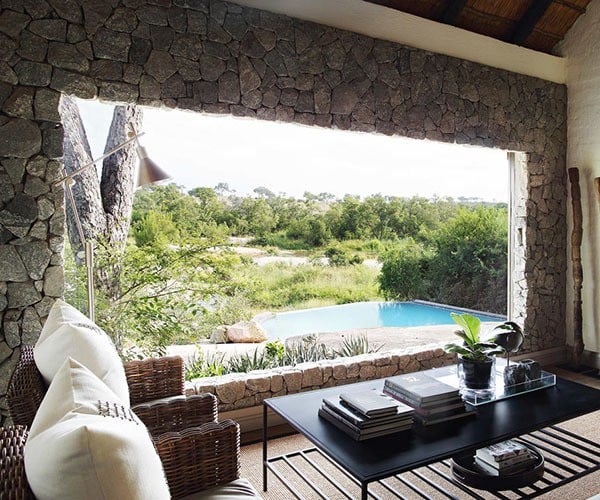 From Varty Camp to the Granite Suites, Londolozi can offer something for everyone. Be you a honeymoon couple or a family. The facilities are fantastic and having your own private concession means that you only share sightings with those in your camp and no-one else.
Tswalu Kalahari
Another area in South Africa that is exceptional for wild dog sightings is Tswalu. Located in the Kalahari, this reserve tends to focus on members of the shy five like pangolin, aardvark, aardwolf. Their successful conservation techniques however have resulted in two packs of wild dogs being translocated to live amongst the red dunes.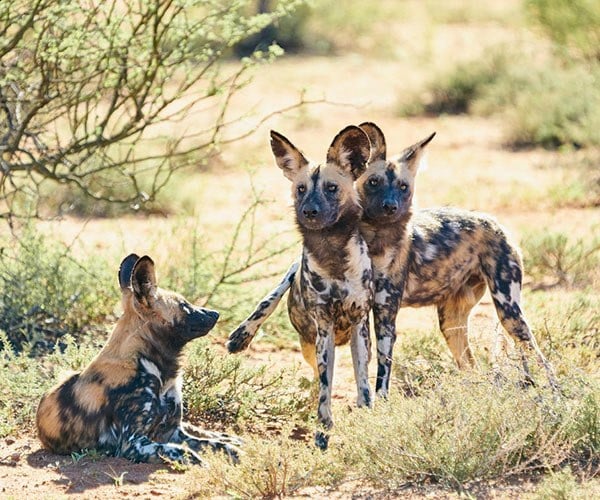 With two packs in the area, and one that is constantly monitored by the researchers, seeing wild dogs here is an exceptional experience. They have learned how to hunt gemsbok (oryx) amongst other desert adapted animals and with your own private vehicle, tracker and guide, you can tailor make your game drives and days on safari to exactly how you want it to be. If you want to spend the whole day with the dogs, you can!
Beho Beho, Selous
The Selous is certainly not the place where everyone would think of visiting to see wild dogs. The landscape is mainly a watery maze that consists of many lagoons and rivers. Yet, in this Southern Tanzanian game reserve, there is an incredible population of wild dogs. Known to be one of the last strong holds for this carnivore, the Selous gives guests one of the best chances of seeing wild dogs in Africa.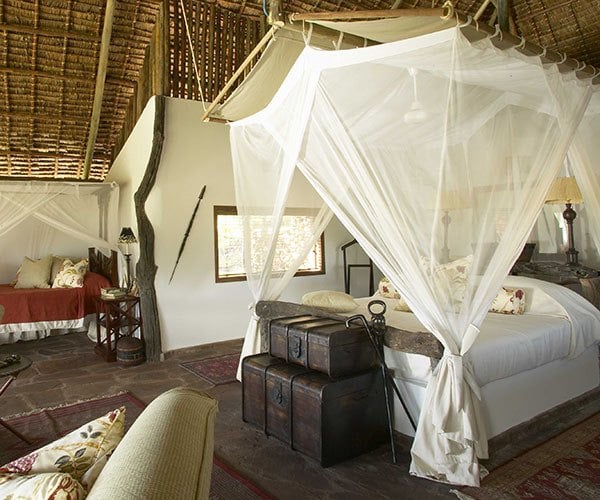 Whilst most flock to the North of Tanzania to see the Great Migration, the Southern parks receive a fraction of the visitors and lodges such as Beho Beho can offer an incredible off the beaten track safari, yet with an enormous amount of luxury. With every amenity one could wish for, stunning views and some of the best game viewing in the Selous, Beho Beho is in a prime location to find these wild dogs. More often than not, they can be found sunning themselves on the airstrip, a mere ten minutes from camp.
Mombo Camp, Moremi Game Reserve
Mombo Camp's fame precedes itself. Renowned across the safari world as being the epitome of safari, Mombo has enjoyed years of incredible game viewing. Located in the heart of the Okavango Delta, Mombo sits on an island abundant with wildlife.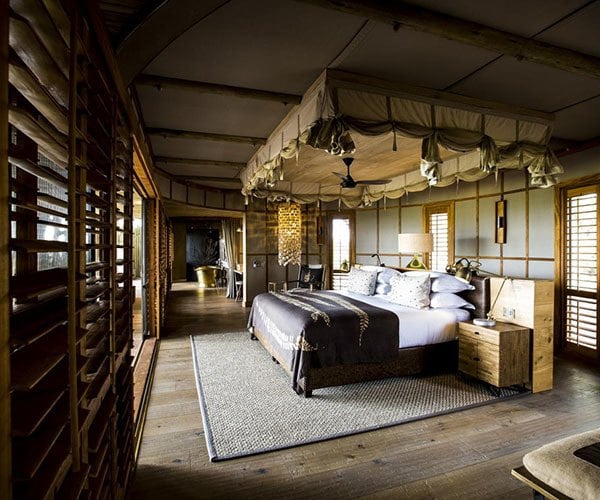 Whilst the price may be eye-watering, this does not deter many safari goers who all want to have that Mombo experience. Due to its location on this island, surrounded by the waters of the Delta, the wildlife does not often move far from here. This gives rise to the perfect opportunities for viewing wild dogs in the Delta's habitat. From hunting lechwe to escaping the jaws of hyenas and lions, Mombo boats some of the most action-packed safari spectacles in Botswana.
Marc Harris is Managing Director of Africa Odyssey. Africa Oydssey is run by a team of award-winning experts offering tailor-made African safari holidays.
If you would like to be a guest blogger on A Luxury Travel Blog in order to raise your profile, please contact us.