By
Michael Edwards
on Jun 10, 2021 in
Accommodation
,
Europe
,
Food and Drink
,
Going Out
,
Hotels
,
Regions
,
Restaurants
,
Travel Miscellany
,
United Kingdom
,
Western Europe
Ettington Park Hotel is a grand palatial house, dripping with history, built on an epic scale in 40 stately acres of rural Warwickshire on the banks of the River Stour.
A long tree-lined drive gives guests arriving by car the opportunity to take in glimpses of the towers and turrets of a country house that is now looked after by Handpicked Hotels. Alternatively, you can skim in over the tree-line to land on the helipad.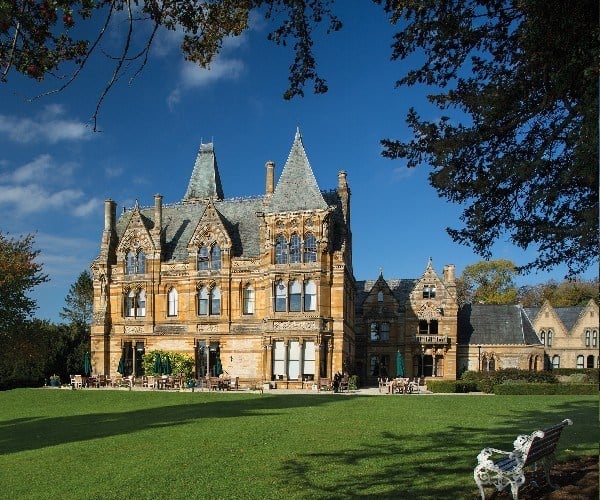 A Roman villa may have once stood on this site, followed by a succession of houses. Then in 1858, Evelyn Shirley commissioned architect Charles Pritchard to implement major improvements. Five years later a house, in the neo-gothic style, championed by Augustus Pugin, was complete.
The welcome
It's a grand entrance through a porch designed for horse-drawn carriages. Next is an extensive vaulted conservatory, hopefully soon filled with wellies for walks once Covid regulations are relaxed. Finally, you arrive at a reception surrounded by carved white alabaster pillars.
Service is friendly and personal, guests are taken to the lift by the receptionist and then to their room – which is essential as Ettington Park has invented its own idiosyncratic number system. Eccentrically, Room 3 is adjacent to Room 45.
The room
Why have a room when you can have a suite? Suites are expansively luxurious with their high-ceilings, stone fire-places and chandeliers. Our fireplace even has a motto, "Je suis loyal" running just below the lintel.
Sturdy dark wood furniture and period artwork give a sense of time travel back to the Victorian era. In the Victorian Garden Suite, decorated with an appropriately soothing palette of greens, is a family portrait of Queen Victoria, Prince Albert and children. The dogs look particularly pleased with the ducks and pheasants they have accumulated during a good day's sport.
A wide Venetian four-poster bed contributes to the sense of opulence.
The bathroom
Although there is gleaming steamship style plumbing at the head of the bath, it is distinctly 21st century with a wall-mounted television above and a waterproof remote control.
Enter the bathroom and movement sensors illuminate low-level lights. Although huge dimensions are 19th century aristocratic, the technology, including a rainfall shower, is very contemporary.
Facilities
The Grand Drawing Room, approaching sports hall size, is a grandiose setting for coffee, afternoon tea and pre-dinner drinks, amongst chandeliers and vast portraits.
Shirley family history is recorded in the Oak Room Restaurant where heraldic crests on the dark panelling celebrate the family's matrimonial alliances over the centuries.
A two AA rosette menu, in Modern British style, features locally sourced prime ingredients. A starter of trout cured in Cotswold Gin with cucumber in tonic water sauce is the very essence of a British summer. A range of steaks and Herefordshire port-glazed short-rib beef also demonstrate the respect for British traditions.
An imaginative dessert of chocolate and beetroot slice with a beetroot sorbet is a creative success with the base of a raspberry sauce bringing depth and surprising sweetness to the flavours.
For special celebrations, the hotel offers private dining, catering from an intimate 14 in the 19th century stained-glass windowed chapel through to 96 in the Long Gallery that runs the full length of the second floor.
When the weather is fine, there are few better places than the Ettington Park terrace for al fresco dining and admiring the views across the lawns down to the River Stour.
Location
Just six miles from Stratford-upon-Avon, Ettington Park Hotel is a perfect base for visiting Shakespeare's county.
Other nice touches
Ask reception for a map of the grounds and they will produce a leaflet that guides you around the historic limestone mines, along the riverbank and back to the church ruins. Picnic hampers can also be prepared by the kitchens.
Reception will also print out the history of the Ettington Park site which, during the Second World War, served as a Prisoner of War Camp for captured Italian soldiers.
The history concludes with a summary of ghostly happenings from a retired Night Manager. Although the AA officially rates Ettington Park Hotel as Britain's "Most Haunted House," the Night Manager reassuringly asserts that none of the apparitions have malevolent tendencies.
The cost
Rooms, including breakfast, begin from around £275 per night.
The best bit
A warm indoor swimming pool, with a shallow children's section is surrounded by comfortable loungers.
This sympathetic light-infused contemporary addition to the original house also has a sauna and steam room.
The final verdict
A very special opportunity to enjoy a few days of luxurious aristocratic living in beautiful Warwickshire countryside. Although Stratford-upon-Avon is close, most guests enjoy rambling around the estate and taking their time over leisurely meals, particularly al fresco, in stunningly beautiful settings.
Disclosure: Our stay was courtesy of Ettington Park Hotel.