Top 5 golf resorts in Catalonia
Catalonia is the perfect destination for a golf holiday. With good year-round weather and world-class courses, it is any golfer's dream to be able to play in this north-eastern region of
Spain
. It is hard to imagine a more perfect location than one set among the beautiful Catalonian countryside. The variation in the landscape creates some fantastic golf experiences – from the beautiful coastline of the Costa Brava to the south, up to the mountainous Pyrenees to the north. What's more, being just a stone's throw from one of Europe's major cities,
Barcelona
, means some sightseeing is not off the menu for a golf trip here. Golf in Catalonia dates to 1914, when a group of British railway workers created a golf course that was later named Sant Cugat del Vallès. It was the first track in Catalonia and one of the first ever in the whole of Spain. Today, there are 61 golf clubs in Catalonia, that rival the quality of other better known golf regions in Spain, such as Andalusia. The great thing about Catalonian golf courses is that the location can be chosen based on personal preferences for your holiday.  For those that want to experience the dazzling sights of the Basilica de Sagrada Familia and all that Barcelona has to offer, there is the Club de Golf Barcelona. Others may want to escape the hustle and bustle and relaxing in the countryside, such as at the PGA Catalonia. For whatever appeals more, we have compiled our top 5 golf resorts and hotels in Catalonia to choose from.
1. PGA Catalunya – Golf & Wellness
With two world-class golf courses consistently ranked among the best in Europe,
PGA Catalunya Golf
has everything the discerning golfer could wish for. It has been home to the Spanish Open on three occasions and is the number one ranked golf course in Spain. The resort is also a regular host for European Tour tournaments. There are two courses: the Stadium Course, which is the famed, number 1 course used for tournaments, as well as the Tour Course, an equally beautiful but kinder round.
PGA Catalunya is located in Girona, just a few minutes' drive from the beautiful beaches of the Costa Brava, perfect for those who want to combine golf with relaxing in the sun. The luxury resort is home to the 5- star Hotel Camiral, a haven of tranquillity at the heart of the resort. The hotel offers a spa, outdoor pools, tennis courts, a gym, and several restaurants – ideal for those that enjoy the finer things in life. For a more private experience, the resort also offers luxury rental properties, from apartments to super villas.
2. Lumine Mediterranea Beach & Golf Community
Award-winning Lumine is one of Spain's most exclusive golf course experiences, both on and off the course. Stretching across 170 hectares, Lumine is home to two 18-hole championship courses and a challenging nine-hole course. The courses were designed by Australian golfing legend Greg Norman, and alongside the breathtaking views of the Mediterranean coastline, this is truly a spectacular place to visit.
Found in the dreamy beach town of Salou, the club offers exclusive packages for guests to make the most of their time here. A long golf weekend spent in a 4-star hotel can be combined with a special afternoon with a visit to a winery for some wine tasting, something the region of Catalonia is renowned for world-wide. For a spot of history, a package including a hotel stay and green fees can be combined with a fascinating guided experience of the Roman city of Tarragona, to learn about its history and heritage. The beach club is another unmissable aspect of Lumine, with 7 pools overlooking the sea, accompanied by spectacular gastronomic offerings.
3. Real Club de Golf El Prat
Located just 25 minutes' away from Barcelona in a natural park of 280 hectares, the Real club de Golf El Prat is another fantastic option for a golf getaway to Catalonia. Founded in 1912, when Barcelona Golf Club was set up in Pedralbes as an initiative by some golf amateurs in Barcelona's aristocracy and nobility. It is now situated on the Bonvilar country estate, a 220-hectare plot that links to the beautiful Collserola Nature Park. Greg Norman designed 45 holes with the idea of creating a fusion of playability and aesthetic beauty, by adapting the course to suit all playing levels and styles while still integrating its layout into the natural surroundings.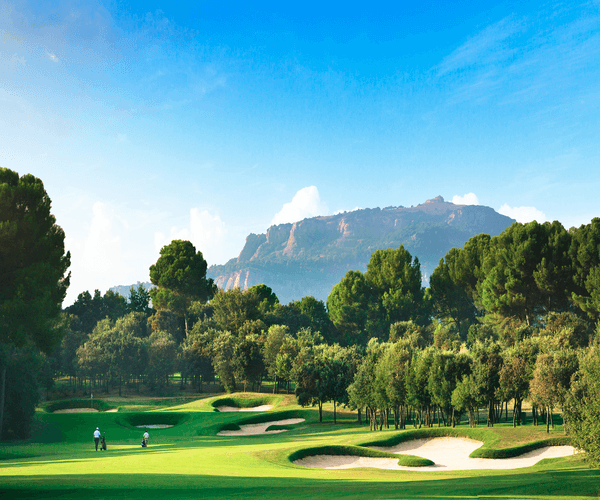 The club offers 'Stay and Play' packages, between 3 and 7 nights on a semi all-inclusive basis and including green fees. The semi all-inclusive basis includes entrance to the spa, access to the gym and indoor swimming pool, outdoor activities such as badminton and mountain biking, and much more. The club also has top-quality practice facilities, including a 300m driving range and a host of specialist short-game areas.
4. Club de Golf Montanyà
Montanyà Golf Club
is an undiscovered gem, closely integrated within the Montseny National Park, surrounded by breathtaking natural beauty. The course is over 6000 metres long, with a par of 72 over 18 holes with varying technical environmental characteristics from the first nine holes to the last nine holes. Welsh professional golfer David Thomas designed the course, and it was inaugurated in 1989. This course is perfect for those that want to enjoy nature and golf in calm and silence, interrupted only by the pleasant trill of the many bird species that inhabit the woodland.
There are several bed & breakfast and rural villas for rent in the area, as well as boutique hotels with spa and wellness centres. For those wanting to combine their golf trip with some exciting city life, Barcelona is also only around an hour away by car. The restaurant at Golf Montanyà is also not to be missed. Thanks to its proximity to the coast and the Montseny natural park, the restaurant uses top quality, local ingredients in its dishes.
5. TorreMirona Golf & Spa Resort
TorreMirona is an 18 holes championship golf course nestled between the sea and mountains, close to Figueres. The first round is quite technical, navigating long, narrow fairways between trees. The second round is wider and flatter, through lakes, bunkers, and wide greens, that allow the golfer to enjoy the magnificent views at a more relaxed pace. The resort also offers a 350m driving range, ideal for both amateurs and pros to get some technical practice under their belt before heading out onto the course.
The TorreMirona Relais Hotel is located right next to the tee of Hole 1 of the golf club, with a fantastic restaurant, spa, and a terrace with magnificent views out to the Pyrenees Mountains. Book a luxury getaway package, such as the Superior Disconnection, which offers a night in a superior room with a private terrace, breakfast, exclusive access to the spa, and a relaxing massage to unwind after a day spent golfing in the Mediterranean sunshine.
Sandra Roig is Marketing Director at AB Apartment Barcelona. AB Apartment Barcelona is an apartment rental agency offering over one thousand short and long term apartments across Barcelona.
If you would like to be a guest blogger on A Luxury Travel Blog in order to raise your profile, please contact us.
Did you enjoy this article?
Receive similar content direct to your inbox.