Greece and Turkey are welcoming tourists back to the Eastern Mediterranean for a safe and spectacular summer, and a luxury charter yacht grants adventurous groups the opportunity to roam the crystalline Ionian and Aegean seas in style. There are five great reasons to choose a yacht for your next getaway break with family, friends or your significant other, and plenty of destinations to cater to the varied interests in your group.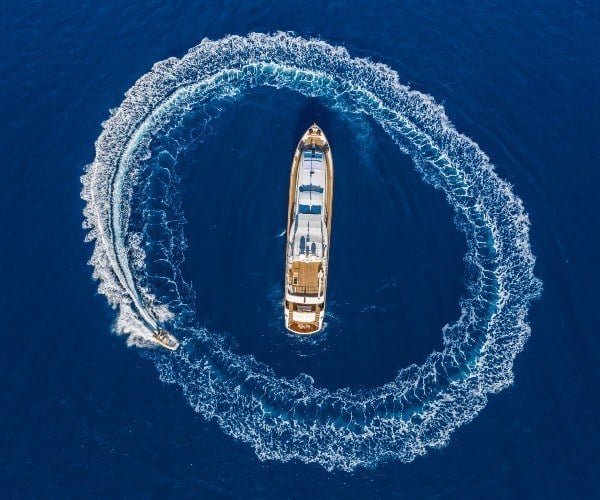 Perfect privacy
A superyacht offers the advantage of complete privacy for a perfect rest away from the crowd: Stay in the marina or cruise off to a secluded cove at one of the remote islands, where the sounds of nature will lull you to relax in peace. Both sailing yachts and motor yachts usually include plenty of sunbathing and alfresco dining options that you'll have all to yourselves, even when you're in the busiest locations at the height of the summer season.
A talented crew
Throughout your stay on board, there will be a professionally trained crew on-hand to ensure that you have everything you need, whether it's preparing the water toys ahead of time or serving up a tempting selection of cocktails before lunch. The talented chef might even have Michelin training and can cater to any allergies and dietary requirements within the group so that every mealtime is stress-free. Certain crews might include a professional masseuse or instructors for jet skis, Scuba diving and other activities, giving personal tuition without the pressure of any other clients to worry about.
Styling to suit you
The wide selection of luxury yachts available on the market means that you can tailor the vessel to suit your requirements, whether it's the selection of water toys, onboard amenities such as a Jacuzzi or the interior décor.
There are vessels with a traditional interior that have been impeccably maintained over the years through refits, or newly launched superyachts boasting contemporary designs from world-renowned shipyards and designers. Choose a laid-back setting for relaxed family gatherings or opt for opulent and refined surroundings to mark a special occasion.
Accommodation on the move
Unpack once and leave it to the Captain to take you to the best anchorages and water sports areas in the Eastern Mediterranean. In the meantime, you can sleep off any jet lag, settle into the lounge for a film, or watch the changing scenery as you dine together within the air-conditioned salon. Most luxury yachts sleep up to 12 guests across en-suite cabins, however, couples might prefer a more compact open yacht capable of zooming between the islands, while a traditional Turkish gulet sailing yacht will suit large groups.
Amazing amenities
Luxury yachts come with a range of amenities on board to suit the interests of your group, with water toys for a burst of adrenaline or floating calmly on the glassy water. After dining alfresco, guests will enjoy a soak in the Jacuzzi if available on board, or rest on the sunbeds in the warm breeze. After a day among the wonders of the Eastern Mediterranean, cutting-edge entertainment systems will keep your group engaged as you ease your weary feet and await dinner. Best of all, everything onboard is just for your group – no interruptions.
About the destinations: Exceptional destinations in Greece and Turkey
A luxury yacht charter is one of the best ways to experience the Greek islands, free from ferry timetables that often serve only the most popular – and therefore the busiest – destinations. Corfu and the Ionian Islands are outstanding for their natural beauty, and after visiting the white sand Navagio Beach famed for its shipwreck, you'll be able to cruise away to uninhabited shores for soft sand beaches and sunshine without any competition over the best spots.
The Cyclades are a favourite destination for holidaymakers the world over and Santorini alone boasts scenic blue-roofed, whitewashed buildings, windmills and volcanic beaches with red and black sands. For those who want a more authentic experience of Greece, Anafi is a serene spot just 22km from Santorini, and Iraklia south of Naxos is a well-kept secret bursting with hot springs, wreck-strewn snorkelling sites and ancient forts where young imaginations can run wild.
Rhodes is the largest and most famous of all the Dodecanese Islands for being a UNESCO World Heritage Site. It's filled with cultural wonders, ambient restaurants and plenty of shopping opportunities: During your visit, tour the Palace of the Grand Master, the Acropolis of Lindos and the Monastery of Filerimos, then take home a souvenir of your satisfying stay with some locally made contemporary art or traditional craftsmanship from leather or olive wood. Turkish influences remain from when the Ottoman Empire occupied the island, and incredible works such as the Great Hammam will give you a glimpse of the wonders to be found once you travel farther East.
The best time to visit Greece is between May and September when the weather is warm and dry. However, the 'rainy' winter months from October until March are rarely wet for long periods and the shoulder seasons are an excellent time to get the balance of fine weather without the peak crowds at the most prestigious attractions.
The southern coast of Turkey is known as the Turkish Riviera or the Turquoise Coast, and as the name suggests the surrounding sea is a pleasing pale blue – and crystal clear as well. As such, snorkelling is a favourite water sport along the shores of Fethiye and Oludeniz, and hikers can admire the stunning views as they tackle a stretch of the 200 km Lycian Way.
Dalyan is another impressive stop to add to any itinerary, overlooked by ancient Lycian Tombs and ruins along the coast. The area is a favourite spot for loggerhead turtles to breed, and the mud baths add a natural spa experience to your day. Antalya has become a favourite destination for holidaymakers looking for cultural attractions, shopping and evening entertainments, and there are plenty of beaches nearby when you want to rest and soak up the sunshine.
May to September is the driest period along the Turkish Riviera and temperatures reach their height of around 29°C/85°F in July and August, cooled by the Meltemi winds from the north.
Discover the warm and welcoming Eastern Mediterranean charter grounds this summer 2021 and savour the freedom that a flexible itinerary brings.
Trina Howes is a Director of CharterWorld America. CharterWorld is a luxury private yacht charter company that creates outstanding vacations with excellent yachts at amazing prices – worldwide.
If you would like to be a guest blogger on A Luxury Travel Blog in order to raise your profile, please contact us.