Croatia is a popular summer holiday destination, with most people visiting for the brilliant blue Adriatic Sea, lush islands, and magnificent beaches. However, when it comes to natural wonders, Croatia has significantly more to offer. Because of the conserved water resources, rich flora and fauna, spectacular lakes and rivers, and several national parks and nature protection areas, around 10% of Croatia's surface is under natural/eco protection.
Let us meet Croatia's magnificent national parks!
Plitvice National Park
Plitvice Lakes National Park (local name: Plitvička jezera) is a natural paradise and Croatia's largest and first National Park, formed in 1949. Although the majority of the park's over 300 km2 territory is covered in forest vegetation, the main attractions are its lakes and waterfalls. Sixteen separate lakes cascade one into the other, making the Upper and Lower Lakes region. The park has eight circular walking routes, four hiking paths to explore the park's calmer areas, and rowing at Kozjak Lake. The Park is open all year and offers a unique experience in each of the four seasons. National Park Plitvice, together with the Old Town of Dubrovnik, was listed on the UNESCO World Heritage list in 1979. Plitvice is located in Lika, Croatia's gorgeous mountain area midway between Zagreb and the coast. While visiting Plitvice, you may also explore Baraćeva Cave, Rastoke village surrounded by waterfalls or Memorial Center "Nikola Tesla" in Smiljan.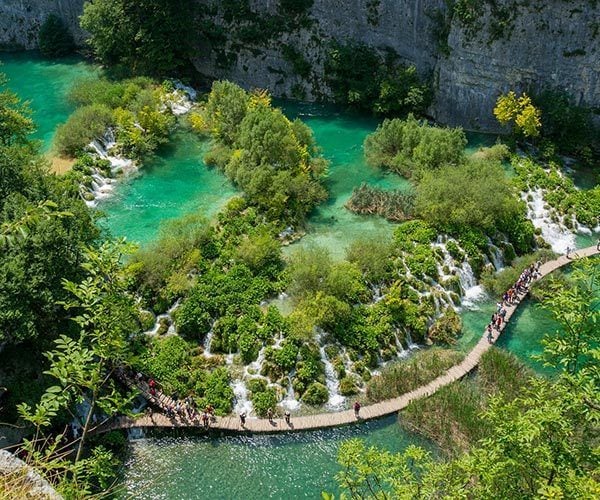 Krka National Park
If you're looking for another lake experience, the Krka National Park in Šibenik will likewise leave you speechless. This 109-square-kilometer National Park developed around the 72-km-long river Krka, springing in the Dinara mountain and has seven waterfalls with a total altitude drop of 242 meters. The park has 47 km of educational hiking paths and 470 km of bicycle routes, but the most popular attraction is the Skradinski Buk waterfall. This area, surrounded by a network of boardwalks and pathways, provides a variety of activities such as a historic town, watermills, and a bathing area near the waterfall itself. There are also exciting boat trips to numerous areas inside the Park, including the Roški slap waterfall in the north, Visovac Island with its 15th century Franciscan Monastery, as well as Krka monastery, close to medieval forts of Trošenj and Nečven. Krka National Park is also available year-round to tourists.
Brijuni National Park
Set in western Istria, Brijuni National Park offers untouched nature, amazing landscape and rich cultural heritage, covering a total area of 33,9 km2. The archipelago consists of 14 islands, the two most indented of which are Veliki Brijun and Mali Brijun. The park is well-known in the region as the official house of former Yugoslav President Josip Broz Tito, who utilized it for a variety of political and governmental engagements with leaders and kings from both East and West. Brijuni National Park has a lot to offer in terms of things to see and do, but a few high points include the famous 1600-year-old olive tree that is still producing olives for oil production, the Safari Park, which features several indigenous and exotic animals, dinosaur footprints (there are over 200 in Brijuni), a professionally guided archaeological tour, and a train ride around the island. The museum is open to the public all year, though it is most convenient to visit during the summer when cultural events are also available.
Mljet National Park
A different National Park island experience can be found on "Green Island" Mljet, a short ferry ride from Pelješac peninsula or a catamaran ride from Dubrovnik. Founded in 1960, the National Park stretches over almost 54 km2 and is the oldest marine protected area in the Mediterranean. Malo Jezero and Veliko Jezero (Small Lake and Great Lake), two deep bays filled with seawater, are the most famous spots in this area and significant geological and marine phenomena.
Favourite activities in the National Park include hiking, cycling, a boat ride across lakes, visiting the 12th-century monastery on the Isle of Saint Mary in the Great Lake, and in the summertime, swimming in the pristine blue waters on the Great Bridge. Mljet is also a sailing paradise, with stunning bays, coves, and beaches, as well as an enticing gourmet offer. A cave with a special tale may also be found near the village of Babino Polje. Homer, the ancient Greek poet, wrote about this island in the Odyssey, and according to myth, its cave saved Odysseus when he was shipwrecked on his way home from the Trojan Wars. Whether legend or fact, there is evidence of the island dating back to the 4th century B.C. in Greek writings.
Kornati National Park
Explore the maritime beauty of Kornati National Park in northern Dalmatia, which has 89 islands, islets, and reefs! With sheer cliffs, limited vegetation, stone surfaces, and karstic terrain, it may be the most iconic island archipelago in the Adriatic Sea. There are organized boat trips from numerous coastal cities including Zadar, Muter, and Šibenik, or you may experience the park at your own pace on a private yacht or sailboat. Licensed divers may fully appreciate the underwater world, while others may participate in snorkelling trips, fishing, or simply swim in the crystal blue sea. For those who want to avoid the hot summer months, a visit in the spring or fall may be a better option. Hiking is also available on various islands with impressive perspectives and cultural relics, including Illyrian towns, Tureta fortification, and the salt works on Lavsa. And, for a truly unforgettable experience and breathtaking views of the archipelago, why not fly over the National Park Kornati?
Risnjak National Park
True mountain-nature enthusiasts will appreciate every minute spent in Risnjak National Park. The park, located in the Gorski Kotar mountain region near Rijeka and close to the Slovenian border, provides a variety of mountain activities. The 63.5 km2 park area includes the centre section of the Risnjak and Snježnik massifs, as well as the Kupa River's springs. Risnjak is also a natural habitat for bears, wolves, and lynxes, as well as the wettest region in Croatia, with over 1,000 different varieties of flora and sub-species. It is open all year, however, it is best to visit during a dry season with excellent weather. Most popular activities include hiking, trekking, mountain biking, recreational fishing, game observation, and skiing.
Paklenica National Park
Founded in 1949, Paklenica has become the second National Park in Croatia, and UNESCO World Heritage site since 2017 due to its ancient, primaeval forest in Europe, still available in only 12 places in Europe, and only 3 places in Croatia. The park is located some 47 km from Zadar and covers the 100 km2 in the south part of the Velebit mountain range. Most attractive sights are two canyons – 14-km long Velika Paklenica and 12-km long Mala Paklenica (Big and Small Paklenica), and its highest peak Vaganjski vrh (1757 m). Paklenica is most suitable for hiking and climbing and overall enjoying beautiful flora and fauna.
Sjeverni Velebit National Park
Sjeverni Velebit (Northern Velebit), the most recent addition to Croatia's National Parks list, was granted such status and recognition in 1999 owing to its wildness, biodiversity, and wealth of natural phenomena. The park encompasses 109 km2 in the northern half of Croatia's greatest mountain range, the Velebit. The most notable attractions are the natural reserves Rožanski kuk and Hajdučki kuk, as well as the Velebit Botanical Garden, which was created in 1967. Hiking is the most popular activity, and the park has multiple hiking paths, including the Premužić Trail, which is regarded as a masterpiece of trail design and provides access to the rockiest area of the mountain. The park also contains several summer lodge ruins, stone walls, and the highest meteorological station in Croatia atop peak Zavižan (1676 m). From the highest peaks, you can see the Adriatic Sea and the islands Rab, Pag, Goli, Prvić, and Krk.
Christian Larss Kreković is a General Manager at Sun Gardens Dubrovnik. Sun Gardens Dubrovnik is a luxury resort on the Adriatic coast in Croatia offering bespoke guest experiences.
If you would like to be a guest blogger on A Luxury Travel Blog in order to raise your profile, please contact us.