The historic town of Kitzbühel in the Austrian Alps hosts an impressive array of events each year, spanning countless sporting, cultural, music and family themed festivals. As Covid restrictions ease, many favourites are returning this summer and autumn, including the 34th edition of the Kitzbüheler Alpenrallye classic car rally, which is set to take place 15-18 September 2021.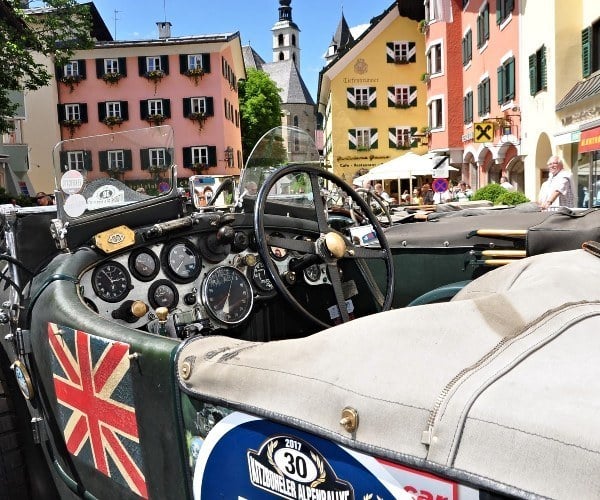 For car enthusiasts, that means the tantalising prospect of attending the Kitzbühel Alpine Rally, the most popular event of its kind in the region. With more than 200 vehicles expected to be on show, visitors will be able to get up close a personal with a range of vintage classics including Bentley, Bugatti, Lamborghini, Porsche, Ferrari, Jaguar, Mercedes-Benz, Aston Martin and Rolls Royce models.
Holidaymakers are encouraged to simply turn up and enjoy the atmosphere, but members of the public also have the opportunity to take part in the rally, by registering on the event website. Those that choose to get behind the wheel are offered a full briefing ahead of the event, and are provided with a roadbook and time stamp records. Participants are faced with the task of conquering around 600 km of challenging, yet beautiful mountain roads and can choose to either race to the finish line (for the Sport Trophy) or instead take their time and enjoy the drive.
Classic cars featuring in the rally will in the most part date from the mid-1970s and earlier, with even some pre-war vehicles on display. Over the course of the four days, Kitzbühel will be a buzz with petrol-heads from all of the region, with a welcome event at Hotel Kitzhof on 15 September and a formal awards ceremony and black-tie dinner on 18 September.
Beyond motoring, in summer Kitzbühel is perhaps best known for being the leading centre of sports and recreation in the Alps, boasting world class tennis, MTB and archery facilities. The resort is also a must for golf lovers, with four top courses in Kitzbühel and a further 26 courses within an hour and a half's drive. What's more, thrill-seekers are spoilt for choice in Kitzbühel, with the town making a great base for anyone wanting to take advantage of the region's e-biking, paragliding and trail-running offerings.