If you love uncovering something new in a familiar destination, then this one's for you. The spectacular Greater Blue Mountains National Park, located on Sydney's doorstep, is brimming with hidden gems. Here's some off-the-beaten track inspiration for when we can travel next.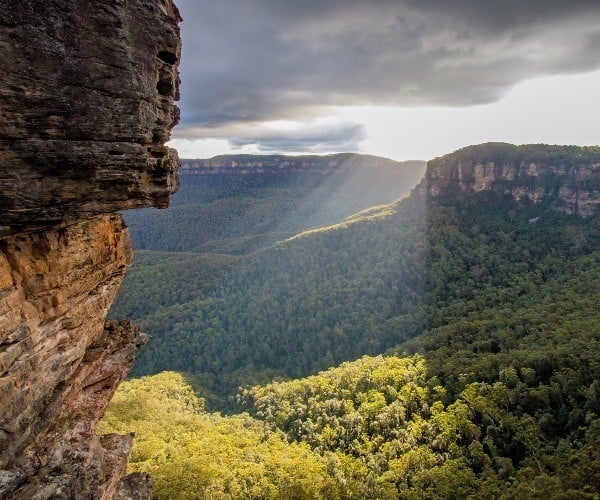 Enjoy village life
If you venture west along the Great Western Highway, Mount Victoria is the last Blue Mountains village before you turn right on the Darling Causeway. A great starting point for many bushwalks, the village is filled with historic buildings, including the 1868 sandstone train station. Here you can pick up locally made homewares at Mount Vic and Me, see an arthouse movie at Mount Vic Flicks and wine, dine and sleep at the Victoria and Albert Guesthouse.
From Mount Victoria, head along the Darling Causeway, then onto the winding Bells Line of Road, a scenic route that served as an early passage from Sydney to the Blue Mountains. Stop at the small village of Bell, a tiny hamlet surrounded by pristine wilderness, walking trails and scenic lookouts. Around 10km east of Bell you'll find two lookouts — the 2.7km Pierces Pass Lookout Track leads you to Walls Lookout, where the reward is beautiful views across the Grose Valley.
Take a garden tour
Also accessible via the Bells Line of Road are the lush villages of Mount Wilson and Mount Irvine, on the northern side of the Blue Mountains. Mount Wilson is a heritage garden village with historic houses and grand exotic gardens that are at their brilliant best during spring and autumn — Windyridge Garden dates back to 1877 and is filled with Japanese maples, azaleas, camellias and hydrangeas, while Breenhold Gardens features more than 45 hectares of luxuriant gardens, parkland and native bushland. Mount Irvine is filled with mountain farms and fine gardens. It also provides easy access to walking tracks and popular canyoning spots.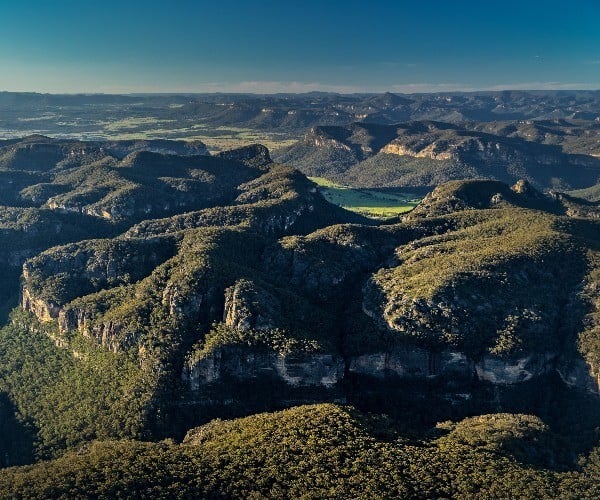 On the way to Mount Irvine, stop at Cathedral Reserve and take the 10-minute walk to the Cathedral of Ferns. This tranquil cool-climate rainforest is dominated by majestic fern trees. There are 10 camping sites on the reserve plus a nearby swimming hole, and on warm summer evenings you might see fireflies.
If you're in the mood for a longer walk, you can take in some of the best scenic views in the Blue Mountains on the 4.7km Mountain Banks Summit Walk, accessed from Bells Line of Road near Mount Tomah, where you'll also find the outstanding Blue Mountains Botanic Garden. Framed by wilderness, the garden showcases cool-climate plants and alpine forest, and there are 28 hectares of grounds to explore.
Venture into valleys 
On the western side of the Blue Mountains, heading towards Mudgee, is the rugged Gardens of Stone National Park. Featuring stunning and varied rock pagodas, sandstone cliffs, canyons and breathtaking scenic views over the valleys, it's a haven for adventurers, with excellent opportunities for canyoning, mountain biking and serious bushwalking.
It's worth the 15-minute drive to see the world's second-largest canyon, Capertee Valley, a popular bird-watching destination, dominated by sandstone cliffs. The impressive Pantoney's Crown can't be missed — rising majestically from the valley floor, it beckons keen hikers to climb its summit and take in the breathtaking panoramic views.
Under an hour's drive further west will lead you to the spectacular Wolgan Valley, which is surrounded by the towering escarpments of both Gardens of Stone National Park and Wollemi National Park. Home to the luxury eco resort Emirates One&Only Wolgan Valley, the valley itself is accessible to the public and the seclusion here is a major drawcard.
Go with the glow 
Journeying through the valley along Wolgan Road will bring you to Newnes State Forest, where you can camp along the Wolgan River in Wollemi National Park. Along the way you may also want to stop off and hike the Glow Worm Trail, which leads to an old 400m-long rail tunnel that is home to a colony of glow worms. The return journey is 2km, but keep in mind that the tunnel is rocky, uneven, slippery and dark — it's also completely thrilling for visitors of all ages!