Soneva define luxury as 'Peace, Time and Space'. The Soneva team work tirelessly to ensure that their guests experience this self proclaimed trio of definitions, which are ever present at their trio of unique, barefoot luxury resorts. From the moment of your arrival you will be invited to remove your shoes and embrace the 'No News, No Shoes' philosophy that encourages guests to disconnect from the pressures of life. Instead, reconnecting with the earth as you enjoy the sand between your toes and begin to appreciate the luxury of peace, time and space.
Whilst a stay with Soneva is all about luxury, relaxation and wellness; the unrivalled commitment to the planet, the environment, the oceans and the local communities is omni present. Not satisfied with token gestures of 'green-washing' as is sadly common in the industry, and not resting in their efforts to innovate and improve, Soneva continue to trail blaze with their ideas and initiatives.
Tackling the plastic problem
Soneva have been tackling the plastic problem since 1998 when they banned plastic straws, and continued efforts have led to single use plastic being phased out at each of their resorts. This included a ban on imported bottled water in 2008. Drinking water is now filtered, mineralised and bottled on site, before being served to guests in reusable glass bottles. Not only does this reduce the reliance on single use plastic, but the proceeds have been used to fund more than 500 clean drinking water projects in 50 countries.
Creating wealth from waste
Guests staying at any of the Soneva resorts are encouraged to visit and learn about 'Eco Centro'. This is where food and organic waste is composted to be used as fertiliser, and where metal and glass bottles are repurposed and turned into items of economic value or commercial use. This ground breaking and planet friendly initiative is playing a pivotal role in allowing each of the Soneva resorts to 'tread lightly' and have as minimal environmental impact as possible. During 2020 we saw the first 'Eco Centro' complex launch on the island of Maalhos in the Maldives. This enabled the island to be the first to end the open burning of refuse including plastic waste. Further islands in Baa Atoll are to follow with continued support from the the government, Soneva and Common Seas, an NGO that tackles plastic pollution.
Changing the way that we eat
With a continued commitment to serving organic and sustainable food that has a reduced environmental impact, it only makes sense that an exciting array of plant based dishes are on offer to Soneva guests. In recent years, this commitment has been taken to the next level with plant based restaurants opening at each of their resorts. 'Shades of Green' was first to launch at Soneva Fushi and this was followed by 'Colours of the Garden' at Soneva Kiri and 'So Wild by Diana Von Cranach' at Soneva Jani. Each of these experiential restaurants present guests with the opportunity to dine on a selection of nutritious and innovative plant based delights. This summer sees new plant-based creations at 'Shades of Green' in the Maldives with a series of brand new menus from Danish chef, Carsten Kyster. Each based on the vibrant colours of the freshly picked produce that form the dishes, they promise to further display the trail blazing approach to serving healthy and nutritious plant based food.
Protecting the marine environment
With Soneva resorts being surrounded by the beautiful Maldivian ocean and the vast Gulf of Thailand, it would be amiss for them not to care dearly about these marine ecosystems that are under constant threat from the lives that we live. Soneva employ a team of passionate marine biologists who monitor the oceans and implement initiatives to protect these delicate environments. These projects include coral restoration, turtle nest monitoring and tackling ocean pollution, whilst at the same time educating the local community and guests in order to increase understanding and respect for the oceans.
Soneva Foundation
The myriad of projects that Soneva Foundation support each aim to create positive environmental, social and economic impact. Whether it is teaching local Maldivian families to swim and removing their fear of the ocean, or planting in excess of 500,000 trees in Northern Thailand in order to reverse deforestation and improve air quality, each of these projects is equally as important. Other initiatives include partnerships with 'Action against Hunger' and 'Care for Children', also the excellent 'Myanmar Stoves Campaign' which will see more than 200,000 families receive 'five minute stoves'. These energy efficient stoves will see each family save 2.5 tonnes of wood per year and reducing air pollution by 80%.
Since 1995 Soneva have been welcoming guests who have enjoyed imaginative and engaging luxury experiences during their stay. Enhanced wellness offerings and a commitment to the environment have always been at the fore, which combine to ensure a reduced impact on the planet and the community. Long may Soneva continue to lead the way with their innovative, eco-luxury and sustainable initiatives, in simply sublime and unique locations.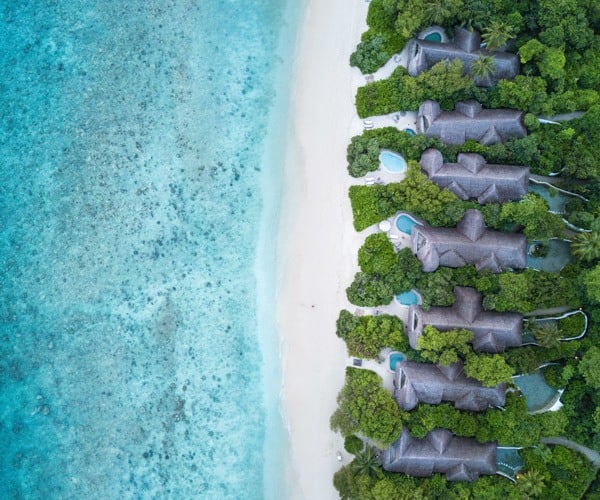 To discover eco-luxury with Soneva you need to head to the Maldives or Thailand, where your wildest eco-travel dreams will be realised. Soneva Fushi and Soneva Jani are located on private Maldivian islands that have to be seen to be believed, whilst Soneva Kiri is in Thailand, on the island of Koh Kood. Easily accessible via taxi and private speedboat transfer from Bangkok, or for those of you that really enjoy the finer things in life and want to arrive in style, a private plane that lands on the adjacent island.
Paul Eyers is Founder of Vegan Food Quest. Vegan Food Quest have become luxury vegan travel specialists as they continue to find, eat and write about the best vegan food in the world.
If you would like to be a guest blogger on A Luxury Travel Blog in order to raise your profile, please contact us.