Engulfed in magical bamboo jungles and separated from Myanmar and Laos by the gurgling Ruak and Mekong Rivers, Four Seasons Tented Camp Golden Triangle captures the life of an adventurer – all set to explore the luxuries of a Four Seasons glamping experience. From spectacular mountain trails and bicycle tours to riverside picnics and private sundowners, guests can spend a day exploring the Golden Triangle and unwind in the privacy of luxury tents.
Leave the gadgets behind
"Digital maps cannot replicate the charm of an old-school compass," smiles Tobias Emmer, Camp Manager. "Channel your inner adventurer as you glamp things up, retro style – our experts put together the perfect itinerary to experience the confluence of Thailand, Myanmar and Laos like an explorer from the bygone era!"
In this age of hyper-connectivity and constant updates, being online 24/7 is inevitable – and also far from ideal. With studies showing the ill-effects on our brain and nervous system, it's even more important to make going offline a habit. The paradox of our hyper-connected world can be a very anti-social holiday, spending more hours on our gadgets than one would like to admit. "Instead, follow the compass (and your Camp Guide) to find yourself in the perfect spot for a Riverside Dinner," shares Tobias. While the sun puts on a show as it sets over the Ruak River, savour camp-style cocktails and a BBQ dinner in a setting that's straight out of any explorer's handbook.
#OffTheGridWithFS
At the Camp, going #OffTheGridWithFS is key to seizing the day. From fishing with locals and picnics by the river to hillside bicycle tours, the team invites travellers to unplug make a memorable connection with the destination that is the Golden Triangle in Thailand.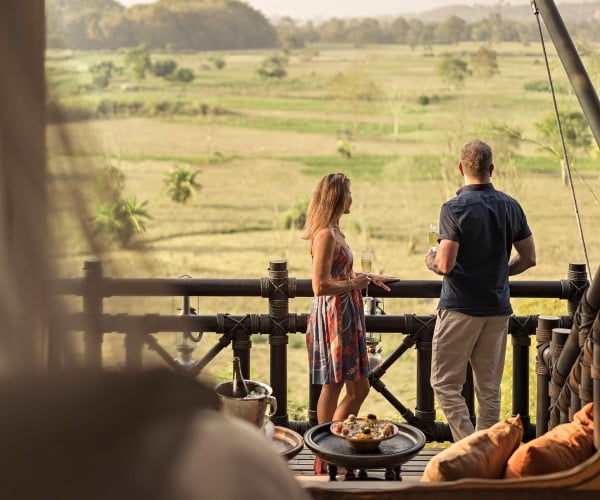 "We offer a unique opportunity to truly immerse in the local culture," adds Tobias, "These experiences are a mix of adventure, cultural exploration and relaxation, tailormade for your style of travel. Stay a little longer and experience more." And, the luxury tented accommodation with breakfast gives guests every reason to do so.
Immerse in nature
Sunrise and sunsets are gifts bestowed by nature every single day. But with busy work schedules, one is seldom inspired by these natural phenomena. The solution? "Wake up early, hike up to our Camp Peak, the highest point of the campsite, and take in stunning views of the sun rising above the Mekong River and the mountains of Laos at around a quarter past six in the morning," smiles Tobias, "Don't worry if you are not a morning person like me! You can enjoy the cool evening breeze and a magical sunset at around six, sipping cocktails."
Speaking of sundown, the Camp offers delightful sunset cocktails at various venues – atop the fully restored Land Rover, on a private deck with stunning views of the setting sun, or even at the tent.
Make time to connect
As part of the Camp experience, guests are invited to collect a stamp after completing an activity to receive surprises – 5 stamps for a private camp lunch, 10 stamps to enrol in a lucky draw to win a one night complimentary stay on the next visit and more.
"Let us curate your tailor-made journey. Tag @fstentedcamp and #OffTheGridWithFS on your social media posts to participate," says Tobias. "Reserve a night or two. But beware: it could be the beginning of a lifelong love affair with the bamboo jungles," he grins.