COVID was an accelerator for the cruise industry to focus on new segments and services during the downtime. Atlas Ocean Voyages developed compact, more nimble ships that could traverse the globe with a personalized, luxury experience. They are unique in delivering this hybrid luxury experience on a small vessel.
Sailing the world with less impact
Their newest ship, the World Navigator, only holds 196 passengers. It has a unique propulsion system that uses water in the main jets and thrust ports, which allow it to get into shallow waters and hover a position without using an anchor. Whether it is the Antarctic or the Caribbean, or in-between, the ship can go places where big ships simply can't go. Small does not mean limited options as the ship has five dining options, three bars, a spa, fitness center, theater, and an upper deck pool.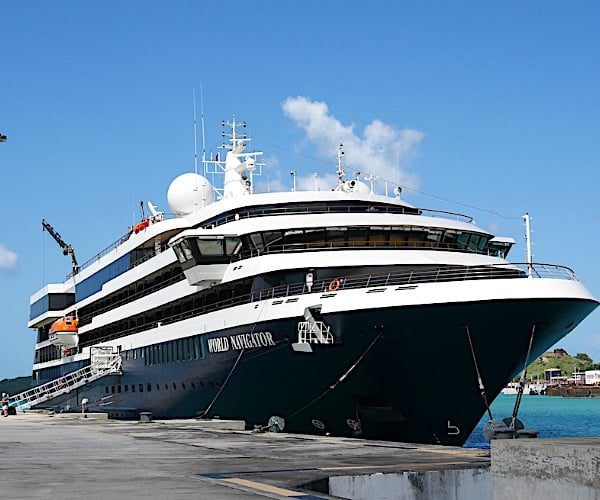 Casual luxury experience
Many people have cruised before and have participated in formal dinners and events with the Captain and senior staff. AOV went the other way and focused on country club casual or luxury with no pretenses. You can dress as you feel and eat steak tartar in your tee shirt and flip-flops.
Superb cuisine and beverages
Expect options in cuisine on the World Navigator in both actual food and dining location. Porto is the main restaurant and has impeccable decor and Michelin-level food to match. The 7Aft Chop House has the only wood-fired grill on a cruise ship, so that steak is way better than average. A menu feature is one side of the fare list featuring classics, the other side the cuisine focus for that meal, from one country or a region. The result is seven to nine entrees and matching accompaniments, a boatload more than any small ship and more than many medium-sized ships. And vegetarian options are plentiful, well thought out, and just as tasty as the regular items.
Relaxing adventure stops
Get up and go varies from day to day, so you are presented with matching choices when the ship stops. Stroll in a locale and explore on your own or take a guided tour. For the highly fit and adventurous, there are zip-line and aggressive hike/trek options. In warm weather locales, AOV gives beach access to passengers, often at private beaches. In remote locations, AOV, on occasion, provides a full-onsite/land experience for guests, including lunch.
Five star appointments
While in technical terms, your lodging is a cabin, it is more of a suite. A large bathroom compared to most cruise ships where two people can function. Ample room to walk around the suite and a nice sitting area. Whether an actual balcony or a Juliet window, every suite has a more than adequate ocean view. The beds feature high thread-count linens. The interior design is similar in terms of rich wood, fabrics, and chrome through the ship up to the bars and restaurants. The overall theme is space with individual nooks and areas for a bit of privacy or small conversations.
Super staff
With the many offerings in this type of luxury environment, the concept just won't work effectively without highly trained staff. The standard team is 115, one of the top-three staff ratios to guests in the cruise industry. The attention to the guest means it is likely that the various staff will greet you by name and know your preferences within a few days.