If you've ever wanted to explore one of the more remote corners of the world, then the 25,000 islands of the South Pacific will surely capture your attention – and one of the best places to start is the paradisaical Fijian archipelago best explored through a luxury yacht charter.
Luxury yacht options and advantages
The Mediterranean and Caribbean & Bahamas are the world's most popular charter grounds for summer and winter respectively, while the distant South Pacific is only now gaining momentum as an on-trend destination for cruising.
This situation is ideal: As a relatively new location for luxury yachting, the vessels on offer tend to be recently built and designed for a discerning clientele, with all the desired modern amenities and comforts on board.
Motor yachts and sailing yachts alike come with a large cruising range and a reduced draft to take you to the remotest islands in shallow waters. Catamarans such as motor yacht THE BEAST, built in New Zealand in 2019 (and winner of the World Superyacht Awards 2020 for Best Displacement Motor Yacht Below 499 GT) grant extra stability and plenty of space on board for a large collection of water toys and plenty of sunbathing areas to lie back and take in the brilliant blues of the sea and sky.
The highly trained crew might have additional skills such as qualifications as a yoga instructor, Michelin-trained chef, masseuse or Dive Master so that you can earn an internationally recognised diving licence while gliding over the enthralling Great Astrolabe Reef.
Best of all, your accommodation, transport and meals are all combined into the same package so that your itinerary is flexible, and your time is never squandered during the different legs of your journey.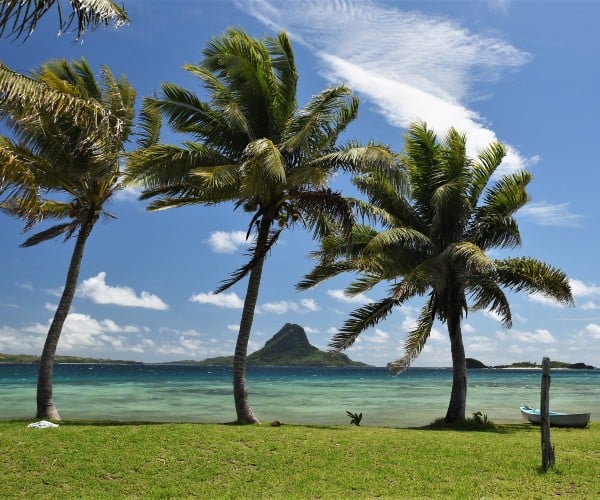 The islands
Viti Levu
Most holidaymakers to Fiji head to Nadi and the resorts on Denarau Island, staying close to this single area for most – if not the entirety – of their trip. The big attraction is the laid-back resorts and easy access to the golden sands of the Mamanuca Islands – options you have as well as much much more aboard your luxury charter yacht.
Cruise north to the Suncoast for powerful natural beauty that few tourists ever see: The barrier reefs have 50 dive sites teeming with life at Bligh Water, and between the sea and Vatu-i-Ra Island, there are several rare and endangered species you could encounter on your travels.
Mamanuca Islands
This selection of scattered islands just a 20-minute cruise away from Denarau Island and the powdery soft sands are all you need to tempt you ashore. With a cocktail in hand, lie back in the shade and admire the brilliant turquoise of the glassy seas. There are plenty of colourful fish to encounter on a snorkel, and a dip into the warm waters is like entering an enticing bath.
If you want something more active, take a jet ski ride between the islands and find caves and new vistas along the way. In the winter months from April to October there are massive 6m/20ft swells that attract surfers from around the world. Watch the action from up on the sundeck of your yacht, or go and experience the rush for yourself.
Kadavu Island
Have your camera at the ready to capture the raw and untamed majesty Kadavu displays the moment you approach its coast. Towering rocky cliffs topped with brilliant green foliage conceals powerful waterfalls and a whole host of flora and fauna within.
The Great Astrolabe Reef is just off the coast and rewards snorkellers as well as Scuba divers with kaleidoscopic colours in the corals and fish. Swim with manta rays, or use your water toys to float tranquilly in the pristine bays or get a rush of adrenaline from the towable toys. Head out for some big game fishing and catch mahi-mahi- blue marlin or wahoo for your dinner, which your cook will season and sear to perfection.
There's more to do on land: take a guide and follow the hiking trails through verdant forest to discover villages, see parrots and make it to the waterfalls at Kavala Bay.
Yasawa Islands
Hike, take a scenic tour by air or simply enjoy the wonders of nature as you find them amongst the Yasawa Islands. There are many deserted beaches for a day of uninterrupted sunbathing, games and dining before watching the vibrant sunset give way to the dark and starry night sky. The Sawa-i-Lau caves are magnificent luminous limestone caverns that will awe and inspire: Make use of your luxury yacht to anchor close by and visit before the crowds arrive.
Tavenui Island
Ecotourists will fall in love with Tavenui, a land of untouched rainforest loud with the calls of native birds. Have your camera or binoculars at the ready to spot rare and unusual species like the Orange Dove at Des Voeux Peak, follow the winding trails along the Lavena Coast to stunning waterfalls set in lush rainforest, and Scuba dive world-famous sites for a truly memorable trip.
Other exceptional South Pacific destinations
If a luxury yacht charter in Fiji has whet your appetite for the peace and wonder that the South Pacific reveals at every turn, then there are plenty more destinations to choose from for satisfying adventures year after year. Vanuatu is the home of bungee jumping and has many incredible dive sites to encourage athletic holidaymakers to its shores, however, there are plenty of cultural treats and idyllic beaches for a slower pace.
Unplug from the modern world amongst the Cook Islands and French Polynesia, or for the bright city lights, vibrant modern culture and unique natural wonders, head to Australia or New Zealand.
Trina Howes is a Director of CharterWorld America. CharterWorld is a luxury private yacht charter company that creates outstanding vacations with excellent yachts at amazing prices – worldwide.
If you would like to be a guest blogger on A Luxury Travel Blog in order to raise your profile, please contact us.