A bicycle is no longer just a mode of transport – it is a piece of sports equipment that comes in many variations. But unlike viruses, these 'variants' are actually good and beneficial for one's health. Moreover, you can choose your bike according to how you prefer to use it. Options range from regular touring or racing bikes for smooth surfaces to gravel or mountain bikes suitable for more hazardous ground. In addition, your choice will depend on the type and number of steep gradients you will be tackling.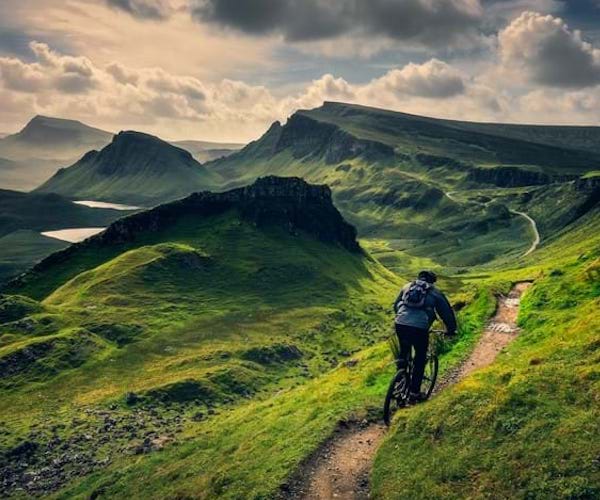 Furthermore, the number of gears, the make of gear boxes, the material and weight of the bike frame, the performance of the brakes and many other factors need to be considered, including the kind of helmet to be worn. And last but not least the sportswear, both under- and outerwear, is vitally important. 'Under' for comfort during long hours on the saddle, and 'outer' in case of adverse weather. But before we get too technical, let me share with you my top 5 cyclist-friendly hotels in Scotland.
The Crinan Hotel (at the end of the Crinan Canal)
Cyclists will be pleased to hear that they can cycle along the Crinan Canal and its 16 locks from Ardrishaig on Loch Gilp to Crinan on the Atlantic coast. Despite the number of locks between the small loch off Loch Fyne and the Atlantic the difference in elevation isn't as big as you might expect. The 9-mile-long, paved cycle path is enjoyable with any kind of bicycle, because it's fun to watch the boats on the canal and their presence always provide opportunities for a quick chat. But best of all, there is the luxury Crinan Hotel and their renowned seafood restaurant at the 16th lock waiting for cyclists longing for a delicious meal and a relaxing overnight stay.
For the more adventurous and energetic cyclists looking for a challenge the stunning 234-mile long-distance bike route 'The Caledonia Way' passes right by the door of the Crinan Hotel. It starts in Campbeltown on the Kintyre Peninsula and finishes in Inverness, the capital of the Highlands, passing en route many Scottish landmarks such as Loch Ness, Urquhart Castle and Ben Nevis. Cyclists just need to make up their mind whether they decide to tick the Caledonia Way off their bucket list or prefer the slow way of travelling by doing day trips on this route and returning to the Crinan Hotel each evening to enjoy the comfort, culinary delights and scenery at the edge of the Atlantic.
The Airds Hotel (north of Oban)
If you don't cycle primarily for physical exercise but also to enjoy peace of mind and to get to remote areas, then you should stay at the Airds Hotel in Port Appin north of Oban, take the small ferry to the island of Lismore and simply enjoy riding the only main road. No heavy traffic, no chance of getting lost! The island is more or less yours during the day, and the Airds Hotel will be waiting for you in the evening with spectacular sunsets while you enjoy the views and pre-dinner drinks and look forward to a delicious tasting menu to recharge your (leg muscle) batteries.
The Cycle Network Sustrans' website shows that the National Route #78 more or less passes the Airds Hotel on its way from Oban to Fort William. With some transport assistance, guests of the hotel will be able to cover most parts of this 45-mile-long cycle route in a few days depending on their desire to discover places en route like Castle Stalker, the famous Glencoe and perhaps some enjoyable lunch stops. If you are travelling without transport (except your bicycle), there is a new Highland Explorer train service from Glasgow to Oban especially for cyclists, with more than 50 bike racks on the train.
Cringletie (near Peebles)
Scotland starts here in the Borders region with a landscape which is diverse and therefore loved by cyclists. You can choose from coastal cycling paths with views of the North Sea, trails free of pollution which provide access to the Scottish capital Edinburgh and round trips of historical interest, with castles and abbeys. Guests staying at the luxurious Cringletie Hotel near Peebles on its own private estate can enjoy a leisurely ride along the famous River Tweed with little change of gradient, mostly paved surfaces and suitable for all skills.
For mountain bike fans a visit to the Glentress Mountain Bike Trail Centre near Peebles is a must, less than a 30-minute cycle ride from Cringletie. Glentress is one of the world-class 7stanes mountain bike centres with a wide range of trails for beginners and experts alike. The Upper Green Route provides stunning views of the Tweed Valley and the surrounding hills, but the 11 miles of the Red Route might not be everybody's cup of tea, with technical climbs, fast descents and jumps. Make sure you return safe and sound to Cringletie to enjoy their excellent food and most comfortable beds.
Glencoe House (at the bottom of Glencoe)
Glencoe House was built by Lord Strathcona as a lovely mansion for his wife Isabella in the late 19th century, but has now been converted into an all-suite hotel and is part of the very best of Scottish luxury accommodation. With gorgeous views of Loch Leven it does not come as a surprise that there is a 20-mile-long circular cycle trail with mostly paved surfaces around this loch for cyclists with good fitness and intermediate skills.
For more adventurous guests of Glencoe House there is of course the famous and spectacular Glencoe right on the doorstep. But be aware that there is no separate cycle path on this very busy road so you are competing for space with lots of cars and lorries. If you are into serious mountain or downhill biking, you might already know that each year on the first weekend in June there is the World Cup Mountain Bike Downhill Race near Fort William at the foot of Ben Nevis, the highest peak in the UK. If you prefer to avoid the crowds and your fitness is very good, try the 45 miles of a bike excursion on to the Ardnamurchan Peninsula using the small Corran Ferry to Ardgour.
The Machrie Hotel (on the island of Islay)
All islands have a certain magic and Islay is no different. As part of the Southern Hebrides there is access by air and ferry with the latter providing free transport for bicycles. The island boasts nine whisky distilleries and a wealth of wildlife, beaches and scenic landscapes. If you love both cycling and single malts, this is your place! After a guided Three Distilleries Tour by bicycle you will have taken in a lot of knowledge about the process of producing malt whisky and certainly some fresh sea air. It is strongly advised though that you put your wee dram bottles in your backpack during the day and enjoy them in your bedroom of your accommodation in the evening, as cyclists should not drink and drive!
The Machrie Hotel is one of the finest places to stay on Islay. It is conveniently located for the Port Ellen Ferry Terminal which is just a 20-minute bike ride away. Apart from an 18-hole championship links course for keen golfers, there is also a wide stretch of sandy beach beyond the golf course and visible from the hotel restaurant and lounge. If you fancy trying a rather new type of bicycle, a lot of fun is guaranteed on one their Fat Bike Tours which makes it possible to cruise on the beach at ease, without extra effort thanks to their balloon tyres, and enjoy the sunset over the Atlantic.
Scotland is the ultimate playground for discovering and experiencing the pleasures of cycling in a natural and widely unspoiled environment. Cyclists can decide each morning whether to go on a cycle trip or not – however, these days there is a widely shared agreement that unpredictable weather is no longer a valid excuse for giving outdoor sports a miss. Some might then have to decide which bicycle to take or to rent depending on whether they stay locally or for a visit. Yet the most important decision for any cyclist is to either go on leisurely day tours or to follow the ambitions of like-minded travellers, the hikers, who go on backpacking trips on foot. For extended tours on two wheels the cycling community has even coined the new term 'bikepacking'.
There are of course ways to make bikepacking a lot more comfortable these days by asking dedicated transport companies to transfer the luggage from one hotel to the next (which they also do for the hikers). Such services can, for example, be used for the 60-mile ride from the Crinan Hotel to the Airds Hotel and then onwards for another 20 miles to Glencoe House. But advanced cyclists and experienced bikepackers will perhaps prefer to have their belongings with them. They can enjoy the challenges of long-distance cycling such as the Tweed Cycle Way (95 miles with a possible stay at Cringletie), the Hebridean Way (185 miles from Barra to Lewis on the Western Isles), and more than 800 miles on the North Sea Coast Cycle Route from Shetland and Orkney all along the Scottish east coast to the border of England at Berwick-upon-Tweed which is the ultimate long-distance route in Scotland.
Dorothy Welsh is the CEO of Luxury Scotland. Luxury Scotland offers true Scottish hospitality, culinary delights and unique experiences.
If you would like to be a guest blogger on A Luxury Travel Blog in order to raise your profile, please contact us.