Your own rocky peninsula, your own exclusive cove and private white powder Indian Ocean beach, housemaids, your own gourmet chef cooking you personalized menus, a private butler, a gardener, library, a knowledgeably and expensively-stocked wine cellar, Italian marble and local red marble bathrooms, an infinity pool within ten metres of the ocean's age and all of them in one of the most beautiful places on earth would seem to be most people's definition of self-indulgence, luxury and good fortune.
But add to that a helicopter chauffeur, your own palm grove and wind-bent coconut trees to laze under, would seem to be everyone's definition of absolute self-indulgence, luxury and good fortune.
Luxury villas in the Seychelles provide the ultimate paradise escape. Here is a choice of ten of the best offered by Villas de Maitre. Book your own share of the Garden of Eden!
Jastam, Mahe
Twenty minutes from Mahe island's capital, Victoria, six suites, a main residence and garden villas make up this stunning neo-creole-colonial-style seafront property in Anse Barbarons.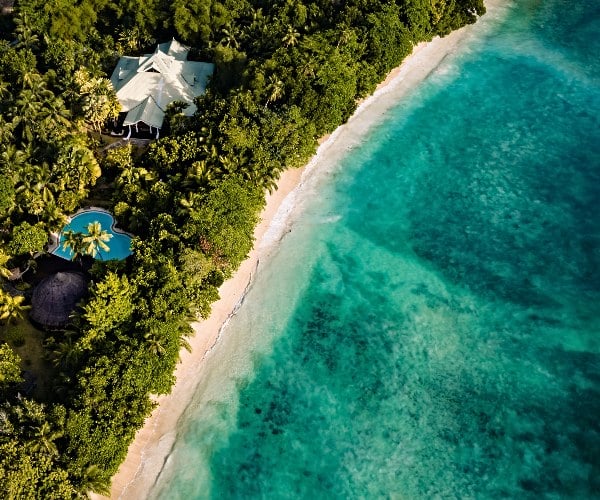 With a central patio with a spectacular 12m high roof, it accommodates eight adults and four children. Amenities include your own 600 metre beach, full board fine dining with kitchen and waiting staff, daily laundry, a wine collection, an antique and oceanic art collection, fully-equipped gym, a billiards room guided tours and walks. And eight acres of he Seychelles to call your own. Minimum 3 day stay 6-20,000 Euros a night.
Etoile de Mer, Eden Island
30m from the sea, set in lush tropical gardens, this elegant, irresistibly desirable 1625-2250 Euros a night 4 suite (eight adult) villa comes with as many beach towels as you can possibly need, a tastefully-furnished outdoor lounge, Weber barbecue, A/C, pool cleaner, chef (at 125E a day he will also do all the shopping), pool cleaner, mandatory electric vehicle to get you about and fingerprint access security as well as 24.7 security.
Villa Praslin
Tropical elegance with a French touch" this classy five-bedroom villas on Anse Gouvernement includes the obligatory Infinity pool, ever-smiling, ultra-efficient and ultra-courteous butler, walk-in dressing rooms, shoreline fishing and your own 36' shoreboat with skipper on call at all times. An uber-cool villa to savour a place with no haste.
Suck up the sun and suck in the barefoot luxury of a VIP lifestyle.
North Island
Costing up to 9185E in high season, this paradisical villa is located in a Tamaka forest on the north side of D'Est (east) beach. It offers in-villa spa treatments, a fleet of family sea kayaks, a showpiece ancient Indian almond tree, 45m swimming pool, scuba lessons and "island buggie" and immediate access to part of one of the world's largest coral reef systems. Dress code is relaxed. Snorkelwear preferable. Nearby is Lemuria, the only 18-hole golf course in the Seychelles. And down the water's edge chef Akira Back's Sunset Beach Bar.Cost per night: 4900-5900 Euros.
North Island Villa2
Waving palms shade you from the tropical sun, a holistic spa relaxes you further and top quality no menu dining sustains in this deluxe hideaway retreat, a heli-journey from north-west Mahe. Check out the Noah's Ark conservation programme which, with staycationers help, is conserving and rehabilating the flora and fauna of this small island which has been "the Laboratory of Evolution". Don't miss your photo opportunity with the most famous Seychellois celebrity, the ancient Aldabra tortoise. The island was where the royal couple Princess Willian and Kate honeymooned.
Villa Mahe
Spectacularly built on a clifftop, this taste of the high life villa sleeps eight at 2950-3950 Euros a night and has two kitchens, manservants, housekeepers, one houseboy, masseur, sea views and breezes from and into every room. Situated on Beau Vallon Bay, Glacis which is said to have inspired Ian Fleming's Bond book, "For Your Eyes Only".
One of the finest rental residences in the archipelago. For secluded rocky peninsula lovers and those who need nothing more from their hotel than the best and no more exercise than a walk from the longer to the table tennis table and into the sea. Airport 20mins. Your chef's specialities include smoked marlin with capers and bilimbi. Filet of bourgeois in coconut milk and kaffir leaf and Papaya Tournee.
Anse Kerlan Beach Villa, Praslin
This three-bedroom, open plan 3-ensuite bedroom estate villa with sea-facing Infinity pool is close to the UNESCO World Heritage Vallee de Mai.
The master bedroom has an eggshell bath as well as walk-in rain shower. 1500-1800 a night.
Six Senses Zik Pasyon Residences, Felicite
A choice of 28 one or two bedroom private island villas an exciting and scenic 20 minute helicopter flight from Mahe and an equally exhilarating 20-minute speedboat ride from Praslin, the new Six Senses Zil Pasyon is located on the island of Félicité, one of the most dramatically beautiful and unspoiled islands in the Seychelles.
With massive granite boulders fringing the shoreline, be lulled by the lapping waves day and night. There are six dining and bar venues on the island.
Ocean Villa Royal Queen
As well as the standard breathtaking views of the Indian ocean, the three-bedroomer with neighbouring Villa Royal King offers a specialist creole chef, chic ceiling fans, stylish as well as comfortable Balinese furniture, Villeroy & Boch and Axor Massaud designer fittings and a six star vacationing space overlooking Port Launay beach. The dunes of Grand Ans are five miles away. Go hiking in the Morne Seychelles National Park and return to the terrace and watch the sunset with a glass of local rum in your hand. Night after blissful night. From 16850 Euros per night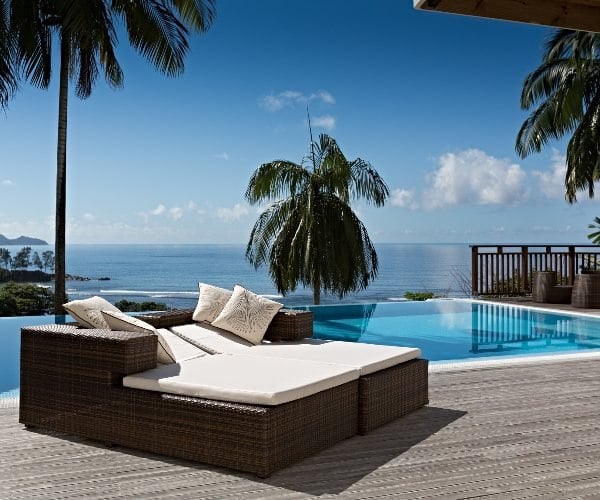 La Cigale Estate, Cote d'or Praslin
So exclusive you almost have to book to see photos of it. Offering palatial, palm-fringed 10-star accommodation and facilities targeted at UHNW jet-set clientele, it would be vulgar to publish the price. But Villas de Maitre will tell you.