Every year, the Caribbean and Bahamas are the top yachting destination for the winter season, and now Mexico is seeing a surge of interest in its natural and man-made marvels. The Yucatan Peninsula and Mexican Riviera both offer a plethora of activities to interest adrenaline seekers, romantics and families of all ages seeking to spend quality time together on a truly unique experience.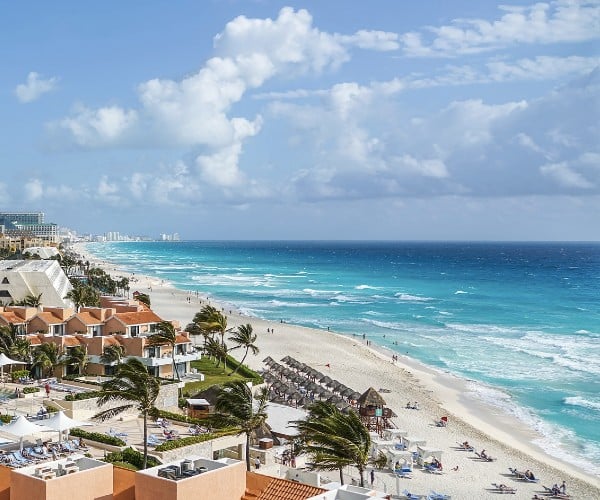 Luxury yacht charters have become more popular than ever during the global pandemic thanks to the freedom they offer to friends and family groups to roam and discover new places, and many are learning that there is much to love just beyond the reaches of their usual cruising haunts. Here are the five reasons to choose Mexico for a luxury yacht charter to end 2021 or make 2022 a time to fondly remember.
A paradise for outdoor activities
Your luxury yacht is sure to come with a selection of water toys that will give you the opportunity to bound over the waves or float above tropical reefs as schools of fish flit by. Kayak and paddleboard along the coast, learn to water ski or earn a jet ski licence while you play aboard a yacht with status as an Approved RYA Water Sports centre.
At Cancun National Marine Park, there are now over 500 sculptures for snorkelers and Scuba divers to admire as part of an artificial reef. Another fantastic addition to a Yucatan Peninsula itinerary is the biospheres surrounding the island of Banco Chinchorro. The region is rich with marine life that will reward snorkellers and Scuba divers of all experience levels with swarms of angelfish, grouper and stingrays gliding about pristine reefs.
The Gulf of California is exceptional, and at Puerto Vallarta, there is the opportunity for close encounters with dolphins, manta rays and whale sharks, along with sightings of humpback whales. The diving here is also top-notch, however, it's the surf that attracts adrenaline seekers the world over. There are spots for beginners to learn the basics, so no one misses out on the experience.
You don't need to stray far from the coast to enjoy a multitude of sports on land either. There is sky diving in Puerto Vallarta, ziplining and desert adventures by camel from Los Cabos, while a day trip inland from Cancun to the ancient Mayan city of Chichen Itza while in the Gulf of Mexico is not to be missed.
Unique ancient and modern culture
The Mayan civilisation has left its mark on the Mexican landscape, and during your brief visit, you can discover some of the breathtaking locations and engineering feats that went into creating these incredible pyramids. The ancient walled city of Tulum is right beside the coast on the Yucatan Peninsula, and you can take advantage of your luxury yacht to arrive early in the morning to see its grandeur before the crowds gather.
Valladolid is a city of colonial splendour that has many elements of 16th Century Spanish architecture that would have been a reminder of home to the colonists, and this can be combined with a tour of folk art at Casa de los Venados followed by a cooling dip into the nearby open-air cenote, a sinkhole that was once covered by a cave roof.
Mexico is a vibrant country – sometimes quite literally with brightly painted houses and murals flowing down the streets. Museums and galleries offer greater insight into Mexico's unique identity, but nothing is quite as exhilarating as joining in during one of the festivals. The biggest festival is Día de Muertos (the 'Day of the Dead') and the costumes and parades are something to see for all ages.
Sensational wines and cuisine
Baja California has the perfect climate for creating full-bodied wines, and so it's no surprise that vineyards have sprouted up along the coast. Spend the day taking a tour and sampling the local flavours, admiring the countryside and the tranquil rural villages just waiting to be captured on camera or by any artists within your group.
When it comes to food, there are plentiful options for fine dining in enchanting restaurants that set the scene for a special occasion or lavish treat for loved ones. For a more hands-on experience, street food tours are gaining popularity in more tourist areas, and a local guide can tell you more about the dishes that capture your senses. You might even discover some new recipes that become family favourites.
Fantastic 'summer' weather throughout the seasons
Both the Atlantic and Pacific sides of Mexico experience warm temperatures and mostly sunny days throughout the year: Although winter can be cooler, the difference is slight, with December and January in Cancun seeing an average high of 28°C/82°F and an average low of 21°C/70°F. August is the hottest month, reaching an average high of 34°C/93°F. This makes the Yucatan Peninsula a great place to leave behind the winter blues, top-up a tan and enjoys the moment on golden sand beaches fringed by a topaz blue sea.
It's almost as warm under the water as it is above, creating perfect bath-like temperatures for wallowing in the shallows or comfortably diving deeper to find even more colourful wonders.
The west coast is generally cooler than the east coast because of the California current – something to consider for those who want to spend as much time as possible being active outdoors. Be warned if you intend on visiting during the summer holidays – August through to the end of October is considered the rainy season when humidity is high and tropical storms produce downpours lasting 2-3 days. This need not be a problem if you have a flexible itinerary planned with gallery and museum visits along with plenty of luxury shopping – and the dramatic stormy skies can be a spectacle to enjoy all by themselves.
A place to do nothing
If you've chartered in the Caribbean and Bahamas on successive occasions, you might have built up familiar haunts that you feel compelled to visit each time you cruise in the region. A Mexico yacht charter is an ideal opportunity to break from these routines and spend time truly at the moment with the people you love.
The fleet of Mexican charter yachts has an excellent variety to suit all budgets and group sizes, from open yachts ideal for island-hopping couples to impressive superyachts that all the modern conveniences and indulgent amenities one could wish for.
Motor yacht NOMADA is one example of a typical family-sized vessel, providing accommodation for up to six guests in three en-suite cabins with an experienced crew of four to serve impressive cocktails and delectable meals that cater to all dietary requirements in the group. The selection of water toys is with you wherever you go, as are the plush sunbeds on the bow. Shaded outdoor areas let the group dine and lounge in the open air, while the air-conditioned interiors are a sanctuary during the hottest afternoons.
Mexico offers cultural experiences like no other, and a luxury yacht charter is the best way to enjoy its paradisiacal coast to the fullest.
Trina Howes is a Director of CharterWorld America. CharterWorld is a luxury private yacht charter company that creates outstanding vacations with excellent yachts at amazing prices – worldwide.
If you would like to be a guest blogger on A Luxury Travel Blog in order to raise your profile, please contact us.