Barcelona is a beautiful city, and it offers much more than gorgeous architecture, fantastic night live and stunning beaches. Due to its strategic location, this vibrant capital is surrounded by nature. You can definitely indulge your adventurous side! In this article, we will share our favorite three places for hiking around Barcelona.
Coastal route, Sitges to Vilanova i la Geltrú
You will fall in love with this coastal route! It is 7.7kms long and follows the path called GR-92 Camí de Ronda. If something stands out in this trail, it is the breathtaking views of the blue sea and the green mountains. The best part is that when it's time to cool off, you can take a dip in the crystal-clear waters.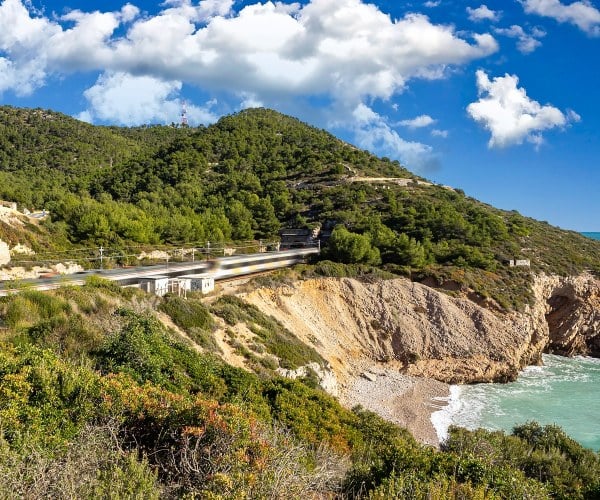 This easy-to-follow route hugs the coastline. It starts at the Cathedral in Sitges and finishes in Vilanova i la Geltrú. Additionally, you will encounter beautiful viewpoints along the way. Punta Grossa, Punta de la Desenrocada or Punta Llarga are some examples. The path passes some stunning beaches and beach bars, including Playa Del Muerto, which claims to be the world's oldest gay beach. The trail leads to the vast Playa del Far de San Cristóbal, the beautiful long white sandy beach at the Eastern edge of Vilanova.
Montserrat mountain and monastery
One of the best places for hiking around Barcelona is this beautiful and unique mountain. In addition to its peculiar beauty, you will be amazed at the outstanding views of the green countryside. The most popular ways to get to Montserrat are by train (1.5h – 2h) or car, as it's only 54 km away from Barcelona. If you arrive by train, you can either take the funicular or jump straight onto a hike if you feel inspired.
The walk from the mountain base is one of the longest hikes and most strenuous ones because it's a vertical route. You start from the valley floor up to the Monastery, and it will take you about 2-3 hours. There are other trails you can follow with more accessible routes. Some examples are Santa Cova (1 hour) with medium difficulty or Cross of Saint Miquel (45 minutes). Cross of Saint Miquel gives you fantastic valley views.
The Montseny National Park
This gorgeous park of over 31,000 hectares was declared a Biosphere Reserve in 1978 by UNESCO. It's not by chance the Montseny Natural Park is a popular hiking destination. You can get there by car (1 hour) from Barcelona and start your stunning nature exploration. In this sense, you can follow one of the many signposted paths to discover its unique landscapes and breathtaking views. Furthermore, you will enjoy a natural spectacle by observing its colorful flora and fauna.
The routes are part of three large mountain ranges: El Turó de l'Home (1706 m) and Les Agudes (1703 m), El Matagalls (1697 m) and El Pla de la Calma (El Puig Drau, 1344 m). Start hiking around Barcelona. There are many other options for hiking around Barcelona, but these are the three best places to start.
Tibidabo Mountain
Tibidabo is the mountain that you see from most of Barcelona. It has a stunning Roman Catholic church on its top and a large amusement park. It is also the starting point for many lovely hikes. Most of the walks are between 2 – 3 hours and are very accessible. It is also really convenient to be in nature so close to the city.
Costa Brava
The Costa Brava is a long coastline just north of Barcelona. Think hikes through fishing villages, white sand beaches, cliffs, and isolated caves. And the views over the coastline and the sparkling Mediterranean will put you in a good mood for days. Our favorite hike is one that we did in the summer from Pals beach to Sa Tuna beach. Stunning cliffs and isolated tiny beaches to stop off at on the way.
We recommend using wikiloc to search for routes wherever you are. We use it all the time, and locals tend to update it with their favorite hikes, including photos and information on what you can see on each hike.
Miriam Burke is Co-Founder and Director of Utopia Villas. Utopia Villas has a large selection of villas in the Sitges and Barcelona areas for holidays, weddings and corporate events.
If you would like to be a guest blogger on A Luxury Travel Blog in order to raise your profile, please contact us.