By
Dan Frith
on Jan 15, 2022 in
Accommodation
,
Austria
,
Europe
,
France
,
Leisure Travel
,
Regions
,
Speciality Travel
,
Switzerland
,
Vacation Rentals
,
Western Europe
The facilities in the most luxurious chalets are pretty impressive. Wine Caves, Heated Indoor Pools, State Of The Art Gymnasiums, Heli Pads, Mini Nightclubs with sprung dance floors, the list goes on. One provision that any self respecting luxury chalet must have is a home cinema. Cosying up after dinner with the family to watch a film is a pretty cool thing to do. Here are five beautiful chalets that can provide that luxury feature.
Hidden Dragon, Veysonnaz – Switzerland
When you are staying somewhere as fabulous as Hidden Dragon, staying in is the new going out. After dinner find your way to one of the most authentic cinema experiences in the mountains. Equipped with full soundproofing, a 3.5 metre screen and sofas so comfy you could quite possibly nod off, mid car chase.
Nestled in fir and pine forest, Hidden Dragon is your break from the daily grind of life. Let your senses be rejuvenated and inner calm be restored, all whilst ensuring you indulge in your number one winter obsession.
Located 1,500 metres, along a private road and set within its own exclusive grounds, complete with panoramic views over the Rhone Valley and the true luxury of ski-in and ski-out access. Hidden Dragon is not your everyday wood clad mountain retreat. The 700m2 of luxurious living space has been created with the ancient feng shui principles in mind along with a hint of Asia, all balanced with a healthy dose of Swiss charm. Exquisite antique pieces sit harmoniously alongside both the contemporary design of the chalet and the use of organic materials. Everything was designed to come together to evoke your senses.
Fortunately, when a chalet is designed to celebrate all of the best things in life, an exceptional spa comes guaranteed. If you can tear yourself away from your master suite's spectacular views, make your way down to the garden level. Here you will find complete and utter peace on Earth. Immerse yourself in the tranquillity of the hammam, sauna, hot tub and rain shower. As the site of Hidden Dragon was prepared with Shinto rituals to cleanse the earth and appease the mountain spirits, it seems only natural that the spa will honour the same for you.
After you have experienced the talents of the in-house masseuse, it won't be long until your senses will be nourished again. As the evening draws in, let your private chef display some of the finest talent and flare in the Alps. If you have had enough fondue to last you a lifetime, then let the finest classical French cooking techniques be influenced by the East. At Hidden Dragon, emphasis is strongly on the Japanese philosophy of letting great food speak for itself.
No luxury ski holiday is complete without an equally luxurious wine cellar. We are pleased to say that Hidden Dragon's state of the art glass fronted cellar boasts a magnificent collection of fine wines. They are all there for your enjoyment rather than just being tantalising showpieces. Make your way to the elegant living room and relax in front of the bespoke copper fireplace with a fine vintage from one of the great chateaux of Bordeaux or Burgundy. This week is all about letting go. You will be delighted to hear that you can release the guilt from that second top up by joining the owner's belief of wine's healthful and nutritive properties. You might just need to remind your head of that when you are up for meditation and yoga at sunrise tomorrow morning.
Uberhaus, Lech – Austria
The cinema in Überhause is a pretty sumptuous affair. Three tiered with luxurious sofas. You already bought your ticket so just select your film and bliss out. Get the popcorn machine fired up and away you go.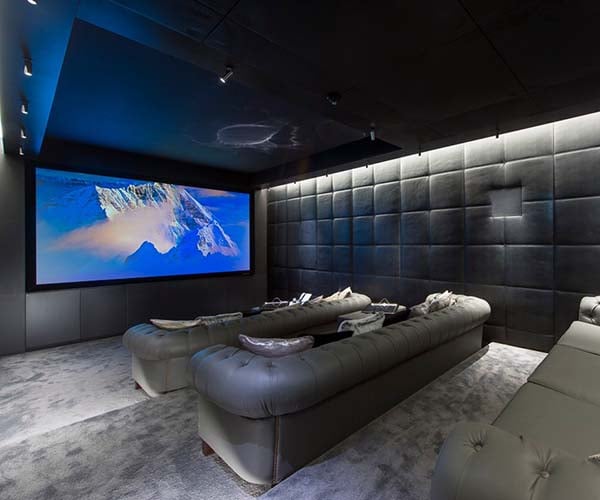 Über denotes something outstanding and Chalet Überhaus certainly knows how to live up to its namesake. When the wine cellar has its own chandelier, an entire floor is designated to the gratification of entertaining and you can ski into your hot tub, you know you have found a supreme example of luxury.
When we say you can ski into your hot tub, you might have to take that with a little pinch of over enthusiastic salt. Technically you can. Whether you wish to or not is another matter. After all, you wouldn't wish to detract the attention away from the stand out hot tub. Going above and beyond the call of latest luxury, Chalet Überhaus' sunken outdoor hot tub was designed to stir envy.
Laying frivolity aside with your salopettes, hopefully we've demonstrated how Chalet Überhaus has taken the meaning of ski-in ski-out to another supreme level. Located a short stroll from Oberlech, a few minutes' chauffeured drive from Lech and directly above the Schlosskopf lift, you're certainly the king of the slopes.
Chalet Überhaus is the place to be seen to be socialising and entertaining. For you and your colleagues, we ensure that only the highest trained professionals are on hand to look after you. As the champagne flows, stories of the day become suitably exaggerated and your search for the perfect chalet is applauded. You won't even notice the seamless replacement of magnums from the ground floor wine cave. With the sun setting, it is time to retire inside where traditional local architecture meets contemporary design. Surrounded by decadent fabrics and luxe features, your senses are immersed into an outstanding world of luxury. You have found true hedonistic peace.
Grace, Zermatt – Switzerland
Quite frankly, who needs a cinema when you have the absolutely stunning panoramic views afforded from this beautiful chalet's lounge area. The chalet was positioned in such a way that if you lounge on the huge comfy sofas in the living area you have a cinematic view, in wide screen, and there she is, the Matterhorn, in all her glory, seemingly just for you. Pour a glass of wine and all you have to do is look out and appreciate it all, it's stunning and you have a front row seat. Your own film and it's a Blockbuster. Search Michael e on Spotify for the perfect soundtrack. Just about every piece of prime real-estate across the globe has a million dollar view, Grace is no exception. Floor to ceiling windows on all three levels allow for awe inspired daydreaming.
Chalet Grace is spacious, extremely comfortable and a wonderful home away from home. This is a beautiful property, make no mistake. Memories are made of this and along with the delightful resort of Zermatt, which fully deserves it's place amongst the finest ski resorts in Europe, if not the world, you'll have plenty of memories to treasure long after the snow has melted.
Chalet Grace almost demands that you relax, there's comfort at every turn, the huge sofas beckon you to sit and take your time. The clock slows down here and the timeless view through the windows always demands your attention. You really couldn't choose a better chalet to just be and totally switch off. We know you came to ski but you may find it hard to leave this beautiful accommodation. All this and in addition the attentive but unobtrusive staff who will feed and water you and attend to your every need, no need to lift a finger. You're here to be spoilt rotten and that's the intention, you will be content and satisfied.
Family home, rather than show home, Chalet Grace houses a comfortable, luxuriously-seated cinema, a games room with a pool table, also on offer in this lovely well equipped chalet is spacious glass fronted wellness centre including a sauna, massage room, shower room a large pilates/yoga space with ambient lighting and music, oh; and an outdoor hot tub, ideal for a soak of fatigued muscles after an exhilarating day on the slopes. Non skiers will find plenty to occupy them both in the chalet and in resort.
Built on a south-facing hillside in the exclusive Petite Village area, two minutes by taxi from the Sunnegga Express lift and three minutes from the heart of the village, Chalet Grace has a well deserved reputation as one of the most luxurious and spectacular chalets in Zermatt. This chalet is one of SkiBoutique's personal favorites and comes highly recommended.
Le Petit Palace, Courchevel 1850 – France
All the best things come in small packages and we believe this is nowhere more true than Le Petit Palais in Courchevel 1850. Why would you want to stay in a palace so large that you run the risk of your butler, your masseuse and your chef losing you? We can reassure you though that Le Petit Palais does not fail to deliver on the wow factor. As our distinguished friends, we understand that you have stayed in some truly astonishing properties.
Le Petit Palais is situated on the slopes of the Bellecote piste in Courchevel 1850 and ensures the true gratification of being able to ski to and from your opulent front door. We reckon that St Barth's azure sea might just be turning a little greener with envy by the minute. As the days grow shorter and the nights draw in, we recommend swapping the plantation shutters and teak decking for sumptuous fabrics in seductive dark blues and greys.
The home cinema here is the last word in luxury. A state of the art projection and sound system will more than do justice to any film you care to fancy.
Le Petit Palais is the palace that you want to return home to when the sun starts to set over another day in your alpine paradise. Let the staff hang your skis up for you whilst you focus on losing yourself to the decadence of Le Petit Palais' wellness suite on the lowest of the six floors. The staff seem to be able to sense your imminent arrival home, as the lights are lowered, the fire is flickering and the candles are lit. Alternate between the hammam, the sauna, the pool and the jacuzzi before completely unwinding under the expert touch of your in house masseuse. If kneading the knots out doesn't transport you to Bedfordshire, the water feature will certainly lull you into a slumber.
Sapphire, Morzine – France
Chalet Sapphire is a meeting of the well-equipped elegance of a five-star hotel and the privileged seclusion of a private residence. The cinema in this splendid luxury ski chalet is a cozy little bolt hole. An ideal place to chill after an exhilarating day on the piste. Every evening here is magical. Generous space calms the mind with its soothing colour palette, lights the spirit with its massive windows, and nourishes the soul as its natural wood gleams as darkness falls.
The indoor pool with its massage and counter-current jets is enough exercise for most after a day on the slopes. Perhaps an excursion from its warm water to relax in the Hamman or invigorate in the ice-chamber. Or maybe to venture across the snowy terrace to the barrel shaped sauna from whose cosy interior you can watch the sun fade behind the mountains. Sometimes, pulling a few weights in the gym balances out that ache in the quads earned on the bump run above Avoriaz, but the attraction of a soothing massage in a calming treatment room often wins.
Thoroughly refreshed, how about a round of pool, while the bar-tender mixes a favourite cocktail? Pr that eternal question of what to select from an intriguing range of carefully chosen gins. With which specialty tonic? And don't forget that visit to the wine cellar to ensure the perfect pairing for tonight's feast.
Dinner! The handcrafted Balinese dining table is square, seating up to 16 guests who can all talk actually to each other. Today, you look froward to the Kaiseki fine Japanese dining experience, which will allow the chef to entertain the party with pyrotechnic wizardry from the open kitchen. All the sophisticated touches will have been meticulously worked upon behind the doors of the professional closed kitchen.
All your guests are delighted with their bedrooms, 6 en-suites distributed throughout the chalet. You even managed to find space for 4 extras in Little Gem, delightful self-contained accommodation set in the grounds. But wait, how about a night-cap! The kids are watching a movie in the cinema. The firepit beckons, where everyone snuggles under a velvet sky as the flames dance.
That conversation starts again – where should we ski tomorrow? With the vast expanse of the Portes de Soleil at your ski-tips, the debate goes on. But there is no need to decide tonight. Tomorrow morning, fortified by a lavish breakfast, everyone will congregate in the comfortable boot-room. Sinking fingers and toes into welcoming warmth (your boots and gloves have spent a cosy night on the warmers), you glance at the screen on the wall. Live information on snow conditions and webcams of the slopes tells you exactly what you need to know. That settled, you all pile into the luxury vehicles and your chauffeur will transport you to the lift station of your choice.
Danny Frith is Director at SkiBoutique. SkiBoutique is a luxury ski chalet agency based in Switzerland.
If you would like to be a guest blogger on A Luxury Travel Blog in order to raise your profile, please contact us.