This charming Art Deco boutique hotel, set in the historic centre of Lisbon, is one of five Lisbon Heritage Hotels in Portugal's capital, providing discrete but sophisticated luxury. The 32 room, one suite Britania, has been tastefully restored to a grandeur beyond that of its 1944 opening.
Architect Cassiano Branco had originally planned the bold glass doors with gleaming golden circular handles but these were only added later during renovation.
There is an Old School charm to the Britania: traditional door keys and metal safe keys triumph over digitalisation.
Rooms feature an old-fashioned dark wood jacket stand. Even the long-handled shoe horns have sleek Art Deco lines. Remember that this was a favourite haunt for Lisbon's literati and that Omar Sharif, an icon of movie elegance, dropped by for hands of bridge.
The welcome
A doorman opens my taxi door and takes my case. Immediately, it's clear to see why the Britania carried off the 2021 Conde Nast Johansen service award.
He whisks my case past reception's statement sculpture of a globe navigated by dark silhouettes of caravels, a reminder of Portugal's brave exploratory past. After speedy formalities, I am taken to my room where a welcoming crystal glass decanter of port awaits.
The room
Generous high ceilinged dimensions date from a bygone era. My superior room, on the third floor even, even has an entrance hall: home to a minibar, filled with waters and wines. There is a station for hot drinks too. In the 1980s carpets were ripped-up to reveal the original burnished cork tiles whilst walls were returned to cream tones. Although the double bed is huge there's still room for two armchairs, a long chest of dark wood drawers and a writing desk.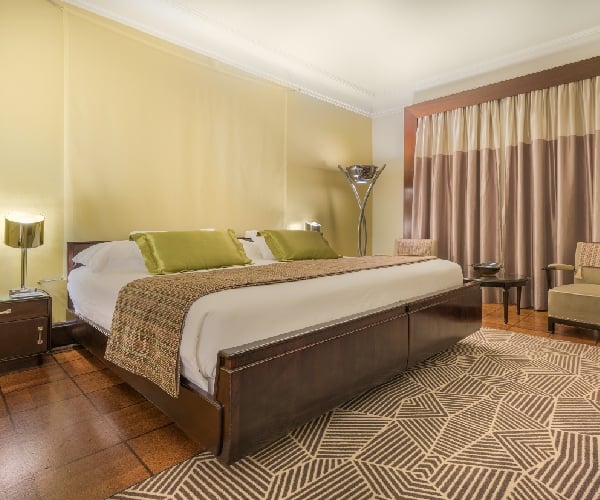 Air conditioning / heating is remote controlled and there is a medium-sized television too. Cavernous wardrobe space invites you to unpack, this isn't the sort of hotel where you live out of a suitcase. Even my suitcase slips away into a Narnia sized wardrobe.
On the sixth floor a recent project has created two terrace rooms and a spacious suite featuring outside decking with inviting sun-loungers.
The bathroom
Nothing is forgotten in a light marble-finished bathroom complete with bidet.
Toiletries are from Moulton and Brown, with notes of refreshing orange and bergamot, emphasising Lisbon and the Britania's affinity with British guests.
The facilities
A chilled bottle of sparkling wine announces the buffet breakfast as an event rather than the mere breaking of the fast. Instinctively, waiting staff soon anticipate needs, providing pots of tea and refilling coffee cups.
The elegant Bar do Império commemorates the hotel's original name. After the revolutionary zeal of the 1970s, the frescoes, celebrating Portugal's empire, were painted over as they were thought to be too imperialistic.
Now they have been carefully restored. The lounge is almost a library with its book shelves and a collection of board games.
The location
Quietly located on a side road, it is just a short walk to the glamour of the grand Avenue Liberdade, a wide tree-lined boulevard hosting a collection of big brand names: Gucci, Louis Vuitton, Versace. A three-minute stroll takes guests to the the Metro's blue line with rapid connections to the redline, heading for the airport, that is just four miles away.
The green line links with the local services running along the Costa du Caparica to the resorts of Estoril and Cascais, while the blue line connects with a train to Sintra. Purchasing a Lisboa card from tourist information at the airport gives you the freedom of buses, trains and trams.
Hands-on art classes at Lisboa Social Press, a 15 minute walk away, are popular with the hotel's guests. Brits Tom and Jilly run a variety of arts events at their light filled studio on Rua Santa Justa.
Other nice touches
Showing your Britania keycard, provides free entry to four of Lisbon's top museums including the Museu Nacional de Arte Antigua and Museu Nacional de Arte Contemporânea. At the Museu Calouste Gulbenkian the private collection displays pieces from across the globe over the last five millennia.
Historic furniture, tapestries and china are the focus at the Fundação Ricardo do Espírito Santo Silva. Check their website for the dates of artisanal workshops.
The cost
Rooms, including breakfast, begin from €115 per night. Prices for the suite begin from €511 for bed and breakfast.
The best bit
Lisbon Heritage Hotels are eager to preserve the hotel's rich history. As a neutral capital in the Second World War, Lisbon was a hub of both intrigue and romance. When the hotel opened in 1944, the extensive facilities attracted diplomats, journalists, spies and writers. Spacious rooms equipped with radios, telephones and typewriters provided a perfect long-stay base.
Black and white photographs displayed around the hotel and the former barber shop, now converted into a mini museum, celebrate the hotel's historic legacy. After the hotel's owner married the poet Natalia Correia in 1950, writers and poets, including Graham Greene and Henry Miller, often spent the evening in the hotel's bar and restaurant. Correia hosted meetings at the hotel opposing Portugal's dictatorship and her writing became increasingly pro-democratic.
The final verdict
This is a refined hotel with soul, preserving the best of traditions but also connecting with today's Lisbon. Providing impeccable service and elegant furnishings, there is a private club aura to the Britania, making it a refined base for exploring Lisbon.
Disclosure: Our stay was sponsored by the Hotel Britania.