There's a palpable sense of anticipation in the air here in Vienna right now as a whole host of new openings – and reopenings – over the next few months will add even more highlights to the capital's museum scene. On top of that, a series of major exhibitions will complete what is set to be a pretty spectacular year for culture in the city.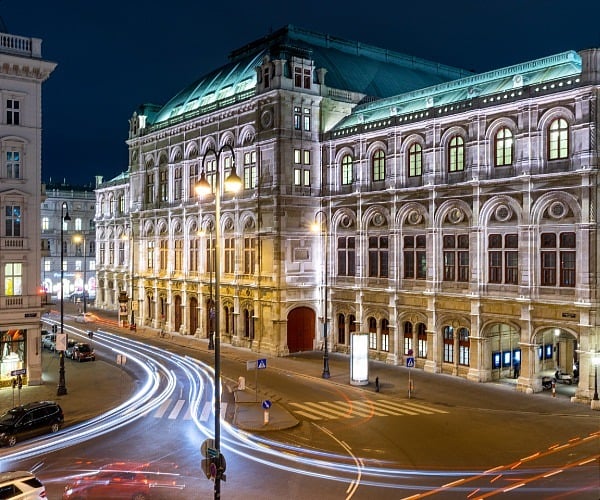 New museum tipped for the top
This new addition to the city's museumscape has been very eagerly awaited, and rightly so. Currently taking shape in the heart of Vienna and due to open in early 2022, an all-new museum will provide a fitting home for the Heidi Horten Collection, one of Europe's leading private art collections. For the past 30 years, patron of the arts Heidi Goëss-Horten, one of just a handful of female museum founders worldwide, has been bringing together an impressive cross-section of art history from early modernism to the present day – stars of the show include works by Gustav Klimt, Egon Schiele, Pablo Picasso, Andy Warhol, Marc Chagall and Gerhard Richter.
Her outstanding collection will take up residence in the Stöckl building – a venerable Palais in the old town – at the Hanuschhof, which is nestled between the Vienna State Opera, Albertina and Burggarten. Work on converting the space started in summer 2020; the interior of the building has been completely gutted and the facade painstakingly restored and greened. In all, some 1,500m2 of exhibition space is available, spread across three seemingly floating levels. Contemporary art is also set to play a key role at the new museum.
Hanuschgasse 3, 1010 Vienna
Reopening highlight
Prince Eugene's former summer residence on Rennweg, a striking element of the Baroque Belvedere complex, will open its magnificent doors to museumgoers once again following an extensive renovation project. Completed in 1716, the Lower Belvedere – including opulent state rooms – was brought in line with contemporary international museum standards over the past few months. A new restaurant and numerous accessibility and technological upgrades will ensure a world-class museum experience. The original scope of the renovation project was expanded to take advantage of the pandemic.
The Lower Belvedere will reopen in January 2022 with a flagship exhibition looking at Viennese psychoanalyst Sigmund Freud's special influence on the Spanish surrealist painter Salvador Dalí.
Rennweg 6, 1030 Vienna
A fresh look at medical history
Following its closure for refurbishment, the Josephinum in the ninth district, which contains the collections of the Medical University of Vienna, will reopen in 2022. Work to remodel and extend the heritage-listed 18th century building as a dedicated museum of medical history got under way in 2019. The main focus of the project was to restore the original classicist masterpiece to its former glory. The centerpiece of the Josephinum – a historic nine-meter-tall auditorium – will be fully rebuilt, with the square outside and the main entrance set to be reconfigured.
Constructed in 1785 under Emperor Joseph II, it was originally a military surgery academy for training doctors and midwives. Its collection of medical artifacts is unparalleled in Europe. Multiple permanent exhibitions are planned for the future.
Währinger Strasse 25, 1090 Vienna
Post script
A new public space dedicated to culture is currently taking shape in the Stubenviertel in the first district, adding yet another cosmopolitan hotspot to the capital's portfolio. Under this new project, the former post office headquarters will be transformed into the Lebendiges Haus. The sprawling complex of buildings which served as the HQ of Austrian Post between 1850 and 2011 is being completely refurbished in preparation for its future as a mixed-use facility featuring apartments, shops, hospitality providers, offices, coworking facilities and cultural spaces.
Responsibility for its artistic design falls to the artist and perception researcher sha and his team of Vienna-based creatives. At present, work is pressing ahead to create a new kind of contemporary museum in various locations inside the historic building. A multi-dimensional media artwork in the Dominikanerhof will add a focal point in the form of an immersive 360° experience for all the senses. Tenants will move into the various parts of the complex as the individual phases are completed. The cultural offering will be available from summer/fall 2022 – free of charge and round the clock.
Dominikanerbastei 11, 1010 Vienna
Museum for a pioneer
Another of Vienna's leading ladies is set to be honored with her own museum in 2022: Margarete Schütte-Lihotzky. Designed according to the pioneering architect's personal requirements, her last apartment in Vienna's fifth district – where she lived for three decades – is currently being refurbished and restored. Recently heritage listed, the 55m2 apartment with 35m2 terrace is due to open to visitors in summer 2022. In its new guise as the Schütte Lihotzky Center, the space will open once a week and feature temporary focuses curated by the Architekturzentrum Wien (Az W).
Schütte-Lihotzky, who died in the city in 2000 a short time before her 103rd birthday, left a lasting legacy. Remembered as a social housing pioneer, she was also an advocate of women's liberation, peace activist and resistance fighter against National Socialism. A major milestone in her design career came in 1926 when she invented the fitted kitchen, which she dubbed the Frankfurt Kitchen. But Loos protégée Schütte-Lihotzky vehemently refused to be pigeonholed by her greatest invention.
Franzensgasse 16/40, 1050 Vienna