Western Australia offers a multitude of Australian indigenous experiences; from cultural tours to wild expeditions, it boasts a great offering for visitors looking for authentic activities. Here are 7 indigenous experiences you can enjoy on your next visit:
1. Go Cultural Aboriginal Tours and Experiences
Described by the early colonists as Paradise, the land where Perth City now sits has been home to the Nyungar people since the Dreamtime. Go Cultural Aboriginal Tours and Experiences offers a glimpse into Nyungar culture through a short walking tour of Perth that uncovers Dreamtime stories, sacred sites and forgotten lakes that lie under modern skyscrapers.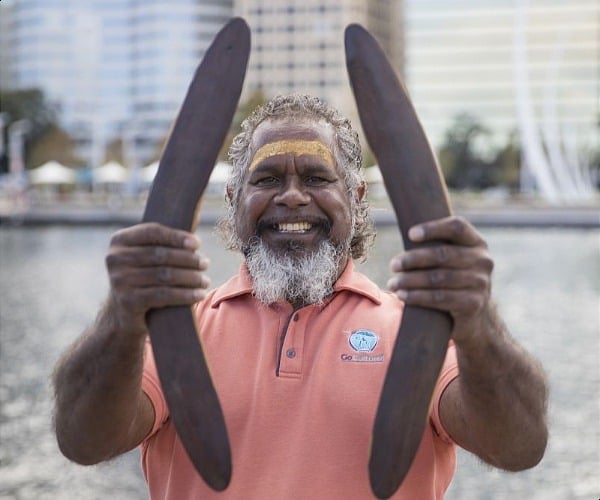 Your guide, Walter McGuire, provides the perfect introduction to Perth's Cultural past. Walter is a well-respected Nyungar man and is a traditional owner of the Whadjuk lands on which Perth city now stands. From childhood Walter was schooled in Nyungar culture, language and customs by his parents and recognised Elders including those of related tribal groups. In this respect he shares his culture with deep reverence for his Ancestors, fellow Nyungar and the First Peoples of Australia and the world. Walter conducts most of his Aboriginal cultural awareness activities, including Aboriginal tours, around Perth's iconic city locations.
Join Walter at beautiful Elizabeth Quay for a fascinating 90 minute walking tour, a tour that offers a glimpse into the world's oldest living culture through ancient Dreamtime stories, traditional songs and Nyungar language. Learn about the six seasons and how they influenced the day to day lives and spiritual connection the Nyungar people have to their country. Customised 3 hour group tours are also available. Groups discuss Aboriginal culture and history, hear a selection of Dreamtime stories and Nyungar hunting and celebratory songs and then get hands on with traditional ochres, implements and hunting weapons.
2. Kooljaman at Cape Leveque
Swim, snorkel, fish or just relax and enjoy one of the most spectacular coastal wilderness camps in Australia. Join a tour with a local Bardi guide, go out on a tour boat or explore this pristine location at your own leisure.
Residing between two Aboriginal communities, Kooljaman at Cape Leveque gives you the chance to enjoy a true wilderness experience. Take a cultural tour with the local Bardi community residents, go mud crabbing, fish trapping, sample bush fruits and gain an insight into bush medicine and the Aboriginal history in the area. You can even hop on a scenic flight over the archipelago or relax on the popular tour boat, Oollard II.
If you're lucky, you may even get a close-up view of the many passing whales in season. There are also plenty of activities to indulge in at your own pace including fishing, swimming, snorkelling, reef walking, bush walking and bird watching. Eat in at Raugi's restaurant, which offers spectacular views over the Western Beach, as well as ready to cook gourmet BBQ dinners known as 'Bush Butler Meals' as all rooms are set up for self catering.
With a range of tour packages and accommodation options, including camping, traditional palm frond beach shelters, and rustic log cabins, there's something for everyone. At the top end, you can also stay in amazing self-contained safari tents, raised on stilts with panoramic views across the bay.
3. Koomal Dreaming
Koomal Dreaming provides an opportunity for visitors to experience Wadandi and Bibbulman country (the Margaret River Region) through the eyes of the traditional owners. Wadandi cultural custodian Josh Whiteland provides guests with the opportunity to taste native foods, discover bush medicine, and experience traditional fire lighting. Josh recounts stories of the Dreaming spirits that relate to his traditional area, and takes visitors deep into Ngilgi Cave for a uniquely memorable didgeridoo cave experience.
The Wadandi and Bibbulman people of Australia's south-west have walked the ancient Margaret River lands for almost 50,000 years. Together with other Aboriginal groups from Kalbarri to Esperance, they are known as Noongar. The Noongar culture is as rich and varied as the countryside itself, and sharing in their knowledge of culture and the pristine environment is fascinating.
Josh Whiteland will help you explore the region on a number of tour options that show the local plants used for traditional medicines and provide you with a taste of native bush foods. He'll also demonstrate the traditional ways of fire lighting, the ancient art of tool making and introduce you to the animals, plants and Dreaming Spirits that have enriched the lives of the local people and their ancestors.
Josh also happens to be a talented musician who will delight you with a mesmerising didgeridoo performance and stories about Dreamtime legends inside the spectacular Ngilgi cave, where the good spirit Ngili lives.
Private tours, customised experiences and cultural awareness sessions are also available.
4. Oongkalkada Wilderness Camp
Oongkalkada Wilderness Camp is an eco-bush retreat set amongst stunning Kimberley wilderness located at Udialla Springs, a 3000 acre Nyikina-Mangala property fronting the Fitzroy River. Fresh mineral springs surround the Camp and are home to an amazing array of flora and fauna. Guests share this rare country with its traditional owners and enjoy day and extended tours from the Camp.
The Kimberley is one of the world's last great wilderness areas. Remote and rugged, its landscape is spectacular with wide horizons, ancient gorges, rock art, crystal clear rock pools and pristine beaches. Oongkalkada Wilderness Camp is a great base to explore this incredible region. The Camp has 6 eco-tents with king beds or king split twin share and also includes a campground, campfire BBQs, ablution facilities with male and female toilet and showers, a conference building, a shady outdoor dining area with a menu that includes local produce and bush foods and beautiful clear spring waters that guests can drink and bathe in.
---
IMPORTANT NOTICE:
If you are reading this article anywhere other than on A Luxury Travel Blog, then the chances are that this content has been stolen without permission.
Please make a note of the web address above and contact A Luxury Travel Blog to advise them of this issue.
Thank you for your help in combatting content theft.
---
Guests can explore this stunning region's desert, river and coastal environments with Uptuyu Adventures who work in partnership with Oongkalkada Wilderness Camp. Day and extended touring options can include visits to Aboriginal communities and a pastoral station to develop cultural awareness insights, traversing the last 4WD frontier, visiting ancient art galleries to view Wandjinas and Gyorn Gyorn, a bush survival adventure to learn how to live off the land, visiting the Bungle Bungles (Purnululu National Park) and awesome fishing opportunities.
Tours can take in an abundance of wildlife ranging from finches, storks, pelicans, crocodiles, barramundi, cherabin, oysters, fish and crabs. The fauna is also spectacular and as ancient as the dinosaurs.
5. Poornarti Aboriginal Tours
The South West of Western Australia is the country of the Noongar people. Poornarti Aboriginal Tours, currently the only Aboriginal tour operator in the region, will bring the country of the Noongar people to life for you through deeply immersive, intimate and interactive experiences and activities.
Poornarti Aboriginal Tours has sprung from the passion of Aboriginal Elder and Law man Joey Williams and his drive to share his Noongar culture and knowledge. Joey learned the ways of his people by spending time with his father and listening to his stories and Joey's mother Joan passed on her intimate knowledge of bush tucker and medicine.
Through instruction from his renowned Noongar artist Auntie Bella Kelly, Joey himself has become talented in this field and has won numerous art awards. Joey has also mastered the ancient technique of vibrational healing passed onto him through his ancestral lineage. Listening to the old songs of country has also inspired Joey to write and sing his own traditional Noongar music and songs.
Poornarti Aboriginal Tours invites you to reconnect to the essence of country and yourself, to travel and camp with us and learn of the ancient culture of this land. Listen to stories of Dreamtime and culture, step upon the Earth and dance, embrace the elements, yarn by the fire, taste the tucker, sense the wind, the water, the heat and the smoke, feel the power of ceremony, and learn of Noongar ways of life, spirit and art.
6. Uptuyu Aboriginal Adventures
Enjoy an exceptional adventure into the Kimberley region with Uptuyu Aboriginal Adventures. Taking you on personalised, small-group tours, Neville Poelina will teach you about bush lore, local culture, and bush tucker on these unique and amazing experiences.
Born and raised in the Kimberley, Neville Poelina's knowledge and love for the area ensures you will have a completely unique and amazing experience with Uptuyu Aboriginal Adventures.
Up market, small scale group experiences are tailored to requests, and only accept small numbers to ensure your experiences are maximised. Choose from a range of alternatives as your tour progresses, hence the name 'Up-tu-yu' (Up to you).
Poelina is a specialist in bush lore, local culture, traditional medicines and bush tucker. The majority of tours will commence at Poelina's home base at Oongkalkada, midway between Broome and Derby. Tours cover the diverse landscapes including Kimberley Gorges, the Dampier Peninsula and Fitzroy River.
7. Wula Gura Nyinda Eco Cultural Adventures
Travel back in time, where life began on a journey never to be forgotten, where the 'blood red' sand from the desert meets the azure water of the sea and discover the secrets of the Shark Bay World Heritage Area. See this ancient and untouched wilderness from the 'inside' and feel the deep spiritual connection between the local Aboriginal People and this breathtaking Saltwater Paradise.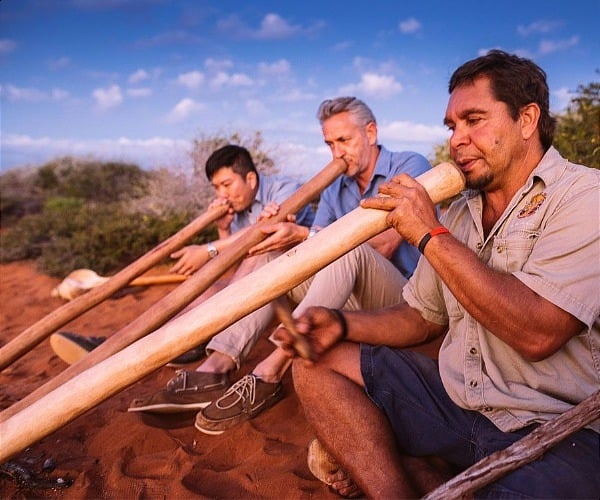 Gutharraguda (pronounced Goo-Tha-Da-Goo-Doo), is the traditional Aboriginal name for the Shark Bay World Heritage Area and translates to "Two Waters", in reference to the two bays that dominate the landscape. This is the traditional homelands for the Nhanda and Malgana Aboriginal people.
It is the place where the red sand from the desert meets the turquoise waters of the Indian Ocean and is where real adventure begins. The untouched natural beauty and spectacular natural landscapes of the magnificent Shark Bay World Heritage Area is home to some of Australia's most unique wildlife and geology including stromatolites, the world's oldest living organism, also referred to as the 'Old People' by local Aboriginal people because they represent our ancestors. It is a place of immense ecological and cultural significance.
Wula Gura Nyinda Eco Adventures is your host and conducts a range of personalised non strenuous 'on Country' tours and cultural experiences that explore the ancient cultural ties of the region's first people. Tours are designed to teach guests to learn about respect for culture and country. Guided tours include 4WD Adventures, Kayaking & Snorkelling Tours, Bushwalks and Hiking, Stand Up Paddle Board Tours, Camping Safaris and extended expeditions. We also offer fly/ drive expeditions onto Dirk Hartog Island, the largest island in Western Australia.