Margot Raggett gave up a career as CEO of a London PR company and went to Africa to follow her love of wildlife photography. But her path changed in 2014, when she was in Kenya and came across a poached elephant. Margot was so deeply affected by this, that she was determined to do something about it. She spent months persuading some of the world's best wildlife photographers to each donate a photograph she could include in what she planned would be 'the most beautiful book on a species ever seen", the sale of which would raise funds for elephant conservation. The book, Remembering Elephants, was launched in 2016. Five years of 'camera-derie' and five books later, the Remembering Wildlife fundraising photography book series, has raised over $1.1 million for conservation, and has just released the sixth and latest book in the series, Remembering African Wild Dogs.
The series title was inspired by a remark by Sir David Attenborough, who asked, "Are we happy to suppose that our grandchildren may never be able to see an elephant except in a picture book?" Margaret herself adds, "Five years ago, I wrote to Sir David and said I wanted to raise £1m for conservation through books which would help protect those animals. I'm determined to hit that target and I can't break a promise to my idol!"
Over the last five years, almost 200 photographers have donated images to the Remembering Wildlife collection: Remembering Elephants, Remembering Rhinos, Remembering Great Apes, Remembering Lions, Remembering Cheetahs and now, hot off the press, Remembering African Wild Dogs. Profits from the books have gone to 55 conservation projects in 24 countries, including Kenya, Malawi, Zambia, Ethiopia, Zimbabwe, South Africa, Namibia, Mozambique and Uganda. More than 32,000 copies have been sold and the series has some very famous fans across the globe including Russell Crowe, Michelle Pfeiffer, Pierce Brosnan and Kevin Pietersen.
The books in the series
Such was the success of Remembering Elephants, that Remembering Rhinos was quickly announced and launched in 2017, once again to critical acclaim. Remembering Great Apes, the third book in the series, was published 2018, and featured images donated by 72 photographers and a foreword by renowned ethnologist Dr Jane Goodall. 2019 saw the launch of the fourth book in the series Remembering Lions, followed by Remembering Cheetahs in 2020, which despite the challenges of 2020, was one of the fastest selling book to date. Altogether the series has now distributed over a million dollars to conservation projects in across Africa and Asia. All profits are given directly to projects focusing on the species that each book in the series features.
Remembering Elephants
With only 400,000 elephants left in the wild, this, the largest living land mammal, is classified as endangered and humans are to blame. Hunting and habitat loss are the main reason elephants are now endangered. Many African herds were hunted for their ivory tusks and their numbers were decimated as a result. Though the ivory trade is now illegal, poachers still kill for it.
The Tsavo Conservation Area is home to Kenya's biggest elephant population, including most of the world's last remaining 'Super Tuskers'. A Super Tusker is a male bull elephant whose tusks weigh over 100lbs each. Tusks this size are usually so long they scrape along the ground when the elephant walks. Protecting the last remaining Super Tuskers is a difficult task. They roam far and wide across the Tsavo Conservation Area and require constant protection from poaching. They are targeted by poachers constantly due to the astronomical value of their tusks. A single tusk from a Super Tusker, which could weigh over 50kg, is worth around $25,000, even more once it has been carved, so the aim of the game is to stay ahead of the poachers.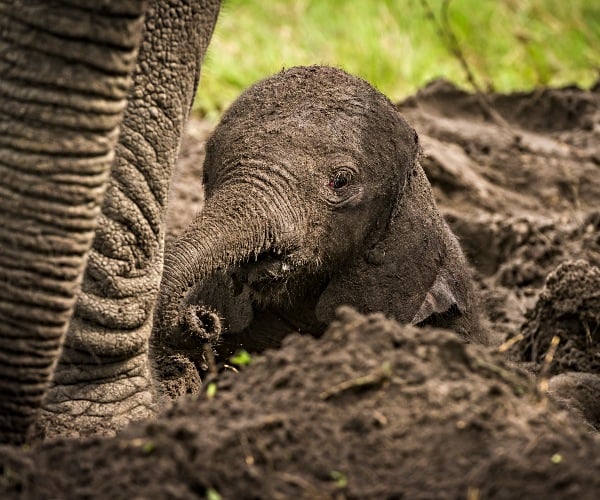 The Tsavo Trust which operates in the Tsavo Conservation Area, relies on donations to function and protect the elephants. Most years I take groups of climbers up Mt Kilimanjaro who are climbing to raise funds for Tsavo Trust. One of the many projects that received money from the sales of Remembering Elephants was the Tsavo Trust, specifically towards keeping their aerial patrol helicopters in the air. These aerial patrols are vital to spotting and apprehending poachers and protecting the elephants.
Remembering Rhinos
Rhinos are probably the most endangered animals in Africa, predominantly due to illegal poaching to satisfy the demand for their horns in Asia and the Middle East.
Saving the Survivors, in South Africa, is a team of wildlife vets whose primary mission is to save animals who have fallen victim to poaching. Whilst they will attend to the needs of any injured animal, most of their efforts are directed towards rhinos, due to the vicious attacks that so many of these creatures fall victim to.
Nearly $50,000 from the sales of Remembering Rhinos was given to Saving the Survivors to assist in the treatment of Seha and Thembi, two white rhinos who suffered horrific facial wounds as a result of poaching. The donation enabled Saving the Survivors to provide long-term treatment to the pair, who both went on to successfully reproduce.
Remembering Great Apes
I fell in love with Chimpanzees as a child reading the books of renowned chimpanzee conservationist Jane Goodall. Many years later I got the opportunity to visit the area, on the shores of Lake Tanganyika, Tanzania, where she had worked.
To this day, seeing chimpanzees in the wild is one of my most memorable wildlife experiences. One of the photographs in this book was taken by a friend of mine, of a chimpanzee I saw when I was in Tanzania, making it even more special. The Jane Goodall Institute is one of the many recipients of funding raised by the sale of Remembering Great Apes.
Remembering Lions
With only 20,000 left in the wild, lions are officially classified as 'vulnerable'. Illegal bushmeat hunting, the trade in body parts, conflicts with local people due to livestock depredation, habitat loss and unsustainable trophy hunting, are all contributing to the decline of this, the 'king of the beasts'.
One of the many lion conservation projects to receive money from the sale of Remembering Lions is Zambian Carnivore Programme, a not-for-profit organisation based in Zambia, where I live. They received around $15,000 to be used in their anti-snaring work in the Luangwa Valley, which is one of the ten remaining lion strongholds on the continent, and home to Zambia's largest lion population.
Remembering Cheetahs
There are estimated to be only 7,000 cheetahs, the fastest land mammal in the world, left in the wild. They are listed as 'vulnerable' by the International Union for the Conservation of Nature, but recent studies have revealed that their numbers are falling so fast that scientists feel they should now be classified as 'endangered'. Their future looks uncertain.
Again, one of the many projects that was supported by the proceeds from the sales of Remembering Cheetahs, was the Zambian Carnivore Programme, who received funds for satellite collars and a motorcycle to be used for research and anti-snaring activities.
---
IMPORTANT NOTICE:
If you are reading this article anywhere other than on A Luxury Travel Blog, then the chances are that this content has been stolen without permission.
Please make a note of the web address above and contact A Luxury Travel Blog to advise them of this issue.
Thank you for your help in combatting content theft.
---
Remembering African Wild Dogs
Building on the incredible success of the series the sixth book in the series, Remembering African Wild Dogs was launched in November 2021. The book is beautiful, full of stunning photos, donated by more than 80 of the world's top wildlife photographers. Remembering African Wild Dogs book aims to demystify wild dogs, raise awareness of their plight and also to raise funds to protect them.
The African wild dog, also called the African painted wolf or the African hunting dog, is one of the world's most endangered mammals, with a mere 5,000 left on the planet. African wild dogs are listed as Endangered due to a range of factors, including habitat loss, human-wildlife conflict, getting caught in snares set by poachers hunting for bush meat, and infectious diseases like canine distemper and rabies.
This beautiful book made its first donation, even before it was launched, giving $25,000 to support the successful reintroduction of African Wild Dogs into Malawi after decades of absence.
Remembering Bears
Following on from the success of the previous books in the series Remembering Bears will hopefully be published in October 2022. This will be another beautiful coffee table book, full of images donated by many of the world's top wildlife photographers.
There's a Kickstarter fundraising campaign currently, seeking funds for the production of the book (please note no money raised on Kickstarter will be donated to charity, but once the book is eventually launched, all profits from its sale are then donated to projects protecting the featured species).
How does it all work?
Unlike many other fundraising organizations, Remembering Wildlife runs as a business and not as a charity. So unlike most charities, they don't ask for donations (though they'll accept them if you offer!), instead they sell you something beautiful, a book or a print, and promise that 100% of the profits will go to conservation projects.
To purchase copies of any of these beautiful books, just go online.
In addition, Remembering Wildlife, marked its fifth anniversary with the launch of an online print shop, where a selection of images from the whole collection are available for purchase. These are images by some of the best wildlife photographers on the planet. Profits from the sale of prints will be shared between Remembering Wildlife and the photographers, not only as a thank you for their support but also in acknowledgement of the difficulties wildlife photographers have faced during the pandemic.