Ecuador's high-end restaurant scene draws inspiration from the country's ancestral past as well as a mix of other nations. With new concepts appearing around the globe every week, what sets Ecuador apart is its diverse culinary scene, where you can sample modern dining trends, regional cuisine, and traditional restaurants, as well as those that break all the norms.
Read on for 12 savory traveler hotspots throughout the country — in Quito, Cuenca, Guayaquil, the Galapagos Islands, and on the coast — where you can find another reason why "All You Need Is Ecuador."
Recommended restaurants in Quito
Ciré: Progressive Ecuadorian cuisine
As a member of the Academie Culinaire de France, chef Erick Dreyer cooks and oversees original signature recipes, taking the traditional cuisine of Ecuador as a starting point. Having finished his university studies in Quito and worked as a chef in Spain for several years (even opening his own restaurant in Barcelona), Erick is the person behind Ciré's progressive Ecuadorean cuisine, which includes dishes such as minced sirloin tartare, Ecuadorean Black Angus beef with native potatoes, crunchy suckling pig, and langoustine fideúa.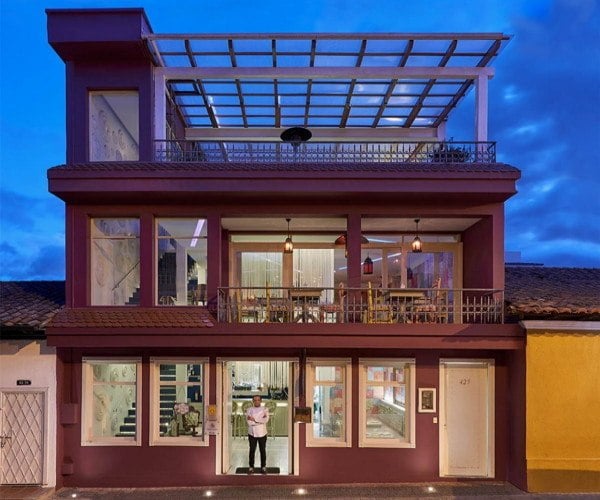 Of his two Quito-area restaurants, the newer Ciré-Quito is situated within the capital itself, while the original Ciré is nestled at the edge of a peaceful park in a nearby village. The latter, Ciré-Cumbaya, is a charming three-story restaurant noted also for its eclectic décor, as well as its top-floor terrace that provides spectacular 360° views over Quito and the surrounding mountain range.
De la Llama: Ecuadorian food with an Asian twist!
Located in the exclusive Carolina Park–Bellavista area of Quito, De la Llama is a small restaurant that brings to the table an eclectic and new Ecuadorean cuisine – "Ecuadorian food with a twist!," so to say. It's a place for those who love to eat, and eat really well, will find dishes you won´t find anywhere else. Here, you'll discover everything from Asian-influenced ceviches and dishes inspired by Andean ingredients to seafood locro.
The place was born at the end of 2016 as the dream of two chef friends — Felipe García and Francisco Eguiguren. And while chef García admits that the menu at De la llama has changed a bit due to the pandemic, he notes that it's still quite extensive and has several vegetarian, vegan, and gluten-free options.
All and all, the place is quite cozy. It's decorated with llama-themed art pieces, but not in a corny or cheesy way,  rather in a cool way. Though tucked in between some high-rises, the restaurant is in a good location with an exceptionally relaxed and inviting outdoor seating area. With it's super friendly staff, they'll make sure you're well attended.
And, of course, the food is great! For example, you'll find the lemongrass cream brûlée one of the best desserts you've ever tasted! In short, the inventive flavors, eclectic mixes, artistic presentations and warm atmosphere make De la Llama well worth the visit.
Somos: Ecuadorian born, globally inspired 
The chef-owner of Somos (meaning "we are" in Spanish), is the adventurous Alejandra Espinoza. She was born and raised in Ecuador, where she was spoiled with exotic local foods from all the country's regions. Later, moving to France as a teen with her family, she discovered a whole new world of gastronomic techniques. For the next 10 years, she studied, worked, and traveled to learn all things culinary. From Europe to the US, to Asia and the Nordic nations, her perspective is global
This experience has allowed her to combine influences from her childhood in Ecuador with her culinary studies in France to create globally inspired dishes using local ingredients, flavors, and traditions. These are are approached with new techniques, contemporary dishes and a spirit of progression to create a restaurant that tells the story of today's Ecuador through the language of food.
For the full experience, try the Esmeraldas menu for a culinary journey through plantain and prawn soup, shrimp ceviche, encocado stew and a roasted pineapple piña colada dessert. The beautiful dining room is a shrine to all the colors and materials of Ecuador.
La Gloria: Peru meets Ecuador
Having arrived from Lima Peru some 10 years ago, La Gloria provides this space dedicated to the enjoyment of everything its owner and staff love to share: food, aromas, hugs, liquors, flavors, laughter, wines, music, celebrations and unforgettable encounters with their patrons.
The chef and staff delight themselves with the Peruvian flavors of tasty green rice with braised duck, crispy and sweet suckling pig in the style of a Sagovian country grill, the always fresh Ecuadorian bluefin tuna, their Great and Glorious fideua, or Mediterranean broth rice with all of the seafood from the Pacific coast of this wide and varied country of Ecuador.
As the chef says, "The best is always yet to come! May the festival of life give us more time to continue meeting here at La Gloria, and may you dear friends fully enjoy visiting us and do it as much as we do when we open our door every day and await your arrival."
Casa Gangotena: Quito chic at its most refined.
Inspired by Ecuador's stunningly rich and diverse ingredients, Casa Gangotena has developed its own creative take on signature cuisine. Under the leadership of Byron Rivera, the gastronomic director and Le Cordon Bleu chef, Casa Gangotena has become the restaurant in Quito that others emulate as a matter of course.
Byron and the cooking staff aim to continuously explore and experiment with the flavors, scents, textures, and ancestral cooking techniques that converge in Ecuadorian cooking and culture.
The menu draws from ingredients found in all four regions of Ecuador to create fusion dishes that stimulate the senses in new and engaging ways. New takes on ceviche from the coast and pork rib from the Andes join lobster from the Galapagos, lamb stew from Guayaquil, beef tenderloin and rack of lamb on the menu. Classic cocktails and house specialties with herbal infusions and teas complement the comprehensive wine list.
The restaurant is housed in Hotel Gangotena, a restored colonial-style mansion overlooking the breathtaking Plaza de San Francisco in the city's "Old Town" historic district. In sum, this is Quito chic at its most refined. 
Recommended restaurants in Cuenca
El Mercado
This restaurant is a place you cannot miss in Cuenca. It's situated on one of the most enchanting streets of the city's historic district: Calle Larga. When just entering el Mercado, you'll find yourself in a lovely place, in an environment that's cared for in detail and resolved with very good taste. But El Mercado is more than just a restaurant: it also functions as a bar, a tea room and a store. You can go for dinner, a snack or just have a coffee and you will always find excellent service.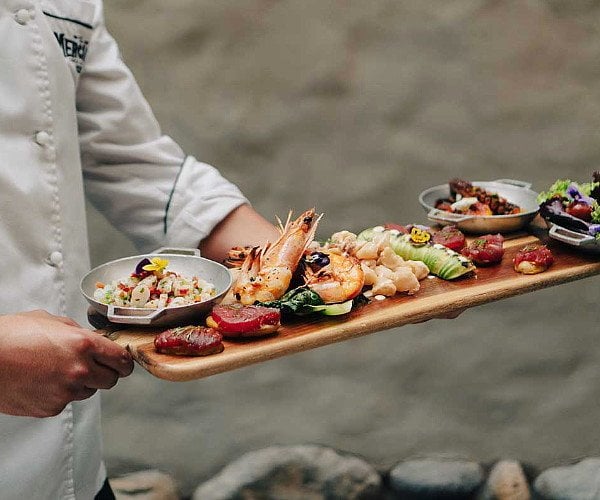 For dinner dining, you can take a table near the magnificent window overlooking the rushing waters of Tomebamba River, and you'll also enjoy an incredible view of the city that's been dubbed "The Athens of Ecuador."
El Mercado treats its guests to what they call "rustic cuisine," which are home-style dishes containing local, fresh, seasonal ingredients that have been prepared with simple and traditional techniques. However, each dish carries a host of particularities that make each ingredient stand out for its substantial texture and flavor even more than for its elaborate preparation.
The place itself offers a retro-chic experience; one that evokes nostalgia and recalls perceptions of yesteryear, but also responds to the avant-garde of elegance and sophistication. Like in its menu, every detail is considered and each space is impregnated with its own sensory range.
Tiesto's Café Restaurant: Oozing with authenticity
The outside of its unpretentious building is so unassuming you can pass by without ever noticing it. Once inside, though, you'll immediately feel Tiesto's welcoming spirit and its warm atmosphere. The feel is like that of any typical home in Cuenca, with the dining room decorated with hats, rustic wooden furniture, hand-painted walls, and other quirky artifacts. All of this makes for a fun and friendly atmosphere in this grand colonial house with high ceilings and brightly colored tableware.
The restaurant's name is the Spanish word "tiesto," which means an earthenware pot, as the food in Tiestos is cooked in such clay kitchenware. The à la carte menu offers a wide selection of dishes that include steak, chicken, seafood and vegetarian options, with several sides also available. Your desserts are presented on exquisitely decorated plates that are a feast for both the eye and the palate. The very extensive wine and liquor list also includes international vintages.
Adored by locals and travelers alike, Tiestos really is a special place with absolutely wonderful food.
Recommended restaurants in Guayaquil
Casa Julián: A tropical oasis
The only Relais & Châteaux Restaurant in Ecuador's largest city (Guayaquil), Casa Julian is housed within a stylish nineteenth-century building. Steeped in nature, the restaurant is surrounded by flora and fauna within the city's tropical Historic Park, while also overlooking the waterfront of the Daule River, just yards away.
In addition to being a getaway for relaxing to the sounds of monkeys, birds, and the cool river breezes, Casa Julian offers the finest in sophisticated Ecuadorian dining and local signature cuisine. The constantly updated menu explodes with rich seafood that's fresh from the nearby Pacific Coast. In addition, local ingredients like avocado, coconut, and world-renowned cacao are served in delightfully original creations. An à la carte menu explores regional tapas, including crispy plantains, local fish ceviche, and coconut prawns.
For those who want to sample a bit of everything, the four- or five-course tasting menu is a fine choice, while the cocktails should also not be missed.
Le Gourmet 
Like its sister restaurant Casa Julian (mentioned above), Le Gourmet can boast of being one of the finest restaurants in Ecuador's largest city. Year after year it garners rave reviews, and has even been recognized among "the World's 50 Best Restaurants" by Diner's Club.
If you're a discriminating epicurean, come here for escargot, a rack of veal stuffed with Andean blueberries, or for Le Gourmet's famed chocolate-themed dinner. One of the house favorites is chef Antonio Perez's six-course cacao tasting menu using Ecuadorian chocolates. Past highlights have included sea bass with mole verde, pork empanadas with Cacao, and flan with Mayan chocolate.
Blending classic French cooking and locally sourced ingredients, Le Gourmet is located in the elite Oro Verde Hotel. An excellent dining experience is contributed to by the elegant atmosphere of a very sober and antique decorated environment. This is a venue where — like with its delectable dishes — attention to detail comes first.
Recommended restaurants on Ecuador's Pacific Coast
Bocavaldivia: In coastal Puerto Cayo
Founded by Ecuadorean chef Rodrigo Pacheco, Bocavaldivia is an ambitious project aimed at reconnecting cultures through sustainable tourism. Towards this, the restaurant promotes tantalizing ancestral ingredients and techniques while educating diners about their origins and values.
The restaurant is part of the Las Tanusas retreat and spa, located on Ecuador's Pacific coast in the village of Puerto Cayo, 50 minutes by car from the seaside city of Manta. While there's no menu, diners know exactly where the food they put in their mouths comes from. This lack of pre-established menus or dishes is because Bocavaldivia uses what was caught in the morning and what can be collected from its own garden. The chef usually starts his days fishing, alongside with his team of fishermen. Later, in the kitchen, he takes the lead and performs his culinary magic.
Chef Rodrigo serves personalized tasting experiences from four to seven courses that can be enjoyed in the dining room or outside in the tropical forest, in the mangroves, or out on the reefs. 
Recommended restaurants in the Galapagos Islands
Al Mar: Ocean-front Galapagos dining pleasure
After several months of an effective lockdown throughout the Galapagos Islands, the Almar Restaurante has now re-opened its doors! This restaurant in the town of Puerta Ayora  (on central Santa Cruz Island) took advantage of the time to reinvent itself, discovering new flavors and elements that now give it a new identity. Its extensive menu, served by an attentive staff, includes octopus, codfish, tuna and shrimp – all caught fresh from around the island – or you can opt for chicken or vegetables instead.
At Almar Restaurante, food is more than just eating accompanied by first-class service; it's an experience full of sensations. As if in a movie, you'll be surrounded by the sound of the insistent swoosh of the surf, aromas of the sea, and harmless creatures that border and visit the place, making the restaurant a favorite place for travelers and locals alike. In fact, Almar has its own colony of sea lions living at the property – and plenty of little dragon-like iguanas hanging around, too. You may even get visited a green sea turtle or two if you get a table by the water. Nevertheless, we recommend visiting it at night for the best atmosphere. Thanks to the lighting from the balcony, you'll enjoy an amazing evening atmosphere for dining.
Adding to your convenience, this tourist-favorite oceanfront restaurant is situated inside the Triangulo de Darwin Hotel, by the Galapagos Habitat Eco-Luxury Group (formerly the Red Mangrove Hotel).
---
IMPORTANT NOTICE:
If you are reading this article anywhere other than on A Luxury Travel Blog, then the chances are that this content has been stolen without permission.
Please make a note of the web address above and contact A Luxury Travel Blog to advise them of this issue.
Thank you for your help in combatting content theft.
---
Isla Grill: Galapagos dining at its best
For fine dining in the Galapagos, Isla Grill is an Argentinian restaurant amid the seafood-heavy eateries found on just about every corner of the seaside town of Puerta Ayora, on Santa Cruz Island.
For some of the best seafood in town, Chef Fabricio Hidalgo serves grilled lobster, shrimp, fish encocados and squid, all prepared with tangerine butter and Japanese wakame seaweed (be sure to try the Tsunami Parrillada). Traditionally grilled meat plates include beef, pork, chicken, sausage, and chorizo, while deep dish pizza, burgers, salads, and sandwiches round out the menu. For vegetarians, there are innovative dishes that beat the rice and beans usually found in restaurants around the Galapagos Islands and on the mainland.
The restaurant is situated just south of town, where you'll be able to get away from the hustle and bustle of the constant city tour buses and enjoy your ocean-front dining experience.
Dare to enjoy any or all of these dining pleasures and the best flavors of fine Ecuadorian food. Your palate deserves to be pampered and what better than in this emerging culinary center?
Alfonso Tandazo is President and CEO at Surtrek Tour Operator. Surtrek Tour Operator is a well-established firm, specializing in custom-designed luxury tours in Ecuador, the Galapagos and throughout the rest of South America.
If you would like to be a guest blogger on A Luxury Travel Blog in order to raise your profile, please contact us.