Why a safari should be your next romantic getaway
What romance is and looks like is different for every couple. It can be exploring new places, dining out at a romantic restaurant for date night while the grandparents look after the kids, or just curling up on the couch together to watch your favourite movie at home. Of course, it can be all those and so many more things. But for those who may have lost faith in the idea of romance and feel it is rather overrated, you need something extra-special to make you believe in it again. It is time you went on a safari together in Africa!
A safari is a wilderness experience that is quietly exhilarating and intimate all rolled into one. It has romance, luxury and a touch of magic threaded throughout, allowing you to connect not only with nature but also with the most favourite and loved person in your life. You will have the opportunity to explore and relax together, so that you by the time you return home, you are both glowing from all the happy memories you have made.
Here are just some of the ways a safari will make your next romantic getaway the one you won't forget anytime soon:
Romance under canvas
Your tented safari camp will blend effortlessly into the surrounding bush, giving you a completely immersive and private experience. From the time you wake up together under a canopy of billowing mosquito netting to the moment right before falling into a peaceful sleep at night, you are connected to the sights and sounds of nature, and to each other. Even though this connection to the wilderness is a priority, it isn't at the expense of comfort. So you won't have to go without the modern creature comforts and amenities you are used to.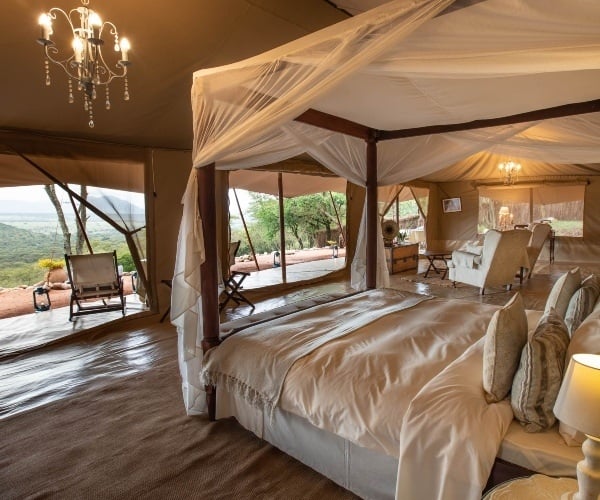 Instead, think dreamy four-poster bed, spacious en-suite bathroom with both shower and bathtub, and shaded lounging areas – these are what make for a very romantic hideaway. You might never want to leave your tent, even when it's time to go game-viewing! The traditional 'under canvas' tent style invokes the glamour and romance of a bygone era, when the idea of safari was dreamed up and lived out first in Kenya in the 1920s. This dash of nostalgia combined with contemporary design, classic style and luxurious finishes is exactly where you will want to rest and relax on your romantic getaway.
Unwind in the wild
Getting away together gives you the chance to properly rejuvenate, far from the stresses of daily life at home, both as individuals and as a couple. While on safari in the middle of a remote piece of wilderness, you can take that all-important digital detox too. Camps that look at wellness as an important part of the safari experience, will encourage you to put all devices away for the duration of your stay and might restrict the use of devices in shared spaces. Surrounded by seemingly endless beauty, tranquility and opportunities for sublime wildlife moments, the need for technology will soon fade away.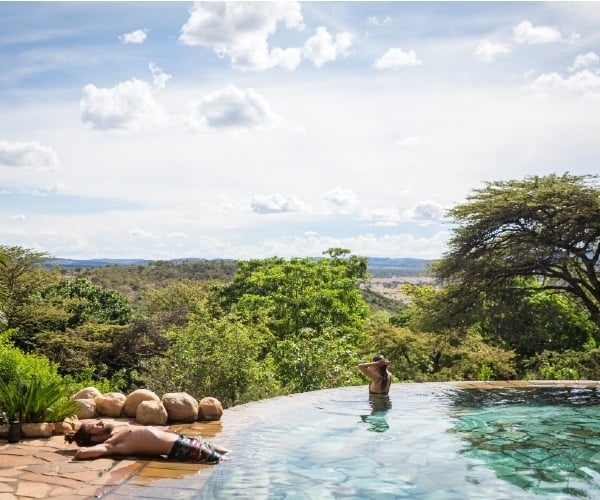 Your time on safari should be yours to do as you wish. That means doing as much or as little as you feel like each day. There is more to the safari experience than just game drives; even though that is, of course, one of the very best parts! When you aren't on an early morning or late afternoon game drive (or bush walk), a massage treatment could be just the kind of pamper session you need to start the day, or the camp pool might beckon to you for a swim after lunch. And then there is that one thing that is often so needed but impossible to enjoy when at home – a nap! The balmy afternoons are the best time for a short snooze on the bed or outdoor loungers.
Dreamy dining in the bush
At the end of each day on safari, during that magical time when day turns into night, your guide will tempt you with a refreshing drink (a traditional gin and tonic always goes down well) and snacks as you bid farewell to the sun. 'Sundowners' is a long-standing safari tradition that is not to be missed. It might be at a romantic bush setting just at the edge of camp, on a hill where you pause the game drive to watch the sun sink below the horizon, or around a firepit where you recount the highlights of the day.
With hurricane lamps dancing around, stars lighting up the sky above, and nature's nocturnal chorus filling the air, a private dinner on safari takes romance to another level. And that is before the gourmet cuisine and elegant wine selection arrive! Why not skip the game drive at dawn and instead have a leisurely morning with breakfast served in your tent. Time will feel like it is standing still while you share a meal and good conversation together, always in a beautiful setting.
---
IMPORTANT NOTICE:
If you are reading this article anywhere other than on A Luxury Travel Blog, then the chances are that this content has been stolen without permission.
Please make a note of the web address above and contact A Luxury Travel Blog to advise them of this issue.
Thank you for your help in combatting content theft.
---
A safari will make you firm believers that romance is real, but that sometimes you have to travel a little further, possibly into the African wilderness to find it!
Calvin Cottar is Director and Owner at Cottar's 1920s Safaris. Cottar's 1920s Safaris is an award-winning luxury 1920s safari camp and private bush villa located in the famous 'seventh' natural wonder of the world, the Maasai Mara in Kenya, and owned and managed by the oldest established and continuing safari family in Africa.
If you would like to be a guest blogger on A Luxury Travel Blog in order to raise your profile, please contact us.
Did you enjoy this article?
Receive similar content direct to your inbox.