5 top Mediterranean islands to explore
The Mediterranean is surrounded by Europe, Asia, and Africa and is connected to the Atlantic Ocean via the Strait of Gibraltar. The Mediterranean has over 150 islands varying in size. The five largest Mediterranean islands are Crete, Corsica, Cyprus, Sardinia and Sicily. Bigger isn't necessarily better, some of the smaller island such as Mallorca and Ibiza have much to recommend them.
Thinking of the Med brings to mind images of clear turquoise waters and rocky shoreline cliffs. The many beautiful islands of the Med embody various cultures and countries. There's a rich history spanning thousands of years. Over the ages many creeds and cultures have laid claim to the islands and left their footprint. They came, they saw, they conquered and I'm not just talking about the Brits in Magaluf. For some, these islands are home, for others, they are glorious vacation destinations.
On each of these islands, tourism plays a vital role in the economy. The number of tourists that Mediterranean islands receive every year is more than double the number of permanent residents! The high rates of tourism, however, has a huge impact on the natural resources of the islands, particularly on the freshwater. Because of this high demand and consequent overuse, the groundwater has become saltier and requires increased treatment. Mediterranean tourism is only expected to grow, and it is up to these island governments to ensure it becomes more sustainable for the environment.
Mallorca
A jewel in the Med, Mallorca attracts millions of tourists throughout the year. Visitors are drawn from all over the globe. Mallorca has it all. It's a shame that in the past it's been stigmatised as a playground for loutish behaviour, mud sticks. Mallorca is much much more than that. Palma, the capital has been voted the best place to live in the past. I can bear testament to that, as I live in Palma during the summer months. There's always something going on in Palma, music festivals, pop up markets, processions.
There are 262 beaches with a total length of 50 km with quite a few chic beach clubs. The Tramuntana mountains to the North of Mallorca are breathtakingly beautiful with picture postcard villages, Deia, Valldemossa and Fornalutx immediately spring to mind. There's peace and tranquility away from the hot spots. There are more exceptional restaurants dotted around the island than you can shake a stick at.
Mykonos is easily reachable by plane and by ferry. It has an international airport and receives flights from Athens and from many European cities. The island has daily ferry routes from the ports of Piraeus and Rafina in Athens but also from other islands. Mykonos has been attracting an international crowd like a magnet since the 1960s and has been voted a top summer holiday destination time and again for good reason.
Mykonos's nickname is "The Island of the Winds", due to the very strong winds that usually blow on the island. Tourism is a major industry and Mykonos is known for its vibrant nightlife and for being a gay-friendly destination with many establishments catering for the LGBT community. The island boasts many luxurious hotels, award-winning restaurants, cosmopolitan vibes, designer boutiques, elegant bars and a crazy party scene. Along with the stunning clear waters that surround the island Mykonos has much to proud of.
Nowadays it's hard to imagine a time when Mykonos was a humble little island, without electricity, just a layover on the way to famous Delos. Things changed in the 1950s, with the arrival of the likes of Aristotle Onassis, Maria Callas, Jackie O, Marlon Brando, Grace Kelly, Princess Soraya, Elizabeth Taylor, Nureyev, Pierre Cardin, Stavros Niarchos… legendary names of the international jet set that became associated with Mykonos. Mykonos quickly became the favoured holiday destination in Greece for the super-rich, artists and movie stars. Don't let that deter you it caters well for the more humble visitor.
Ibiza
The original party island. World famous dance venues abound and top class DJ's make regular appearances. The home to Cafe Del Mar where the godfather of chillout music, Jose Padilla gave birth to the genre. If music and partying is your thing, Ibiza is the place to visit. A smaller island than neighbouring Mallorca, Ibiza has a very different vibe.
Ibiza old town is a marvel and a very attractive place to visit. Housed in a walled citadel, wander it's winding narrow streets and chill at the many cosy cafe's. The island boasts stunning villas and first class restaurants. Small coves lapped by the intense blue Mediterranean, pine forests that spill down to sea, sleepy villages full of rural charm, luxury beach clubs, accommodation in paradise-like settings. Ibiza is a heavenly Mediterranean destination, a place where you can let your hair down and enjoy the laid-back hippy atmosphere of its fashion and street markets, chill out on a Bali bed next to the sea or watch the sunset surrounded by beautiful scenery.
Corsica
This French island boasts 3,350 square miles and only 322,120 residents. Less developed than other regions in France, the Corsican economy relies mainly on tourism for survival. An interesting fact regarding Corsica is that Napoleon Bonaparte was born here. The 2013 Tour de France started on the island, it was the 100th edition, one of cycling's Grand Tours.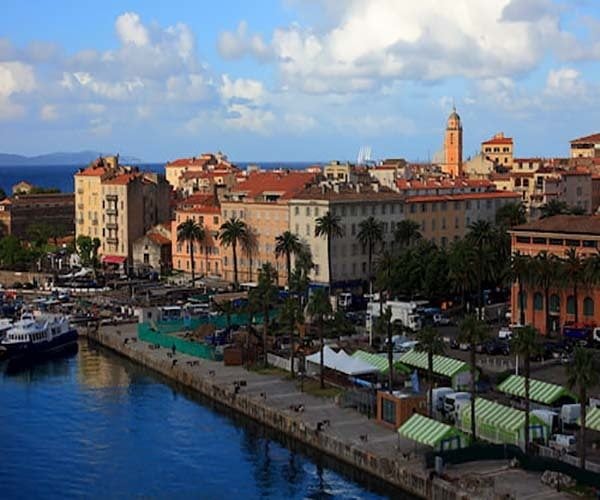 For the most part, the terrain of Corsica is mountainous. About two-thirds of it consists of an ancient crystalline massif that divides the island on a northwest-to-southeast axis. The mountain silhouettes are very dramatic, and their granite rocks display vivid colours. The mountains descend steeply in parallel ranges to the west, where the coast is cut into steep gulfs and marked by high cliffs and headlands.
---
IMPORTANT NOTICE:
If you are reading this article anywhere other than on A Luxury Travel Blog, then the chances are that this content has been stolen without permission.
Please make a note of the web address above and contact A Luxury Travel Blog to advise them of this issue.
Thank you for your help in combatting content theft.
---
Rising from the Med like an impregnable fortress, Corsica resembles a miniature continent, with astounding geographical diversity. Within half an hour's drive, the landscape ranges from glittering bays, vibrant coastal cities and fabulous beaches to sawtooth mountain ridges, verdant valleys, dense forests and time-forgotten hilltop villages. Holidays in Corsica offer tremendously varying opportunities: from hiking and canyoning to snorkelling and sunbathing.
Though Corsica has been part of France for more than 200 years, it feels different from the mainland in everything from customs and cuisine to language and character. Locals love to explain their Corsican identity so plenty of engaging evenings await, especially if the holy trilogy of food, wine and harmonious Corsican music are involved.
Sardinia
Sardinia has some of the dreamiest beaches you'll find without stepping off European shores. The sand really is  white, and the sea the bluest of blues. Drop anchor in Costa Smeralda's wonderful bays, where celebrities and supermodels enjoy the turquoise waters. The sheer cliffs embrace and afford seclusion. Whether you're walking barefoot across the dunes on the Costa Verde or lounging on the Costa del Sud, just chill and daydream.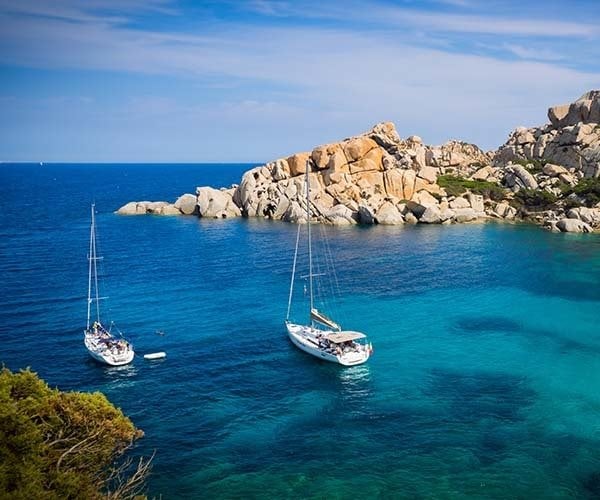 Sardinia is one of Europe's last great island adventures. Hike through the lush, tranquil interior to the Tiscali's ruins. Enjoy a walk along the vertiginous coastal path to the crescent-shaped bay of Cala Luna, where climbers tackle the limestone cliffs. The sea is irresistible to windsurfers on the north coast, while divers explore shipwrecks off Cagliari's coast, the underwater Nereo Cave and Nora's submerged Roman ruins.
The juxtaposition of the Alpine-like forests to the snow-white beaches is remarkable. The island is also a culinary one-off, with distinct takes on pasta, bread and its own wines, Vermentino whites, Cannonau reds and the tangy and cheeses that are produced on the island. The island is scattered with 7000 Nuragic Bronze Age towers. Sardinia is also an island of fabulously eccentric festivals, from Barbagia's carnival parade of ghoulish mamuthones, said to banish winter demons, to the death-defying S'Ardia horse race in Sedilo.
Danny Frith is Director at SkiBoutique. SkiBoutique is a luxury ski chalet agency based in Switzerland.
If you would like to be a guest blogger on A Luxury Travel Blog in order to raise your profile, please contact us.
Did you enjoy this article?
Receive similar content direct to your inbox.