What to look forward to on an Amazon riverboat cruise in Ecuador
Winding its way through nine nations and across the heart of South America, the mighty rivers of the Amazon make for the ultimate expedition in a near-mythological realm of unimaginable biodiversity and fascinating cultures.
To explore the Amazon rainforest, a riverboat cruise offers itself as a uniquely flexible tact, as it's an alternative to the typical Amazonian lodge where visitors are based in one specific place. Instead, by living and sleeping onboard a luxury cruise ship, you'll awake each day in a new area of the rainforest, which you can explore and then later take in amazing jungle vistas as you navigate downriver to the next day's destination.
While Brazil is home to the bulk of the Amazon, many consider the most species-rich part of the Amazon to lie in Ecuador, which is a virtual Garden of Eden for the world's most exotic living beings.
Here, we'll introduce you to some of the more salient aspects of what you'll experience on any upscale riverboat cruise through this county's amazing Amazon region.
1. Luxury and relaxation
There are few better ways to disconnect and unwind than aboard a cruise, though some might find it hard to imagine sailing in the remote Ecuadorian Amazon rainforest. Though travelers here will find themselves deep in a region of the primeval jungle, you'll find that the onboard facilities and services couldn't be more comfortable!
Luxury riverboat tours such as those offered through experienced Ecuadorian tour operators are aboard ships that represent the epitome of style. Custom built by master shipbuilders, smartly decorated by interior design experts and laden with the most luxurious of amenities, their onboard amenities include deluxe suites featuring private balconies, floor-to-ceiling windows and interior Jacuzzis looking out onto the river.
Travelers experience a rich culinary journey along their voyage, as they savor sumptuous gourmet cuisine crafted by world-class chefs, though they can also sample local delicacies of the destinations visited, all paired perfectly with full-bodied wines. Such luxury Amazonian rainforest cruises take you back to a classic age as the ships' guides and crew will literally go overboard in catering to your every whim, from plush pillow menus and pampering spa treatments to signature tours led by expert guides.
2. Worry-free safety and security
Ever since Europeans arrived on the South American continent, the Amazon has been the stuff of legend, a realm full of adventure yet fraught with perilous dangers. The word "Amazon" alone can still conjure up fearsome images of man-eating piranhas, bone-crushing anacondas and venomous spiders even among the most intrepid travelers.
Despite the hype, an Amazon cruise aboard a luxury Ecuadorian riverboat is a user-friendly place for exploring this last untamed miracle of nature. What you'll find is that these ships' facilities along with their crew members and expert naturalist guides have been specially selected to ensure the well-being of the riverboat's guests at all times.
While cruises in the Amazon are typically safe and problem-free, there's no ignoring the fact that the jungle is alive with rare but potentially threatening wildlife, is home to a unique climate, and is located in a developing part of the world. For these reasons, the ships' onboard facilities, quarters, communications, security staff, mobile health services and food services are all state-of-the-art, while off-ship excursions are led by capable, experienced and well-trained guides.
But just remember, if you do catch a glimpse of a jaguar, then be sure to tell everyone about the experience, as you've been extremely lucky to see nature at its rawest!
3. Unmatched Biodiversity
On an Amazon River Cruise, you're not stuck on the riverboat for the week. In fact, you're actually off the boat more often than on. And what you'll find out for yourself on daily excursions is that the Ecuadorian Amazon truly is one of the planet's biodiversity hotspots in terms of the sheer number of species that can be found here.
Not only is the Ecuadorian Amazon a birdwatching paradise, with 1,500 resident species, but there are also an amazing 150 amphibian species, 121 reptile species, over types of 200 mammals and 382 fish species, not to mention the vast vegetation and the fact that each quarter kilometer (62 acres) has over 1,100 tree species.
Taking a trip down the Napo River into the dense primary Amazon forest will bring you up close to the myriad of creatures that call the jungle home. Monkeys, caiman alligators, Pink river dolphins, sloths, and a dizzying variety of colorful birds greet you in the lush forest and murky waters.
Your expert naturalist guides will be more than happy to point out this local fauna and flora during your cruise experience, which can include kayaking on peaceful lakes, jungle walks along well-maintained trails, cruising up and down the Napo, standing high above the treetops on observation towers, and visiting parrot clay licks.
---
IMPORTANT NOTICE:
If you are reading this article anywhere other than on A Luxury Travel Blog, then the chances are that this content has been stolen without permission.
Please make a note of the web address above and contact A Luxury Travel Blog to advise them of this issue.
Thank you for your help in combatting content theft.
---
4. Fun and adventure
Though it might be hard for some to pull themselves away from abundant comforts onboard their boat, no cruise is complete without fun, thrills and adventure!
On a visit to Ecuador's Amazonian jungle, days are filled with as much or as little activity as your curiosity and energy dictate – whether you choose jungles hikes, bird-watching, piranha fishing, photo safaris, cultural visits, navigating rivers (by canoe, balsa raft, kayak or inner-tube), or even learning to use a blow dart tube.
If you prefer to relax after a full day of adventure in Ecuador's Amazonian jungle, we suggest a good book on your ship's sundeck, soaking up the unique energy of the rainforest. Later in the evening and night, the jungle hosts myriad experiences exclusive to these moonlit hours: bird-watching at dusk as fireflies dance among the trees, or stargazing at the equatorial heavens for a unique view of both the Southern and Northern hemispheres' millions of stars, unchanged by the lights of civilization.
5. Direct Contact with Indigenous Communities
Ecuador is proud of its cultural heritage and its many unique indigenous communities. The country's Amazon region alone is home to two tribes who have chosen to live in complete isolation, in addition to more than nine indigenous cultures who welcome travelers with open arms.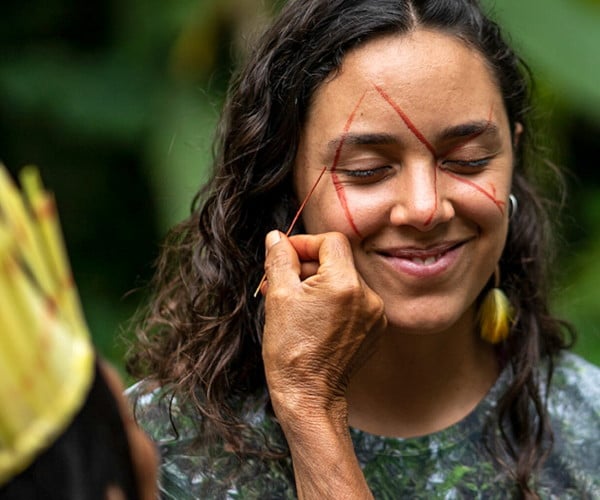 By visiting these communities, travelers can make authentic connections with these groups through cultural encounter activities where guests can meet community members and learn about their ancestral traditions and unique lifestyles, as well as experience enticing new foods like yuca, maito with salt and pepper, and non-alcoholic chicha. Each magical trip to the rainforest is designed with the intent of mutual benefit for the guests, communities and the environment.
6. Efforts toward sustainability
Sustainable tourism has been defined as "tourism that takes full account of its current and future economic, social and environmental impacts, addressing the needs of visitors, the industry, the environment and host communities." As such, this is especially important in an ecosystem as precious as the Amazon Rainforest, which not only serves as the "lungs" of our planet but also provides a home to so many species and cultures.
Ecuadorian Amazon cruise ship operations have been working hard to develop a sustainable tourism model that works closely with local communities.
Their vitally important work in forest conservation supports indigenous communities by providing them an alternative source of income and working alongside them to protect endangered species. Concretely, more than 50% of the ship crews are locals, and 25% of the riverboat incomes go toward conservation projects and activities with indigenous communities.
This vision for river cruises is more than simply bringing in tourists to see the sights and using local communities as part of the tourism backdrop. Instead, the local communities benefit along with the environment, visitors and the cruise operations.
7. Adventures for all ages and needs
What's great about an Amazon riverboat cruise is that your expedition experience can be tailored to the activity level you choose, whether it's light or moderate or a little of both. Depending on your interests and abilities, daily activities may include walking tours, visits to historic or cultural sites, swimming, and easy hikes, with options for longer hikes. Frequently, you'll find cruises with everyone from senior citizens to young families with preschool kids. There's nothing particularly dangerous or daring about a riverboat cruise and guides are eminently knowledgeable and experienced.
Conclusion: Add the Amazon to your "bucket list" destinations…!
Few places can compare to the magic and the sensations of the Amazon rainforest, where you'll have truly once-in-a-lifetime experiences, make friendships along the way, and discover the humming of exotic life all around.
Ecuador is one of those destinations that can fit an enormous variety of experiences into a single trip. As the country is flush with so many opportunities to connect with nature, and many travelers who come to Ecuador to visit its Galapagos Islands find it the perfect time (not to mention very convenient) to also enjoy an Ecuadorian Amazon Rainforest cruise.
We invite you to discover this still not fully explored world, one where you can get a glimpse of what it means to be in harmony with nature and with your own primal essence.
Did you enjoy this article?
Receive similar content direct to your inbox.