We are all well aware of the fact that our hectic everyday lives lead to lots of stress and anxiety for most people. Our jobs, health issues, family duties, and financial burden are the parts of our lives which usually lead to elevated stress levels. Moreover, many of us use our smartphones, computers and tablets daily, and their overuse can lead to more stress without us even noticing it. Numerous studies have shown that spending more time in nature and in green spaces helps us reduce and manage our stress levels in a healthy way. This enables us to improve the psychological and physiological indicators of our mental health, including happiness.
Hiking and camping are excellent stress-relieving activities, and you can find them right here. Walking down the wooden trails through one of the most beautiful national parks in the world is sure to leave you breathless, and we are certain that views of the crystal clear emerald and turquoise lakes will help you forget the stress of every-day life. All you need to do is feel the nature and sense its fragrances, listen to it and become one with it. Allow your mind to take a break from all of the work. Discover Plitvice Lakes and their surroundings, let nature dance with you.
So, hit the roads and take the trails.
Go exploring
When we stay somewhere for several days, we have the chance to get to know the area, its surroundings, and nearby towns better. The Plitvice Lakes National Park is the oldest and largest national park in the Republic of Croatia, and its enchanting and beautiful sights have always attracted nature lovers. The tufa formation process, which creates natural travertine dams and results in lake formation, constitutes a unique universal value which granted Plitvice Lakes international recognition on 26 October 1979, when the Park was inscribed in the UNESCO World Natural Heritage List.
The Park is mostly covered in forest vegetation, and water bodies take up slightly less than 1% of its total area.
The cluster of lakes in the Park consists of 16 named lakes and numerous smaller ones, all cascading one after the other, with the emerald and turquoise hues of their crystal clear water mesmerising visitors. There is no doubt that each of us wanted to visit a magical place like this one at least once in our lives, and if you stay for more than three days, you will get the chance to explore every inch of the ancient forest, walk down all of the trails in the visitors' zone, count the lakes, and row across the magical and gorgeous Kozjak lake, the largest and deepest of the lakes. History buffs can find out more about the history of this area, visit all of the historical sites and discover something new.
Vicinity of other destinations
When planning a vacation, we often look for easily accessible destinations and the chance to see other places as well, and the Plitvice Lakes are the perfect choice for this. Only about two hours by car from the Plitvice Lakes you will find Croatia's capital, Zagreb, a city of rich history, with many cultural and culinary oases at every turn. Zagreb offers top-quality accommodation to suit all travellers, from amazing hotels to smaller and interesting family-owned rentals. When it comes to gastronomy, Zagreb is known far and wide for its traditional cuisine, but it also offers delicacies from around the world, prepared by famous chefs who chose this city as their home. Visitors who love culture will certainly enjoy Zagreb's museums – for instance, the Museum of Broken Relationships which was started in Zagreb, or the Nikola Tesla Technical Museum, perfect for all ages.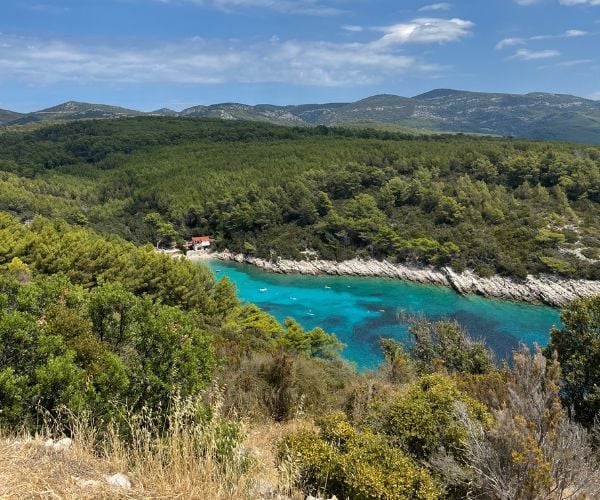 Do you see Croatia as a combination of blue sea and ancient cities? You can make all your dreams come true as Zadar, a beautiful city whose historical centre can be found on a peninsula, is located at only an hour and a half by car from the Plitvice Lakes. This city has everything – gorgeous beaches, wonderful museums, churches, and open-air archaeological sites that tell its ancient history. Once you have taken it all in, it is time for a culinary break. And food in Dalmatia is more than top-notch. From Zadar, you can continue exploring some of the over a thousand islands in Croatia: small and uninhabited ones, a heart-shaped one, as well as larger islands where all of the luxury of the mainland is combined with the charm only an island can offer.
---
IMPORTANT NOTICE:
If you are reading this article anywhere other than on A Luxury Travel Blog, then the chances are that this content has been stolen without permission.
Please make a note of the web address above and contact A Luxury Travel Blog to advise them of this issue.
Thank you for your help in combatting content theft.
---
Activities in the surrounding area
The area surrounding the Plitvice Lakes offers numerous activities: you can visit caves and museums, go horseback riding or ride a kayak. The newly opened Centre of Subterranean Heritage, Speleon, is only 20-minute car ride from the National Park, and it will take you on a walk through the history of the subterranean world. Speleon is organised as a time machine, taking you anywhere from the Middle Ages to the Pleistocene era. The centre's collection is truly something special, as it showcases hyper-realistic depictions of extinct species which once roamed this area. Models, LCD screens, smartglass projections, replicas and many screens giving you a better look into the world under your feet. The centre also offers a speleology obstacle course for children – a play area inspired by speleology and the ice age.
If you want to get to know the nature surrounding the National Park, you can visit one of the nearby ranches, and go horseback riding through the magnificent nature in the company of a guide. The free riding activity takes place in the vicinity of the ranches, in picturesque surroundings, through forest groves and on trails where, if you are lucky, you might encounter forest animals such as rabbits, deer, etc.
You can explore Gacka, one of Europe's cleanest rivers, in a transparent kayak. This river rich in oxygen will show you all of its abundant flora and fauna.  As you navigate it in your kayak, you will be able to see the Gacka trout, aquatic plants, and crayfish. Choose your own route and kayak, and set off on a relaxed exploration of the lovely hidden gems in the green Gacka valley. Kayaking on Gacka is appropriate for all ages, for families with small children, as well as top athletes. This is an activity anyone can enjoy.
Boosted happiness
We all want the feeling of true happiness to last longer and be more intense. Our hectic lives and pursuit of material things have made us appreciate our free time more. Every moment spent in nature takes us back to a time when we were less burdened, we were not in a hurry to get to work, to meetings… Being in nature allows us to enjoy it through all of our senses. The first sense to become mesmerised here is our sense of sight thanks to the beautiful, crystal clear lakes. All the while, we can hear the birds singing, the water gurgling, the leaves rustling… natural sights so beautiful and playful that they will make you forget all of your worries.
Once you dive into the greenery, you will have to let go of bad energy, you will not be able to keep yourself from smiling and you will feel all warm and fuzzy. Even if your mind is still wrapped up in your work and errands, you will forget all about them once you set sight on the beautiful flowers, breathe in the fresh air and hear the sound of the waterfalls. Grab your loved ones, take some time for yourself and spend it in true happiness – walking through the impressive Plitvice Lakes National Park.
Try the local cuisine
More than ever, travellers are planning their trips around tasting the flavours and aromas of local cuisines. This way, they can get to know local culture faster and more easily, and it helps them blend with the locals. Taste traditionally prepared dishes, made following recipes passed down for generations. The cuisine of Lika has a special charm. At our restaurants, you can enjoy dishes prepared with fresh ingredients, and their aromas make for a special atmosphere which will leave you speechless. Generations were raised on a diet based on the famous Lika potatoes, and they still play an important role in dishes from this region. If you like cheese, make sure to try the well-known Lika varieties – the basa and the škripavac. Local family farms offer a wealth of goodies: cheeses, jams, home-made sausages, strudels, drinks… There is something for everyone. You will definitely want to take home a memento to remember this wonderful region, or get one as gift for a loved one, to invite them to visit and experience Lika.
If you want to make sure to satisfy all of your senses, go wild and taste as many of the local products as you can. It is a well-known fact that good food leads to a good mood.
Relax, fall in love with nature, listen to the songs of the birds, and feel the pulse of the ancient forests!
Tomislav Kovačević is General Manager at Plitvice Lakes National Park. Plitvice Lakes National Park is the oldest and biggest national park in Croatia.
If you would like to be a guest blogger on A Luxury Travel Blog in order to raise your profile, please contact us.