Gràcia is a neighbourhood located in the north of Barcelona. It was once an independent town until it was incorporated into Barcelona in the late 19th century. Gràcia has managed to maintain its distinct character and charm, setting it apart from the more touristy areas of the city.
The neighbourhood is known for its Bohemian and artistic atmosphere, attracting a diverse mix of residents, including artists, intellectuals, and young professionals. Gràcia has a strong sense of community, and its narrow streets are lined with small squares and plazas where locals gather, creating a lively and welcoming ambiance. It is no wonder therefore that Gràcia is one of the top recommended locations to visit in Barcelona. Here are some recommendations for things to do in this fabulous part of the Catalan Capital:
The Festa Major de Gràcia
The neighbourhood comes alive with cultural events and festivals throughout the year. However, if you're in Barcelona around August time, you're not to miss the Festa Major de Gràcia! It is one of the most popular and anticipated events in the city, attracting both locals and tourists alike. The festival typically lasts for about a week and is jam-packed with entertainment.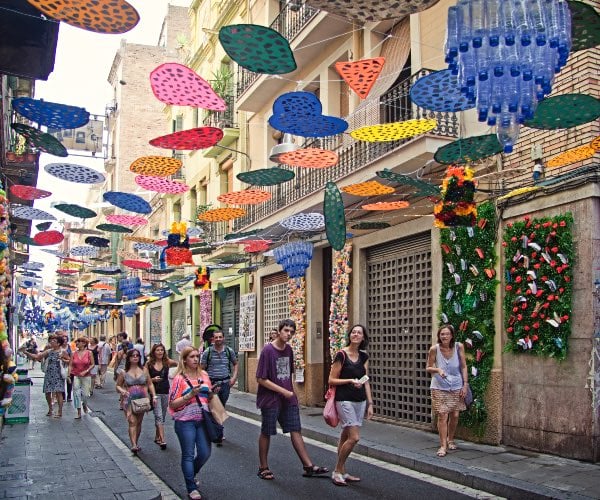 During the Festa Major de Gràcia, the streets of the neighbourhood are transformed into a vibrant and festive spectacle. Residents of each street compete against one another to decorate their streets in the most creative and visually stunning way possible. What a treat for the eyes!
The festival also features a diverse program of cultural events and activities. There are live music performances, traditional Catalan dancing, theatrical shows, and street performances that take place throughout the neighbourhood. The Castells (human towers), for example, and Correfocs (fire runs), showcase the strength, coordination, and cultural heritage of the region. The Correfocs involve groups of people dressed as demons running through the streets, setting off fireworks and creating a lively and exhilarating atmosphere. What fun!
Shopping time!
Gràcia is also known for its independent shops, boutiques, and artisanal stores. The streets are filled with charming storefronts offering a wide range of products, from local crafts to vintage clothing and unique home decor. The Mercat de la Llibertat, for example, is a must-see in the neighbourhood. This local market offers a wide range of fresh produce, meats, seafood, and more. It's a great place to experience the local food scene and maybe even pick up some ingredients for a picnic.
Or why not stop by Carrer Verdi? This lively street is lined with a variety of shops, boutiques, and stores catering to different tastes and interests. You'll find fashion boutiques, vintage clothing stores, artisanal shops, and specialty stores offering unique items.
Gràcia is known for its independent and local shops, so be prepared to discover hidden gems and support small businesses. Exploring the narrow streets of Gràcia is an adventure in itself, and you're likely to stumble upon interesting shops along the way. Enjoy the experience of shopping in this Bohemian neighbourhood and uncover some truly unique gems.
Check out the iconic architecture
One of the defining features of Gràcia is its unique architecture. You'll find a mix of styles, ranging from modernist buildings to traditional Catalan structures. The famous architect Antoni Gaudí has left his mark on the neighbourhood, with notable works like Park Güell and Casa Vicens located here.
Why not have a stroll along Passeig de Gràcia? This upscale boulevard is home to some of Barcelona's most famous modernist buildings, including Casa Batlló and Casa Milà (La Pedrera). Take a leisurely walk and admire the architectural gems along the way
When it comes to unique and beautiful Plazas, Plaça del Sol and Plaça de la Vila de Gràcia are certainly worth a mention. These lively squares in Gràcia feature a mix of architectural styles. The surrounding buildings display traditional Catalan architecture with their balconies, vibrant colours, and intricate details. The squares are both popular gathering places for locals and visitors, offering outdoor seating and a vibrant atmosphere in the heart of the neighbourhood.
Check out the nightlife!
Gràcia is also known for its thriving nightlife. Carrer de Verdi, a popular street in the neighbourhood, is lined with bars, pubs, and clubs, offering a vibrant and diverse selection of entertainment options. It's a popular spot among locals and visitors alike for a fun night out!
Our top recommendation is La Xampanyeria, also known as Can Paixano. If you're a fan of sparkling wine or cava, La Xampanyeria is the place for you! This cosy bar specialises in champagnes and sparkling wines, offering a diverse selection to choose from. It's a great place to unwind with friends and enjoy a celebratory atmosphere.
---
IMPORTANT NOTICE:
If you are reading this article anywhere other than on A Luxury Travel Blog, then the chances are that this content has been stolen without permission.
Please make a note of the web address above and contact A Luxury Travel Blog to advise them of this issue.
Thank you for your help in combatting content theft.
---
Another favourite is Tinta Roja. This popular bar combines a relaxed atmosphere with a retro touch. They often host live music performances, including rock, jazz, and blues, creating an enjoyable and lively experience. What are you waiting for?
So, there you have it! Our guide to Gracia. This gorgeous neighbourhood has it all. Its narrow streets, lively plazas, independent shops, and cultural events make it a delightful and vibrant place to explore while in Barcelona. We're sure you won't be disappointed!
Sandra Roig is Marketing Director at AB Apartment Barcelona. AB Apartment Barcelona is an apartment rental agency offering over one thousand short and long term apartments across Barcelona.
If you would like to be a guest blogger on A Luxury Travel Blog in order to raise your profile, please contact us.